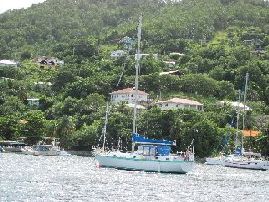 Just nine miles south of St. Vincent and the largest island of the Grenadines at seven square miles, Bequia (pronounced "BEK-way") retains its age-old boat building, whaling and fishing traditions. Pretty and clean with colorful houses draped in bougainvillea and shaded by almond trees, Bequia offers good beaches, restaurants, bars and both affordable and upscale accommodations. It attracts an arty crowd of Europeans and yachties, the "cocktail cruisers" who add their own brio to the waterfront bar scene. Its airport and regular ferry service make this a favorite destination for day-trippers from St. Vincent as well. The ferry docks in Port Elizabeth, a tiny town with waterfront bars, restaurants and shops selling handmade souvenirs, including exquisite model sailboats.
Lodgings vary from luxurious resort cottages to simple West Indian inns, and much of the nightlife centers on the hotels, beachside barbecues and steel band entertainment. In February, Bequia hosts a night of the Mustique Blues Festival at the Bequia Beach Hotel, a very "happening" event that benefits local school children. Bequia's sights can be explored in a couple of hours. Day-trippers usually take one of the taxis that meet each ferry from St. Vincent for a negotiated fee; water taxis are also available for transportation to the beaches.
And of course when it comes to beaches, Bequia has only pure white sand ones.  Among the most notable you should make time to enjoy: Princess Margaret Beach – names after the lady of the same name who visited here in the Fifties, this lovely golden swathe of sand is located on the island's western side, just down from Port Elizabeth; Friendship Bay – a long wide sweep of beach with fine conditions for sailing, diving and snorkelling that is located on the southeastern side; and Spring Bay – a romantic, secluded beach fringed with tall palm trees, and home to a working plantation and hotel, Spring Bay is on the eastern coastlne.
What to Do
A favorite simple pastime for man is to watch the sun set over the boats moored in Admiralty Bay, whether from a boat or from the terrace bar of a waterfront hotel. Another magnificent view is afforded at Hamilton Battery, an 18th century battery north of Port Elizabeth and high above Admiralty Bay. Mt. Pleasant is the highest point (881 feet) and a very "pleasant" hike or drive, rewarded by stunning views of Bequia and the surrounding Grenadines. Oldhegg Turtle Sanctuary is tended by "Brother" King, a retired skin-diving fisherman dedicated to preserving the endangered hawksbill turtles.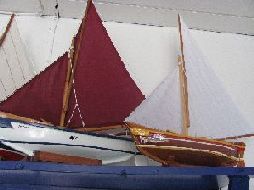 Port Elizabeth is on the northeast side of Admiralty Bay. Here, the Belmont Walkway meanders along the bay past shops, cafés, bars and hotels. On Front Street, facing the water, are found the open-air market and the model boat builders' workshops. On Sundays, model boat racing takes place on the south side, finishing in Friendship Bay in a party mood with food, drink and music. The busiest weekend of the year is the Bequia Easter Regatta, a world famous event in sailing circles. Even if you cannot make the big event, come away with a detailed model sailboat from Withfield Sails & Model Boats on Port Elizabeth's waterfront.
Where to Stay
The newly built "Contemporary Colonial" Bequia Beach Hotel is set in lush tropical gardens along the rim of Friendship Beach. The ambiance here – you could call it relaxed luxury, plenty of warm and friendly attention whenever you need it. Bequia Beach Hotel currently operates a range of rooms, suites and villa style accommodation, many with pools, jacuzzi and fine sea views from private terraces.   Currently the hotel consists of one infinity swimming pool and in the future the hotel will offer a second, even larger swimming pool, an additional 29 ocean view suites, a spa and gym, a tea lounge, meeting facilities and a tennis court.  For onsite dining, guests can choose from the causal elegant Blue Tropic Restaurant & Bar offering bistro-brasserie style European fare and the ultimate fine dining beach venue Bagatelle Restaurant.
An atmosphere of elegance and seclusion that combines the colonial understated style with modern amenities is on hand at The Old Fort –  a fully-restored historic plantation house dating back to the 18th-century in the Mount Pleasant area, and set in acres upon acres of lush tropical gardens.  Its
luxurious guest rooms are located in various areas of the property, and among the other amenities are a grand swimming pool with waterfall, separate kids pool with grotto, open air and inside bar, club room with massive fireplace, large lush gardens with numerous patios, several outside and inside dining areas, nature trails on the adjoining 30 acre estate including two nearby unspoiled beaches.