When most people think about going on a cruise, the first thing that comes to mind is the dreamy vacation onboard a luxury ship surrounded by the sea. Spending evenings watching the cabaret shows, having a posh dinner and walking on the deck under the moon and stars. There are also various onboard activities and entertainment areas such as theatre shows and comedy night that lure people to take a cruise. All of this and you still get to travel, see destinations and partake in shore excursions at every port. Such excursions include interacting with stingrays in a coral garden to experiencing the mysteries of a Mayan kingdom.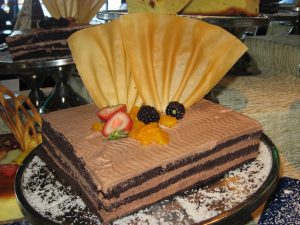 But for me, the best thing about a cruise was the desserts, glorious desserts! There were tables and tables of desserts and not just a sponge cake but decadent, sinful, specialty cakes and desserts. Would you like a slice of New York Cheesecake? Amaretto Cake? Chocolate-Chocolate Cream Cake? These are but a few of the specialty dessert cakes one can taste not onboard a cruise line. These are the types of desserts you normally see at a top-notch restaurant, or sample while on a far flung destination.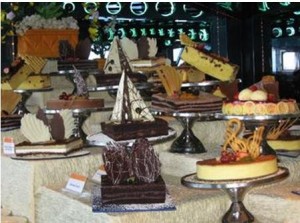 The passengers onboard the Carnival cruise were alerted to the fact that specialty dessert cakes were going to be served in the Horizon Bar & Grill between 3.30pm-4.30pm. Fortunately, we just happen to be eating in the restaurant at the same time that the staff started putting together a display area for the cakes. Then a catering trolley arrived with an array of scrummy looking cakes. I watched the preparation that went into the display and arrangement of the desserts. Specific desserts were on pedestal cake stands, others closer to the table. Suddenly, the plate of food in front of me no longer interested me. I was patiently waiting to run across the dining room and take a piece of everything.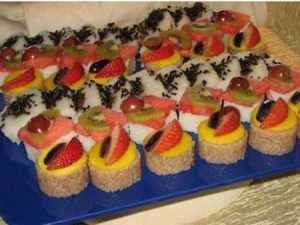 There were wedges of triangular chocolate sails decorating the top of cakes. There were chocolate drizzled zigzags across creamy mounds of frosting and for the really adventurous eater there was sweet sushi decorated with kiwi slices, cherries and strawberries. At the decadent desserts, a waiter stood poised with a cake knife awaiting requests and then proceeded to slice not a slither of cake but a slab!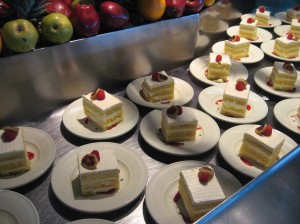 There were two drums of ice-cream with an array of toppings that were good enough to eat on their own. These included not just colored sprinkles, but chocolate covered orange slices and sugared-coated walnuts. So, of course being spoilt for choice I had to have a bit of vanilla and chocolate with a sprinkling of the toppings that I had never had before.
Needless to say, I wish I had skipped the meal as the array of desserts was truly endless. The Carnival Cruise line now has the Sweet Spot that offers cheesecakes to fruit medleys. Nowadays, cruise lines are also offering healthier dessert options as they realize not everyone wants to indulge while on vacation, but who really wants to keep to a diet when there is so much culinary creativity onboard. So, the next time you cruise pace yourself when it comes to the delectable desserts that lie ahead. Make a dessert plan so you are able to enjoy the endless slices of desserts glorious desserts!