Its moist spongy cake and sweet dense frosting are enough to conjure up mouth watering childhood memories, but today the cupcake's popularity extends to grown up events such as weddings and baby showers.
These miniature cakes were first baked in the 19th century and still contain the same basic ingredients, flour, sugar, butter and eggs.   The modern craze started with a cameo appearance of a cupcake from New York's famous Magnolia bakery in an episode of HBO's "Sex in the City."   Shortly after, Barbara Streisand gifted Oprah a box of Sprinkles cupcakes and the cupcake renaissance was well on its way.
In the past decade, dozens on gourmet cupcake shops have opened around the country.  Here is a list of the best of them.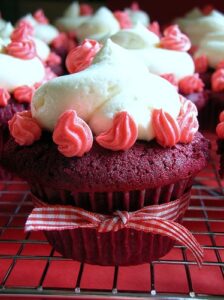 Magnolia Bakery, New York
This Manhattan bakery has been serving up old-fashioned cupcakes for the past fifteen years.    The small lime green bakery became famous after being mentioned on an episode of "Sex in the City" in 2000 and since then their homemade cupcakes have people lining up around the block.   Top sellers include German Chocolate Cake with caramel pecan frosting, The Hummingbird with banana, pineapple and pecans with sweet cream icing and S'Mores, a homey graham cracker cake with a chocolate center and meringue icing.
Cupcakes Nouveau, Miami
This Coral Gables based shop is known for their choice of flavors and innovative decorations.  Owners Shayrin Badilo and Cristina Valdes have incorporated Scooby Doo, Batman, and Super Mario brothers innovative cartoon designs, in addition to sushi, animal, and other creations to top their mouth-watering cakes.  Favorite flavors include the Romeo and Juliet, a guava filled cake topped with cream cheese frosting and the Southernmost Cupcake filled with a creamy key lime center and key lime cream cheese frosting.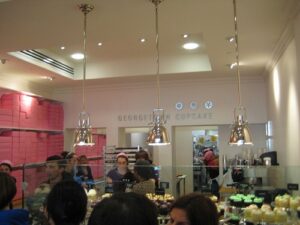 Georgetown Cupcakes, Washington, DC
This Washington Bakery is the star of its own TLC reality show, "DC Cupcakes."  Since opening on Valentine's Day in 2008, this small shop has attracted fans that line up for hours to taste their little creative cakes.  Over 10,000 preservative free cupcakes are baked fresh daily including 9 classic and 6 specialty flavors, beautifully displayed on pedestals throughout the store.  Everyday choices include the classic red velvet and chocolate, with rotating specials such as Peanut Butter and Fudge, Mint Julep and Salted Caramel.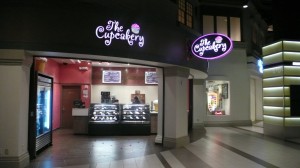 The Cupcakery, Las Vegas
Based in Las Vegas, the family-owned Cupcakery has expanded to six locations and has also opened stores in Dallas and Houston.  They offer over 30 varieties of cakes including many vegan and sugar free flavors.   Their top sellers include the Southern Belle, a red velvet inspired cupcake and the Kir Royale, a raspberry cake with champagne frosting.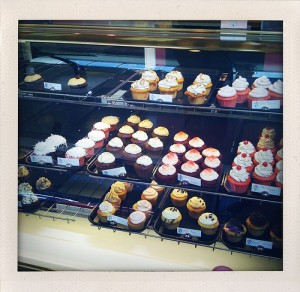 The Cupcake Spot, Tampa
This Tampa chrome and hot pink cupcake shop sports a diner motif with black and white tiled floors and lots of funky furniture.  Fourteen flavors are offered daily including the Chocolate Elvis, a banana cake with peanut butter frosting and the S'Mores, a chocolate cake with marshmallow frosting and graham cracker crumbs.
Brown Betty Dessert Boutique, Philadelphia
This family run Philadelphia bakery with antique furniture offers supersized cupcakes in a rotating selection of varieties.  Most have a pound cake base and include fruit purees.  Favorites include the Company's Coming Coconut Cupcake, a coconut cupcake with white icing and coconut flakes and the Sing Little Alice, a swirled chocolate and vanilla cake with marbled  buttercream frosting.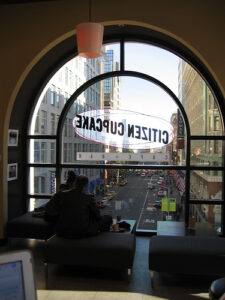 Citizen Cupcake, San Francisco
Opened in 2004 as an offshoot of the city by the bay's famous Citizen Cake bakery, Citizen Cupcakes is known for whimsical creations.  In addition to classic variations of chocolate and vanilla, Chef Elizabeth Falkner also offers Rocky Road with chocolate chiffon cake and frosting mixed with nuts and homemade marshmallows in a chocolate ganache shell and Pineapple Upside Down cupcakes with caramelized pineapple and buttermilk cake with a passionfruit frosting with shredded coconut.
Happy Cakes, Denver
This green and brown themed Denver cupcake shop offers Friday night Happy Hour inspired cupcakes for adults.  Favorites include the Jack and Coke, a cola flavored cake with bourbon frosting, The Cosmo, a vodka soaked cranberry cupcake with lime butter cream, and the Margarita, a cake with tequila, Grand Marnier and lime with lime butter cream frosting and a sugar rim.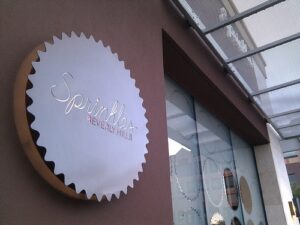 Sprinkles, Beverly Hills
Sprinkles was the first cupcake only bakery in the country.  Opened in 2005, the original Beverly Hills location is a miniature chocolate colored storefront with a bright pink Sprinkles sign.  Flavors range from the most popular, red velvet, to specialty cakes including the Salty Caramel, a caramel cake with caramel cream cheese frosting, and the Lemon Coconut with Madagascar bourbon vanilla cake and lemon coconut cream cheese frosting.  Sprinkles also offers vegan and gluten free cupcakes, all decorated with their trademark dots.
The Flying Cupcake, Indianapolis
This Indianapolis bubblegum pink shop has only six seats but is big on flavor.    The Flying Cupcake offers unique creations including the Pineapple in Paradise, a pineapple cake with buttercream frosting, the Zucchini Bikini Buster, a zucchini cake with pecans and cream cheese frosting, and the Red Velvet Elvis, a red velvet cake with chocolate chunks and a soft cream cheese and white chocolate frosting.