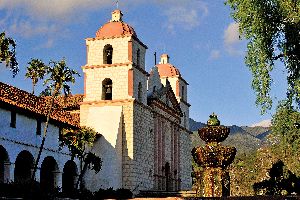 Just 95 miles north of L.A., but a world away from the home of hype, understated but cosmopolitan Santa Barbara is home to its own eclectic community of surfers, socialites, Hollywood escapees and transplants from around the globe. Somehow, it all coexists well in this city strung along a gorgeous strip of coastline, bordered by pristine beaches and the nearby Santa Ynez Mountains.  This variety is reflected in the diverse activity that Santa Barbarans enjoy.  The outdoor opportunity is made even more attractive thanks to a splendid local climate  most days of the year. As you drive in from the freeway into the downtown area, you get an immediate sense of this human-sized city by the ocean's pulse: bicyclists, rollerbladers, surfers and divers coming and going—they're all out and about on the sidewalks, boardwalks and mingling with the regular folk at every location around town. Welcome to Santa Barbara – and consider some of these finer outdoor highlights for your own schedule.
Easy to Moderate Walks – Within the city itself: you can easily explore the downtown area on foot with just short hops in your car.  Making a day of it in the city's center will allow you time to see the municipal buildings of note, much of the local gallery and art scene, coffee houses and nightlife, and sites like the Santa Barbara Museum of Art.  Out into surrounding areas: head into the hills to explore such landmarks as the Mission, the vistas overlooking the city and waterfront from the hills behind it, or head north to Goleta and explore the beach and small town scene there.
Exploring Historic and Contemporary Neighborhoods – There is still plenty of evidence around of Santa Barbara's old and traditional side in such neighborhoods as Montecito.  Get to know some of this fascinating human collage by exploring their outdoor
terrain – and some of the period architecture.  Open to view at former private estates such as eleven-acre Casa del Herrero,  open for public tours from mid-February to mid-November.  Another such architectural landmark is Lotusland, a 37-acre estate and botanic garden situated in the foothills of Montecito to the east of the city of Santa Barbara.  Tours of Lotusland are offered between mid-February and mid-November.
Water Sport and Outdoor Action – If you're in high energy mode, a local activity operator like Santa Barbara Adventure Company can take you out on bike trails high above the coast line, along back roads through the town, out on the water for kayaking trips, or on combination bike and kayak packages.  They can even teach you the fundamentals of surfing.  Even if you don't get out into the water yourself, try to make time to stop off at one or two of the state and county beaches—Carpinteria, El Capitan, Refugio, Jalama, Rincon or Goleta—at many of which you can also watch local surfers riding the day's best waves.  Even if there's nothing human out there, chances are you might still observe the dolphins jumping the waves on a sunny afternoon.