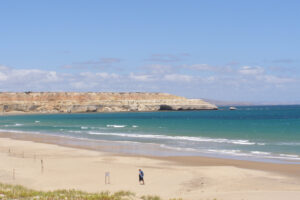 While visions of Australia often contain pictures of the Great Barrier Reef or the Sydney Opera House, South Australia is often overlooked. This area may be the best find of all, offering an abundance of activities in and out of the water.
Rich History
It was 1836 when the first British settlement was established in Kingscote, Kangaroo Island, and Adelaide would be founded a few months later, but evidence of mining and rock art in South Australia can be dated back 20,000 years. You can see the ancient Koonalda Cave on the Nullarbor Plain.  Or, get a glimpse of more recent history at the lighthouse that welcomed the British ships in Cape de Couedic Flinders Chase National Park.
Spectacular Beaches
South Australia has an endless supply of beaches nestled on the Southern Ocean and within the bays, jetties and amazing cliffs. It's impossible to find a bad beach here no matter what you are looking for. Glenelg, a quick trolley ride from downtown Adelaide, is the perfect beach town, with shops and cafes lining the boardwalk. In McLaren Vale you can find so many miles of turquoise water and white sand that you will never see a crowd anywhere.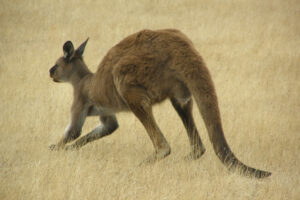 Wandering Wildlife
Kangaroos are to the Australians what deer are to Americans, wandering the pastures and even the roads. In the open lands of South Australia you will be able to easily spot these marsupials, as well as other wildlife native to the country, including wallabies, koalas, emus and potoroos. For the best views, hike through Flinders Ranges in the Outback, go to Cleland Wildlife Park, Warrawong Wildlife Sanctuary or Gorge Wildlife Park , where you can cuddle a koala.

Exciting Marine Life
It may not have the Great Barrier Reef, but you won't be disappointed in the marine life in South Australia. Whether you are looking to sail, fish  or snorkel, a colorful array of creatures are above and below the ocean surface. New Zealand seals migrate to this part of Australia where you can also find dolphins (even black ones), sea lions and the Leafy Sea Dragon. Dive deeper to explore the fish among hundreds of shipwrecks.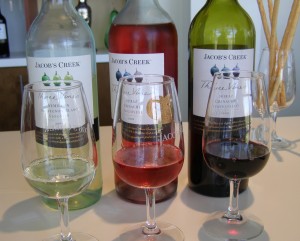 Wonderful Wine
The Barossa Valley is the hub of Australian wine whether you like the country's signature shiraz or want to relax on a hot summer day with a riesling. At the helm of the wine in this region is Jacob's Creek, worth a visit not only to taste, but to explore the walking trails.  After you check out more of the Barossa wineries (there are more than 100), plan day trips to Adelaide Hills and McLaren Vale, two more wine areas that produce fine wines.
Gourmet Food
Aussies love their fresh food and this is no different in the southern part of the country. Adelaide is especially known for its cuisine, where each street brings a different cuisine. There's even a selection of vegetarian eateries, centered around Zen House Tea Corner, where the offerings include vegan Asian cuisine. Also pay a visit to the Central Market, where fresh fruit, vegetables, meats, cheeses and prepared foods are available every day.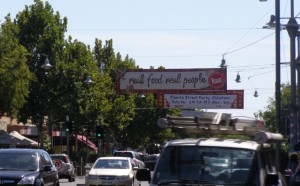 Lots of Chocolate
South Australia is home to the infamous Haigh's Chocolates, where you can take a tour and grab some samples. Make sure you head to Cocolat. American Terena Downs has three locations that contain everything chocolate –  coffees, candies, cakes, cookies, crepes, waffles, gelato and even cocktails. If you like your chocolate with wine, Hahndorf Hill Winery takes pairing to a new level, with a unique chocolate for every wine they make.

Diverse Culture
Discover the ancient engravings of the Aboriginal people dating back to
ancient engravings at the National Aboriginal Cultures Gallery or the South Australian Museum. You will find many ethnic communities represented in South Australia, including the Asian culture of Adelaide's Gouger Street, where the area called Chinatown also represents Thai, Vietnamese, Malaysian and Japanese. In McLaren Vale, the Italian community has banded together to actually build Piazza della Valle (Valley Square).
Multitude of Shopping
In Adelaide, the Rundle Mall is not like any you have been to before. It's actually blocks of stores, inside, outside, upstairs and downstairs. Chances are you can find anything you need here whether it's a bargain camera or a designer dress (just remember that the sizes are very different, so try things on). If you are looking for the unique, go up into the Adelaide Hills to find antique shops as well as arts and crafts galleries.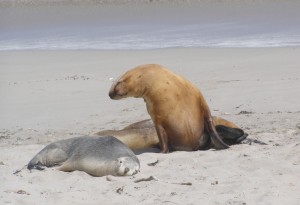 Kangaroo Island
Kangaroo Island is a magical place where you can find all of the above spread out over 100 miles. Approximately 50 beaches are scattered along the coastline, each with its own unique scenery and marine life. On land, kangaroos and wallabies are among the animals that run free in the open space while the koalas climb the gum trees. Five star meals can be found at down to earth accommodations such as the Kangaroo Island Wilderness Retreat, or luxury resorts like the Southern Ocean Lodge. Between the spectacular views, enjoy the sauvignon blanc from Bay of Shoals Winery, the gin from Kangaroo Island Spirits and the sheep milk cheese from Island Pure Dairy.
Visit the South Australia Tourism website for more detailed information on places to visit in the region.