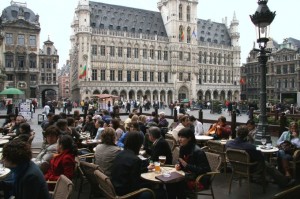 Practicality and innovation are the key words associated with design in Brussels. The city's style engineers sculpted its individuality with absolute respect for quality – then they dry brushed it with a good dose of humour. Whatever Belgian designers turn their artistic hands to, be it an ornament or a piece of furniture, an under garment or a ball gown, it sells almost as quickly as it is made to discerning customers in the best stores around the world.
Fashion shows, exhibitions and a couture trail take visitors to the rue Dansaert, the Saint Jacques district, Le Sablon square and Avenue Louise, where designer stores and vintage boutiques offer shop-till-you drop opportunities. From stylish well established labels to the up-and-coming flashy new kids on the block, Brussels has cultivated a unique group of designers who can turn silk, cashmere or linen into exceptional limited edition items.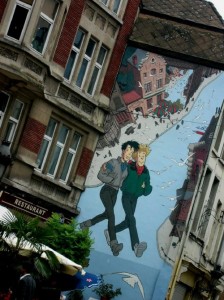 Dansaert District
In Brussels Dansaert District it's ultra-cool, trendy and stylish, the ultimate designers' haunt – the Dansaert district houses the genius of the city's avant-garde fashion architects. Dansaert is the nerve centre of creative design, plus a cultural and culinary experience to rival any other major European capital.
Must drink: Start your evening off at Archiduc (rue Antoine Dansaert 6) an Art Deco setting offering jazz and drinks, frequented by famous jazzmen who improvise a jam session.
Must eat: For excellent French Mediterranean food dine at Bonsoir Clara (Rue Antoine Dansaert 22-26), a vibrant arty crowd. Dinner menu's start at €30.
Culture vulture: On nearby Rue des Chartreux, is an adorable tea room, Am Sweet, offering typical Belgian specialties, including designer chocolate. Further on is L'Atelier des Chefs, a new generation cooking school. Be sure to visit Costume and Lace Museum (rue de la Violette 12).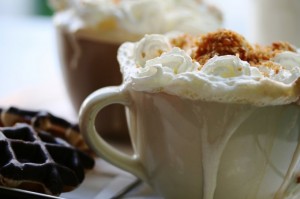 Shop till you drop: Rue Antoine Dansaert is designer heaven to fashion slaves with boutiques crammed into every conceivable space. Annemie Verbeke's elegant and refined collections; Vintage at Idiz Bogam; numerous designers hosted at Sonja Noël's store; Nicolas Woit – another vintage freak, and opposite is Les Précieuses' exclusive accessories; designer shoes at Hatshoe; a little further is Hoet Optiek, with a gorgeous collection of Theo glasses; Natan XIII, a brand new concept design store, as well as Thierry Struvay and Edouard Vermeulen.
Dance the night away: Brussels' serious dancers head to Los Romanticos (Quai au Bois a Bruler 5-7), an energetic salsa bar/nightclub.
Sleep soundly: The Hotel Orts (rue Auguste Orts 38-40) is a classy boutique hotel, tastefully decorated in shades of grey and beige.
The Saint-Jacques district could be best described as hip, gay, incredible, adorable, generous, lively and spontaneous. The comic strip walls fill the district with colour, and the collectors and second-hand clothes dealers all get on well together, openly taunting one another for fun. There is a little of everything here – high fashion to vintage, artistic to sophisticated gadgets to second-hand books, comic strips to music, all happily coexisting.
Must drink: For the traveller seeking something new there's Au Cercle des voyageurs (rue des Grandis Carmes 18) – a skilful blend of tearoom and tourist office.
Must eat: Popular with the local crowd is In't Spinnekopke (Place Jardin Aux Feurs 1), who serve an excellent mussels casserole for €24.
Culture vulture: Comic strips fans should head to Boulevard Anspach and rue du Midi for the best albums and fun accessories. A must is a 3-D stroll in time, space and rhythm when you enter Arlequin's (rue du Chêne 7), a monument to second-hand music. Visit Comic Strip House (Boulevard de Impératrice 1) and the Belgian Centre for Comic Strip Art (rue des Sables 20).
Shop till you drop: Start off on the Place de la Vielille Halle aux Blés and be sure to take in Emery & Cie (rue de l'Hopital 27); and don't miss out on the completely whacky shops, such as Rosalie Pompon (rue de l'Hopital 1) for quirky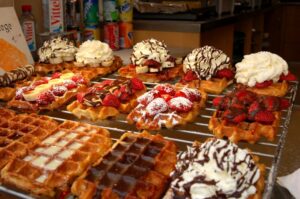 objects. For fashion the 'in' store is Prive Joke (rue Marche aux Charbons 76/78), for trendy gear its Mr Ego (rue des Pierres 29), and sophisticated is Putiikki (rue de l'Hopital 9). Great second-hand clothing boutiques have a strong link to the area and include Bernard Gavilan (rue des Pierres 27) who specializes in 50s and 60s vintage clothes as well as Ramon & Valy (rue des Teinturiers 19) another vintage gem for those looking for big names such as Courréges or Chanel.
Dance the night away: A hot Latino club that often turns into a local revolution is the Canoa Quebrada nightclub (rue du Marche-au-Charbon 53), drop in after midnight.
Sleep soundly: Hotel D'Alcantra (rue des Bouchers) is a gorgeous boutique hotel in the area.
In Brussels city centre 'Must drinks' include Delirium Cafe (Impasse de la Fidelite 4a), possibly the best bar in all of Brussels offering 2,500 different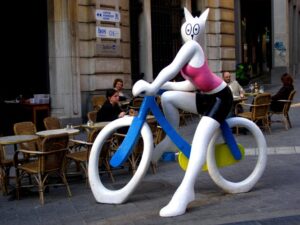 beers from around the world; including some of Belgium's best Trappist beers. Across the alleyway is the new Floris Bar – try the Apple Floris beer. Both stay open till late.
Must eat: Rouge Tomate (Avenue Louise 190) a very elegant and stylish restaurant offering only the best Belgian food. Lunch prices are around €20, dinner budget a little more.
Culture vulture: The legendary Manneken-Pis (follow signs out of Grand Place), the 11th century Renaissance Cathedral of Saint Michel and Saint Gudule (Treurenberg hill), the Chinese Pavilion and Japanese Tower (Avenue Van Praet 44), the Royal Square (Coudenberg). The Star Wars Exhibition is running through March; contact the Brussels International Tourist Information desk for details (Town Hall, Grand-Place).
Shop till you drop: The best shopping can be found on Avenue Louise and Boulevard de Waterloo. Lined with grand town-houses, Avenue Louise has become the muse of fashion designers such as Natan Couture, Eduard Vermeulen – designer to the ladies of the Royal Court; as well as the famous Olivier Strelli, Bellerose, Mer du nord, Roverwoods, COD. Nearby is Boulevard de Waterloo, equally grand and lined with ornate mansions, housing fashion's biggest names – Gucci and Armani; Chanel and Dior; Hermes and Yves Saint-Laurent; Versace, Salvatore Ferragamo, Ralph Lauren.
Dance the night away: Le Corbeau (rue St-Michel 18) is a popular brassiere during the day then, at around midnight on Friday's and Saturday's, it becomes a sassy disco, playing mostly 90's and 00's music.
Sleep soundly: The chic White Hotel (Avenue Louise) is a trendy designer hotel with extra large rooms.
In Ixelles, the Art Nouveau district has a groovy 'Must drink' at the Guru Bar (chee de Boondael). They have a DJ at the weekend and a hyper barman who loves showing off his skills.
Must eat: Volle gas (Place Fernand Cocq 21) offers great Belgian cuisine – try their rabbit cooked in beer. Budget for around €30 per setting.
Culture vulture: The lively and warm ambience of Ixelles is intoxicating. Exotic colourful stalls line the Chaussée d'Ixelles where the fading elegance of the exiting Congolese district creates a cheerful detour. Take a walk through the market stalls that sell fruit and vegetables from Africa, as well as African hairdressing and 'waxing' salons, and textiles inspired by Javanese batik. The Fantasy Film Festival starts on 27 March, contact the Brussels International Tourist Information desk for details (Town Hall, Grand-Place).
Shop till you drop: In the heart of the Art Nouveau district, across from St-Boniface church is the top design store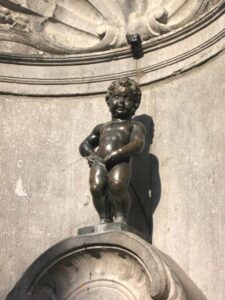 of Nina Meert and nearby Cocoon (rue de la Paix) and a dozen boutiques in between.
Dance the night away: Les Jeux d'Hiver (chemin du Croquet) is an ever popular yuppie nightclub; but if it's glamour you're looking for head to Louise Gallery (des Galeries Louise 1).
Sleep soundly: The five star Renaissance Hotel (rue du Parnasse 19) for casual sophistication. Rooms start at €99.
Getting Around
Brussels Airport train station is located in the terminal's basement (level-1). There are up to four trains an hour connecting the airport to the city; €3 one-way.
Save over €100 in access fees and public transportation by buying a Brussels Card. On production of a Brussels card you'll receive discounts of up to 25 percent in designer boutiques, restaurants, bars and gain free access to +25 museums also free use of public transport. Purchase a one-, two- or three-day card on-line www.visitflanders.co.uk or call in at the Town Hall on Grand-Place.