I have something to confess. I've been having a luscious affair with New York City since the day I first set foot on its bubblegum-pocked streets. I try to leave, I try to explore other cities and cultures, but somehow I find myself back on Gotham soil at least once a year. I even lived here once. The adage goes that if you can survive one year in the city, you can adorn yourself with the illustrious title of "New Yorker."  I only clocked in six months due to not having a  long-term work visa, but I could jay-walk and judge tourists like I'd been doing it for years.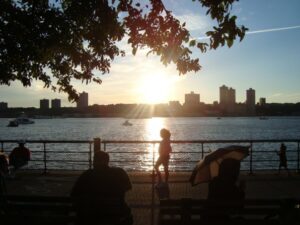 Even now, when I come back to the Big Apple, I like to stroll past the aged brownstones on the Upper West Side and wonder what life would be like if I called one of them home. Because, explore as you might, New York for locals is very different to the city that millions of tourists flock to see every year.
So, instead of hopping on a garish red tour bus, rather take in these sights that, seasons permitting, will make you feel like a real New Yorker:
– First off, avoid Midtown Manhattan! This is the area from 59th Street down to roughly 23rd Street, and it's sickeningly crowded. Strolling streets that aren't stuffed with other tourists and hawkers trying to sell you overpriced crap will not only make you feel more like a local but also put you in a much better mood for your holiday.
– On a sunny day, take the 1 subway train up to 79th Street and then stroll all the way west to the Hudson River. Here, you'll find the Boat Basin Café that has affordable lunches and an incredibly picturesque view across the water to New Jersey.
– While you're there, explore more of Riverside Park that surrounds the café. It's a largely touristically unexplored park and offers unbroken meanders right up the west side to Columbia University and the tomb of General Grant.
– If you're in Manhattan for the 4th of July, pick out a picnic spot in Riverside Park to watch the Macy's annual fireworks display. Watching the sun set over the Hudson while families break out barbecues will give you a good dose of fuzzy, all-American warmth.
– Moving across town, go and explore Central Park on foot. Don't rent a bike or pedicabs and certainly not one of the ubiquitous horse-drawn carriages, just walk. Get lost in the park's lush wonderland. Some parts are so dense, you can't even hear any traffic!
– Likewise, if you're there in early July, check to see when the NYC Philharmonic's annual concert in the park is. Listening to symphonies on the Great Lawn with 200,000 other New Yorkers is not to be missed.
– Next, take a walk across the Brooklyn Bridge. This iconic link between Brooklyn and Manhattan is a route many locals walk to work every day, and makes for great photo opportunities.
– Once you're over in Brooklyn, hop on the A or C subway train at High Street. Change to the F train at Jay Street and ride that all the way to Coney Island. A lot of tourists fail to see any sights outside Manhattan but this ancient fun-fair is so charming in its dilapidation (everything still works safely), that you'll feel like you've been transported to another era.
– Back in Manhattan, make your way to Greenwich Village, where you can spend hours browsing the vintage clothing stores around Bleecker Street. Forget about expensive department stores and find a one-off original!
– If you're looking for entertainment, Bleecker Street will give this to you too. The Bitter End has played host to many famous faces (Bob Dylan, Jackson Browne and Lady Gaga among them) but these days you can watch as many as five talented bands on one weekend-night bill for an entrance fee around $10.
– To sate your appetite after all this exploring, head to:
The Chelsea Market on West 16th Street and 9th Avenue to browse an array of exotic restaurants and dessert stores.
Lombardi's in Nolita is the city's oldest and best pizzeria. It lets you make up your own pizzas in a variety of flavours and sizes and they taste good!
Katz's Deli on East Houston Street is out of many a movie scene, but their pastrami on rye sandwich is local cuisine at it's best.
Take home a cupcake from Billy's Bakery on 9th Avenue at 22nd Street. Their buttercream icing is so sweet it might induce a coma, but it's well worth it.
There's a whole different city out there beneath the high buildings and high prices. Happy exploring!