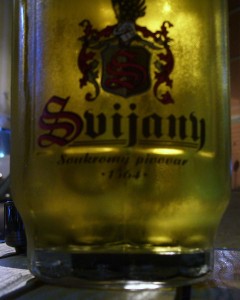 You can't be blamed if beer ("pivo") is the first thing that comes to mind when considering the topic of drinking in Prague. On your visit to the Czech Republic, you will quickly discover that beer is usually cheaper than water, ranging from about CZK 21 to CZK 32 for .5 liter. If you pay more, you may be a tourist.
The Czech Republic, where pilsner beer was born in the town of Plzen, proudly claims to have the best beers in the world, and once you give it a try, you won't have much of a choice but to agree. Not only can you indulge in the popular names like Gambrinus, Pilsner Urquell, Budvar, or the Prague-brewed Staropramen, you can also try the dark and moody Kozel or check out various restaurants with microbreweries. Keep an eye out for Svijany (try the beer garden in the Divoka Sarka park or Ron Bar in Vinohrady) with its incredible pear-like flavor, or the various styles of Primator (to be had with a slice of lemon) found at the Dobra Trafika cafes and a few other places. If you prefer, you can enjoy that special Czech beer flavor sans the alcohol with a "nealko pivo" or nonalcoholic beer.
But yes, back to the main point here: there is more to drinking in Prague than beer. To start with, there's Becherovka, a liquer concocted of over 30 different types of herbs. "It tastes like Christmas!" will be the exact words out of your mouth the first time you try it. No kidding. The Czechs say that this honey-colored drink is great for digestion, so have a glass after your heavy meal of goulash or roasted pork knee.
Slivovice is a strong, traditional brandy made from plums ("sliva") and is said to open the appetite, although it's not advisable to try this on an empty stomach. It does, however, boost any beer drinking session to the next level. You will also come across hrusnovice (pear) merunkovice (apricot), jablkovice (apple) and several other fruity renditions of this popular liquor. If you can get this stuff homemade, even better.
When visiting Prague during its long wintry season, you should get friendly with the survival drink known as svařak. This is basically hot mulled wine (typically red) that's found at any bar and at all outdoor Christmas markets. If you plan to spend some time browsing the crafty, fun markets for the perfect souvenir or holiday gift, then you'll need a cup or two of this softly spiced beverage to keep your hands and your belly warm. Easy souvenir idea: pick up a few packages of svařak spice mix in a grocery store like Tesco.
If you get to the Czech Republic in late August or early September, you'll encounter burčak, a strong, young wine made from the first grape harvest. This stuff looks like thick, fizzy pear juice and goes down very easy, so sip with care if you want to avoid a groggy morning. You'll see kiosks all around the city offering burčak for about CZK 35 a half liter. Bring your own bottle and have them fill it right up.

Absinthe, notoriously known as the green fairy, may not be for everyone, but if you really want to tell your friends that
you've tried the authentic Czech recipe, head over to Cafe Slavia (right across from the National Theater or Narodni Divadlo), where you can get a mug of hot chocolate with a splash of absinthe. Speaking of hot chocolate, the pudding-like fondante chocolate (many nicer cafes have this) is a definite crowd pleaser, but you'll need a spoon to "drink" it.
Czech wine can be decent, but you'll have to spend some money to get quality–and if possible, avoid ordering the house wine wherever you go. Frankovka is the most popular Czech red, and Müller-Thurgau and Veltlínské zelené are two of the more common whites you'll find. Although this landlocked nation can't boast the most ideal climate for grapes, Moravia is the country's main grape-growing region with 95 percent of the nation's vineyards. You might notice that when most Czech women order a glass of wine (they don't often have beer), they'll also order a small bottle of "perliva voda" or sparkling water, and make a spritzer, regardless if the wine is red or white.
You can also find wine "on tap" for cheap at a vinoteka (wine shop), where the owner will gladly fill up your plastic bottle for about CZK 70-100 a liter. Vinotekas provide bottles for about CZK 6 if you don't have one. A vinoteka is a good place to sample some interesting Czech wines before you invest in a whole bottle—but these little shops also keep a good stock of bottled wine. If you're not in the mood for local vintage, you can always get a pour of some pretty decent chardonnay, malbec or tempranillo.
For tee-totalers or those who aren't afraid of mineral water, you should make it a point to try some from the hot springs of nearby spa town Karlovy Vary. This spot is worth a day trip in itself, and as you wander around, you'll be offered free samples of hot spring water to drink. Karlovy Vary's popular Mattoni brand of mineral water is sold everywhere in Prague (and around the country), but you have to know which one is most suitable to your taste. The water is classified as neperliva (still water), jemne perliva (mildly bubbly) or perliva (typical carbonation level of sparkling water) and is traditionally unflavored, but you will find a variety of fruit-flavored Mattoni. When you're at a restaurant or cafe, you can simply ask for a "Mattoni" if you want mineral water.
Last but not least, you can imbibe the twisted taste of history with a swig of local commie cola. It's called Kofola and tastes a bit like a coffee-flavored, flat cola–a truly drinkable relic of the communist era that Czechs still love. In fact, Kofola might have been the only highlight of the communist years, but the flavor is certainly something to get used to.