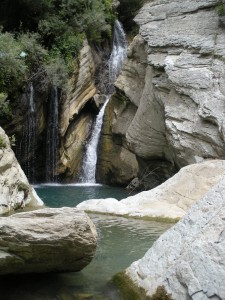 Rumbling down the half-paved road in the wrong lane, I clutch to the shaking metal frame of my seat. Turbo-folk blares from the cracked speakers of the furgon's dash and by this point, I'm humming along. With the window cracked just enough, there's a breeze that squeaks its way onto the face of every sweat soaked passenger that have more or less become fused to their leather seats. A sudden jolt takes the entire van by surprise and without warning the furgon swerves out of incoming traffic and back into the proper lane, tossing my unseat belted body against the not so sturdy door.
The journey to Berat, one of Albania's most beautiful and uncharted towns, was a terrifying, in your face introduction to the Albanian way of life. A UNESCO protected landmark, the "town of a thousand windows" is a prized gem among the Albanian people. Dating back to the 6th century BC, this Ottoman inspired, jaw dropping wonder was built into the steep mountain sides, creating a city on stilts. A scenic hike up to the jungle entwined ruins of Berati Castle offers a panoramic view of the ancient town, a sneak peak at Mt.Tomori, and a first-hand glance at the lives of the 1,000 local people that still live within the castle's grounds. While in Berat, take part in the nightly Giro; a Communist inspired routine of gathering in the town's centre and slowly strolling up and down the main street smiling and greeting each other politely.
Aside from its obvious visual appeal and fascinating history that takes you back a century or so, Berat's surrounding areas are well worth a visit. The ancient Roman ruins of Apollonia and the family run Çobo winery will most certainly give you a better understanding for why the local's reserve a special place in their hearts for Berati. But one of the town's most well kept secrets is the Bogove Waterfalls. A lush spring of fresh mountain cap run-off streams through the tiered hillside of Albania, plummeting at the very center of Bogove.
For a terrific place to kick back and relax in good, Albanian style, book with Berat Backpackers, an English run, Lonely Planet recommended paradise that is sure to complete your stay. Both dorm and private rooms are available during the spring and summer months.
Outside of Berat, Albania prides itself on its National Parks and pristine lakes; Ohrid Lake and Lake Shkoder. Head South down the coast to Saranda if the sun's caught your eye for emerald waters and empty beaches.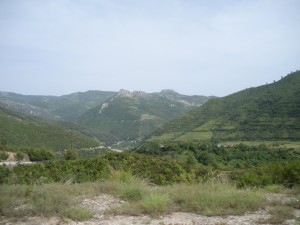 But all destinations aside, sometimes it's the journey that's the most memorable. Due to the country's recent integration into the "new" world, it's hardly had time to stretch its legs, never mind organize a proper transportation system. And that's where the furgon comes in; mini-van like passenger vehicles that are privately owned and operated. Like everything else in Albanian, furgons don't run on Western time and tend to leave when they are full. For an exciting journey down the treacherous back roads of Albania, this is your ticket. Due to the lack of public funding and maintenance, the Albanian Railway has seen better days and offers a slow and unreliable trip. There are buses, of course, with a more regulated schedule, but make sure you start your travel day early as many buses and furgons stop running as early as 4pm.
Having experienced only twenty years of Communist liberation, Albania has yet to be eye-fully selected, hand-picked, and squeezed of its unsullied seeds by the tourism industry. While other Balkan states such as Greece and Croatia tend to remain tourist hot spots, Albania's managed to stay out of the lime light and in turn, preserve its captivating nature. The all too confusing custom of one quick nod for no and a shake of the head for yes is but one of the nation's quirky traits that charms foreigners and captures the hearts of many.
Broken into two dialects, Tosk and Gheg, the Republic of Albanian's national language is, yep, you guessed it, Albanian. You won't find a strong English base here, but rather Italian, thanks to the country's Mediterranean neighbor. At the moment the country is in development mode. Primarily an import-orientated country, Albania has had one foot in the door of international trade since the day it became a democratic state.
Be aware, not afraid. They're two different verbs that travelers sometimes get confused. Albania is different. And with this complete change of pace, location, and customs, comes a whole new set of rules. Countries like Albania won't win that tug-of-war against the developing world. No, Eastern Europe is changing at a shocking rate, and many of the customs that give it its zest are soon to be forgotten. If it's a rollercoaster of culture, a kaleidoscope of inconsistencies, or a melting pot of past and present customs you're looking for, hold onto your boots, strap yourself in, and get ready for the ride of your life. Because when it comes to Albania, you're sure to get all that and much, much more.