With the US Presidential election just a little over one year away, New Hampshire residents once again get the unique chance to meet most – if not all – of the hopeful candidates face-to-face.  If you'd like to shake hands with future world leaders while touring a quintessential New England state, this fall is the perfect time to visit New Hampshire.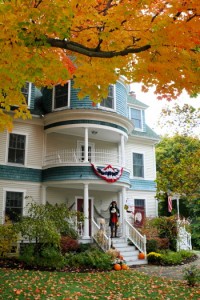 New Hampshire is among the smallest states both geographically and in population, with only 1.3 million residents covering an area that's just 68 miles wide and 200 miles long.  For the visitor, this means you can see many of the state's highlights in a long-weekend fall visit – though you'll surely want to come back in every season once you get a taste of the Granite State's beauty and charm.
In planning your trip, keep an ear out for "town hall meetings," a New England tradition that has been adopted by campaigning candidates, who call the sessions in small towns as a way to get to know the locals and espouse their views.  As you travel around the state, take the byways and side roads, stopping in small villages to explore general stores, town squares, craft fairs and farmers' stands.  You'll get much more of a sense of the "real" New Hampshire if you explore the network of historic hamlets with an open itinerary.  It's impossible to get too lost here, and any Yankee will be happy to direct you back on track if you get a bit turned around.
For a truly presidential tour, start in Manchester, the state's largest city and center of commerce.  At its peak in the mid-1800s, Manchester held the world's largest cotton mill, and the historic brick factories still line the city's riverbanks. Manchester boasts a wide range of restaurants, shops and activities, including the Currier Museum of Art, which displays works from Picasso, Monet, and O'Keefe.
Next, head north to Concord, the state's capital.  The State House is open to the public on weekdays, and if you want to bag a picture of your travel buddy at a podium, this is the place to get that shot.  While in Concord, catch a live theatrical or musical performance at The Capitol Center for the Arts or an indie film at Red River Theatre, both located on Concord's Main Street.  Main Street is also home to many candidates' local campaign offices, and you're welcome to stop in and get stickers, buttons, and signs for your favorite politician.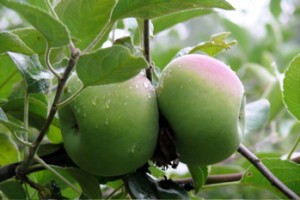 Throughout New Hampshire you'll find farms and orchards, and if you're lucky enough to be in the state during harvest season, you can enjoy picking your own peaches, plums, pears and apples. (The season varies per fruit, but typical harvests run July through October).  Many farms feature fresh apple cider, pumpkin patches, and hay rides in the fall, offering a picture-perfect New England experience for the whole family.  One such farm near the Concord area is Gould Hill, a family-run orchard that's been in operation since the mid-1700s.
After you've gotten a taste of life in the capital city, head northeast towards Lake Winnipesaukee, the state's biggest lake.  Surrounded by picturesque vacation homes, nostalgic penny arcades and boardwalks, there are ample opportunities to enjoy the area by taking a scenic cruise on the water, strolling the shoreline, or hiking nearby peaks with views of the lake.
Continuing north, you'll soon find the highway surrounded by massive granite peaks, deep green forests and rushing rivers.  This is the White Mountain National Forest, home to the highest peaks in the Northeast United States.  Recreational opportunities abound in this breathtakingly beautiful land: hiking, kayaking, downhill and cross-country skiing, camping, fishing, and more, for every activity and age level.  One scenic drive you won't want to miss is the Kancamagus Highway, a 26-mile twisting road through forests and up mountains, especially stunning as the leaves change colors in autumn.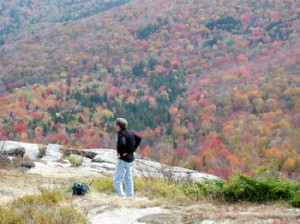 Winding your way out of the mountains, north, north and north some more, the human population thins out and moose warning signs start to appear along the highway.  This is, appropriately enough, the North Country, and your destination is Dixville Notch, where some of the first votes in the presidential primary election are cast and counted, on midnight of New Hampshire's primary election.  Though Dixville Notch has only 75 villagers, it is home to a historic luxury resort, The Balsams Grand Hotel.  It is here in the Ballot Room at the Balsams where the residents of Dixville Notch gather to submit their votes, and the walls are lined with political memorabilia and photographs.  (Note: The Balsams will be closed for extensive renovations from September 2011, reopening in 2012.)
Journey southeast from the mountains to the sea, with the coastal town of Portsmouth as your next destination.  Like many New Hampshire towns, red brick colonial architecture dominates, and here it's particularly striking with the Piscataqua River – which divides New Hampshire and Maine – as a backdrop.  This easily walkable city boasts fine restaurants, unique boutiques, and historic sites such as Strawbery Banke, a restored colonial neighborhood where costumed guides demonstrate daily life from the 17th century through World War II.  Grab breakfast at the Roundabout Diner, a popular candidate stumping site, before heading out on an ocean-bound boat to cruise the harbor or explore the Isles of Shoals, a collection of 9 small islands off the coasts of Maine and New Hampshire. Back on land, a fresh lobster dinner awaits at your choice of the numerous coastal eateries.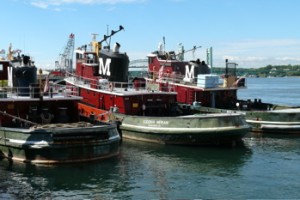 After your oceanic exploration, loop back west to Manchester, where your trip began.  Now that you've covered New Hampshire in the footsteps of the candidates, maybe you'll be inspired to run for office.  Call a town hall meeting at your favorite diner, and let the campaign begin!
More Information
Visit the state of New Hampshire's official tourism website for more information on outings, adventures, lodging and more.
Get all the latest details on candidate visits and events from the Primary 2012 website.