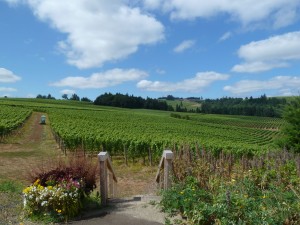 What comes to mind when you hear the words organic wine? A dollar sign? A better quality product? Something exclusive? A new trend? More please? In my case I thought of the adjectives 'sustainable' and then quickly 'expensive', because many times organic is more pricey. Paying more, I expect a tastier, superior product, which then led me to wonder: Does wine from organic grapes taste better than other, 'traditionally' farmed grapes?
According to Alex Sokol Blosser, owner at the Dundee organic winery of the same name, the answer is no. Although Sokol Blosser vineyards use sustainable practices on their land, once in the bottle there's not much difference between their wine now and their wine prior to going green. The pay off Alex explained, is in the land. He is confident that his family's vineyards, which were among the first in the region when they began in 1971, will be producing quality grapes for many generations thanks to being certified organic. I may not have tasted a difference between Sokol Blosser Pinots Noirs and another non-organic brand, but I felt better about what I was drinking.
Sokol Blosser and other sustainable leaders in wine grape farming are located about forty minutes outside of Portland in Dundee. The small town is the go-to spot for many locals and visitors yearning to try a bit of Oregon's famous Pinot Noir. Touring Dundee's organic offerings is as easy as picking up a vineyard map of the area at the Portland Tourism Office and getting on the road.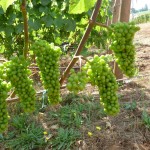 Another option for those who don't want to have to think about anything other than the 'vino' is Evergreen Escapes (www.evergreenescapes.com). The northwest-based tour company is tremendously eco-friendly using biofuel Mercedes to zip guests to and fro while serving up organic, locally-sourced snacks. Guides working with Evergreen Escapes are naturalists who know their Oregon flora and fauna, plus the easiest way to get from one vineyard to the next. Though I was born and raised in Oregon, my Evergreen Escapes guide Kieron Weidner was still able to teach me much about my State, Pinot Noir, and Portland's green movement. Evergreen Escapes leads luxury half-day tours along the Willamette Valley wine trail starting at about $125.00 per person. It's a splurge, but it's worth it.
Those who are short on cash can still sample Dundee's top organic wines on their own at vineyards Rex Hill, Winderlea, and afore mentioned Sokol Blosser. Budget $15 and up for wine tasting and around $30.00 for any bottle of organic Pinot Noir straight from the cellar.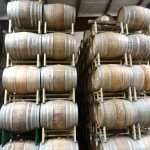 REX HILL-
www.rexhill.com – 30835 N Hwy 99W, Newberg, Oregon, 97132- Tel: 503-538-0666
One of the older cellars in the area, Rex Hill opened in 1982. The vineyard is family-run by the Hatchers and Tannahills, and specializes in fine Pinot Noir wines. Before tasting, ask for a tour around their ample, maze-like cellar where they produce bottles for the Rex Hill and A to Z wine brands. Make sure to get a glimpse of the giant bio-dynamic egg used for Rex Hill wines. Rex Hill is in process of becoming bio-dynamically certified by Demeter and is already are LIVE certified. Try their 2009 Rex Hill Jacob Hart Pinot Gris ($33.00) for something distinctive from the many Pinot Noirs offered.
WINDERLEA –
www.winderlea.com – 8905 NE Worden Hill Road, Dundee, Oregon, 97115 – Tel: 503-554-5900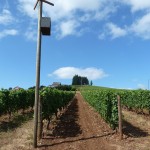 A new, bio-dynamic vineyard, Winderlea is a cutting-edge spot in sleepy Dundee. In the main vineyard building – a sleek, almost-LEED certified structure that looks out onto the rolling red hills – visitors swig at glasses of the Estate Pinot Noir and chat about what bio-dynamic farming means. For $15.00, Pinot fans can sample five Winderlea wines, including the Estate Reserve Pinot Noir from 2007 ($60.00), a 2008 Chardonnay ($36.00), the 2009 Dundee Hills Pinot Noir ($38.00), the Estate Pinot Noir from 2007 ($50.00) and the Winderlea Pinot Noir from 2008 ($54.00). Unlike other cellars, all the proceeds from Winderlea tastings are donated to charity. Bio-dynamic, sustainable, beautiful, charitable? This place is amazing.
SOKOL BLOSSER –
www.sokolblosser.com – 5000 Sokol Blosser Lane, Dundee, Oregon, 97115 – Tel: 503-864-2710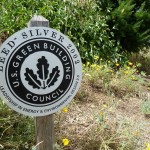 A leader in 'green' grape growing, Sokol Blosser's facilities are also environmentally friendly. Peek back behind the tasting room to view their underground barrel cellar, which was built to US Green Building Council standards, with a Silver LEED (Leadership in Energy and Environmental Design) certification. What's more, the estate has been certified by Salmon-Safe as a vineyard that protects and restores salmon habitat, an important cause for most Oregonians.

Once off the land and in the tasting room, the real fun begins at Sokol Blosser. Start with their reasonably priced 2010 Estate Rosé of Pinot Noir ($16.00) and then wet your lips with the 2008 Dundee Hills Pinot Noir ($38.00), followed by the 2007 version ($50.00). On the warm day I spent sampling at Sokol Blosser, the white 2010 Willamette Müller-Thurgau won me over as it tickled my taste-buds with ripe pear and
apple flavors.