The term "Going Green" is one we've all heard. Reduce, reuse, and recycle, right? Well ,what about when you have a 20kg weight allowance and a very shallow pocket? I don't know about you, but sorting plastic bottles and hauling old newspapers around isn't part of my ideal backpacking trip. And then there's the expense of being eco-friendly. Backpacking is practically a synonym for financial strain and as much as we may want to join the ecotourism movement while abroad, sometimes the wallet issue gets in the way. But the great thing about being eco-friendly is that it comes in all different shapes and sizes. So here are 5 great ways to do your part, without killing the buzz of a great trip.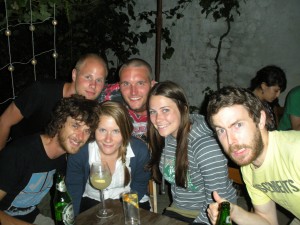 Turn it off and unplug it.
Said time and time again, but not listened to enough, turning off and unplugging your appliances before you leave can save your own butt. How many horror stories have you heard of electrical fires, or even electric bills that somehow accumulated while you were away? For example, a simple clock radio can use up to 18kWh of phantom electricity a year. Assuming the price for electricity is 15 cents/kWh, the end result is $2.70 a year for an alarm clock you're not even using! Take a second to think about all of the appliances you normally leave plugged in when you're not using them; TV, phone charger, laptop charger, microwave, the list goes on. And what are you left with? A neatly sealed envelope, enclosed with last month's energy bill, that's what.
Bring your own linen.
The first thing many of you weight savvy people are thinking is, I don't have the room or the weight to spare. But when you factor in the average cost of linen rentals in European hostels in addition to the many different cities you plan on visiting, you'll make it fit. And in saving yourself a few bucks here and there, you cut out any unneeded washing.
For a light-weight option, consider bringing along a sleep sack; a thin lining used in sleeping bags but can just as easily be used on its own. Or get crafty and make your own by sewing three sides of 2 old bed sheets together, leaving one side open for you to slip into. Traveling to a chillier destination? There's always the old fashioned sleeping bag.
Raid the "free box".
Many hostels have hopped on the band wagon in the fight for waste reduction. If your hostel's got a kitchen, have a look in the fridge and in some of the cupboards for a labelled "free box." Didn't use all of that milk? Still some pasta left from last night? Well, drop it in the box for someone else to use. It's a great way to help out your fellow traveler and to be helped.
And while you're at it, give the book exchange a go. Have a browse through the hostel's bookshelf for free, previously owned books. Lugging around old guide books from countries you've already been can be a hassle. Plop it on the shelf and treat yourself to a new read. Whether it's picking up a paperback or leaving one, it counts.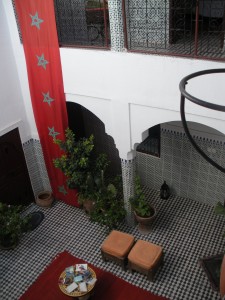 Bring a water bottle, and use it!
Convenient as they may be, these easy guzzlers are damaging in more ways than one. More than 22 billion plastic water bottles are being consumed worldwide each year, 50% of which head straight for the landfill. Even the production of these bottles wreaks havoc as 17 million barrels of oil are used and 2.5 tons of CO2 is released back into the environment every year.
Aside from their affect on the environment, plastic water bottles can be detrimental to your health. These bottles can contain trace amounts of cancer causing chemicals that escape from the plastic if left sitting too long, if they're damaged from reuse, and if they've been exposed to the sun. A bit of a gamble, don't you think? Before you go, invest in a stainless steel water bottle that's sure to withstand a beating, keep you chemical free, and stay out of our landfills.
By foot, or by pedal.
Some of the best memories I have from traveling happened when I was lost from a self-guided walking tour of a new city. There are things you can't see or experience from the confines of a yellow taxi, you have to get out there and feel the city out with your own two feet. There are loads of free walking tours out there and many hostels will advertise them. If you're interested in seeing a city from a local's perspective, this might be something worth taking part in.
Have more miles to spend than time? Why not rent a bike for the duration of your stay and sightsee on two wheels? In Europe, more than 100 cities have joined the bike sharing system; a series of renal posts located throughout the participating cities which allow users easy access to rental bicycles for cheap.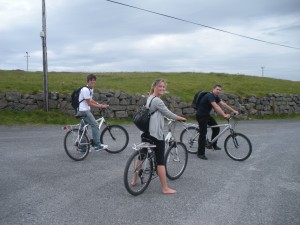 And if walking or biking isn't an option, use public transport, carpool, or hitchhike. Renting a car is convenient, yes, but to cut down on costs and fuel emissions, ask around your hostel for other road trippers considering renting as well. That way you'll have some company as you trek across unknown lands.
With tourism accounting for the world's largest industry, raking in roughly $304 trillion a year, we all have to start doing our part; no matter how big or small it may be.