Call me weird if you want to, but I know I am not the only traveller who enjoys, yes, enjoys visiting cemeteries if the opportunity to do so presents itself during my travels. Maybe it's because I am getting older, but there is something incredibly sobering and calming about visiting the last resting place of some of our fellow planetary citizens. There is also something of a sense of satisfaction knowing that no matter how high and mighty a person may rise in life, or how powerful – their last resting place is invariably reduced to just six feet of earth and a marble headstone.
So here for your contemplation are three of the worlds major cemeteries (Woodlawn, New York; Pére-Lachaise, Paris; and Melbourne General, Australia), and a role call highlighting some of the people that now call them 'home'.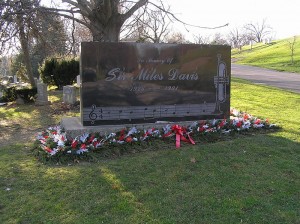 1. Woodlawn, The Bronx, New York City
Opened in 1863, and covering more than 400 acres (160 ha), Woodlawn Cemetery is one of the largest cemeteries in New York City. Built on rolling hills, and the resting place for more than 300,000 people, Woodlawn is considered one of the nation's great "garden cemeteries." Its tree-lined roads lead to some unique memorials, which, to quote the Woodlawn website "represent some of the finest examples of memorial architecture and art in the nation…."
Who's Buried Here?
Irving Berlin and Oscar Hammerstein, Sr (composers); the jazz luminaries Miles Davis, Max Roach, Milt Jackson, Joe "King" Oliver, and Duke Ellington; the writers Herman Melville and Damon Runyon, and the newspaper publisher, Joseph Pulitzer; Otto Preminger (film director); and the musicians Felix Pappalardi and W.C. Handy ("Father of The Blues").
As you might expect, Woodlawn has its fair share of business chiefs and movers and shakers who helped make New York (and America) great. These include Fiorello La Guardia (New York Mayor); William Durant (founder of General Motors and Chevrolet), Robert Moses (urban planner), and Archibald Gracie whose spacious residence, Gracie Mansion, now serves as the home of New York City's mayors.
2. Pére-Lachaise, Paris, France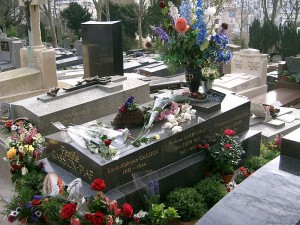 The Père-Lachaise Cemetery is reputed to be the world's most-visited cemetery, attracting hundreds of thousands of visitors annually to the graves of those who have enhanced French life over the past 200 years.
Even if you can't visit the cemetery personally, the website offers a fabulous virtual tour of the grounds which allows you to walk through the whole cemetery and view most of the famous burial sites located there. You can search by name and enjoy 360 degree panoramas of many areas of the cemetery from the comfort of your easy chair.
Who's Buried Here?
A veritable Who's Who of the arts, letters, and music world. Here is just a small sampling of some of those (not all French nationals by the way) who have made Pére-Lachaise their last resting place: actors Sarah Bernhardt, Simone Signoret and Yves Montand; the singers and musicians Stéphane Grappelli, Maria Callas, Edith Piaf, and the Lizard King himself, Jim Morrison (of The Doors). Then there are the writers and novelists Marcel Proust, Oscar Wilde, Honoré de Balzac, Moliére (playright), and the American authors Richard Wright, Alice B. Toklas and Gertrude Stein.
Among the artists buried here are the German, Max Ernst, and the French artists Eugene Delacroix, Georges Seurat, and Jacques Luis David; you will also find here the last resting places of the composers Georges Bizet, Francis Poulenc and the Polish composer Frédéric Chopin – whose heart is apparently entombed within a pillar at the Holy Cross Church in Warsaw!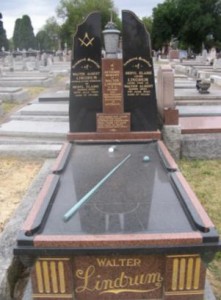 3. Melbourne General Cemetery, Melbourne, Australia
Melbourne General Cemetery is a large (43 hectare) necropolis located 2 km (1.25 miles) north of the Melbourne city center in the suburb of Carlton North. The first burial at Melbourne General took place on the 28th May 1853 when John Alexander Burnett, aged 36, a colonial merchant was interred. The cemetery has become the final resting place for some of Australia's most notable identities, including early pioneers and politicians through to famous sporting identities and explorers.
Who's Buried Here?
Four Australian Prime Ministers have headstones in the Melbourne General Cemetery: James Scullin, Sir Robert Menzies, Harold Holt and Sir John Gorton. However, Harold Holt's headstone serves merely as a memorial to the man after his term as Australian Prime Minister ended dramatically in December 1967, when he disappeared while swimming at Cheviot Beach, Victoria. Presumed drowned, his body was never recovered.
Also buried here are John Pascoe Fawkner (one of Melbourne's founding fathers); the Australian explorers Robert O'Hara Burke and William John Wills (Burke & Wills); and Walter Lindrum, the Australian world billiards champion, whose tombstone – in the shape of a billiard table – would have to be the most unusual monument marking the final resting place of any person buried at Melbourne General.
As an interesting aside, it wasn't until I checked out the Melbourne General cemetery website that I learned the plural of 'mausoleum' is 'mausolea'. Hey, you never know when that snippet of information might come in handy.