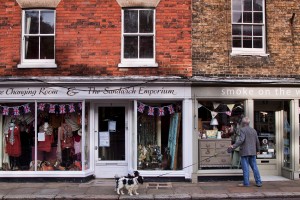 Just twelve miles from Canterbury sits Sandwich, a perfectly preserved medieval English town complete with a network of narrow cobbled streets and alleyways. In medieval times, before the River Stour silted up, Sandwich was a main UK port. Now  it's famed for its quirkiness and for being a regular host to the British Open at its championship course, The Royal St George's, most recently in 2011.
In the heart of Sandwich, adjacent to the river and surrounded by 3.5 acres of ornamental gardens, almost entirely encased by the old city walls, is The Salutation estate. Without doubt one of the most exclusive properties in Kent.
The Salutation is a handsome, recently restored, Grade I listed Georgian manor house which watches  over the ancient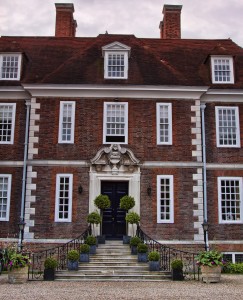 stone archway which gives access to its pebbled courtyard and three luxury self catering cottages – Knightrider House, The Coach House and Gardener's Cottage.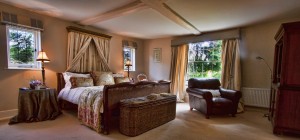 The bedrooms, nine in all, are contained in the three beautifully restored self-contained cottages – the interiors of which are of true connoisseur quality. From the drawing rooms, dressed in shades of rich ivory, mocha and nutmeg; to personally sourced, highly polished antique furniture in the dining rooms; silk drapes and French-styled beds swathed in the finest Egyptian cottons; to ice machines and freshly ground coffee in state-of-the-art kitchens. Every imaginable convenience comes as standard, including free Wi-Fi and well stocked, complimentary liquor cabinets. This is the perfect retreat for families or a group of friends. Some cottages have rooms which share bathrooms and are only let to the same party (so if you come alone, there's a good chance you'll get the whole cottage to yourself).
As gorgeous as the house and cottages may be, the jewel  is the magnificent gardens. Although the House is a private residence, the Gardens are open to the public year round. There's also a fabulous little tea room with a shady deck area in the Old Gate House and The Salutation Gift Shop where you'll find all the things you didn't know you needed.
Literally a two minute walk from The Salutation is the rustic George & Dragon (opened in 1446 –forty-six years before America was discovered) on Fisher Street. It came highly recommended by a local as the gastro-pub of the area. The uncomplicated yet interesting menu promised good food, so we started off with a couple of ales in the beautiful courtyard garden then progressed to the unfussy dining room where we feasted on chicken liver and foie gras pate with chutney; broccoli soup; lemon and garlic chicken with bacon and baby potatoes, peas and gem lettuce with lemon and chive dressing; and grilled sea bass with avocado and feta salad. A £35 dinner for two in the sort of place you hope to find but never do.
I walked around Sandwich for a day and I never once saw a street I wouldn't want to live on, a pub I wouldn't like to get to know or a view I wouldn't wish to call my own. It was hard to accept that it was real – and that people came home to these houses every night and shopped in these shops and walked their dogs on these streets and went through life thinking that this is the way of the world.
The Salutation
Knightrider St, Sandwich, Kent, CT13 9EW, England
Salutation B&B rates start at £160 per suite.
The Secret Gardens of Sandwich
Entry fee £6.50
The George & Dragon
24 Fisher St, Sandwich, Kent, CT13 9EJ, England
www.georgeanddragon-sandwich.co.uk
Getting there: Sandwich is a Cinque Port town on the Kent coast – between the ferry ports of Dover and Ramsgate; it's easily accessible from London and convenient for the Channel Tunnel.
Interesting stuff about Sandwich
The snack we know today was named after John Montagu, the 4th Earl of Sandwich. Being a heavy gambler he didn't want to leave the gaming tables when he was winning so he ordered his meat to be served between two slices of bread. Not knowing what to call it, his servants christened it the sandwich.
Captain James Cook named the Sandwich Isles (Hawaii) after the Earl of Sandwich, who was his financial sponsor.
In 1759 Thomas Paine, one of the founding fathers of the United States, had his home and shop in Sandwich.
Click here for photos, password Sandwich.