The sound of crashing waves on the beach, compliments of the Atlantic Ocean, lick my ears as I awaken to embrace another resplendent day in San Juan, Puerto Rico. Despite the fact that I am visiting this dazzling island primarily for business to attend the International Destination Expo, I've still found an opportunity to shave some time away for myself in order to soak in the unrivaled hospitality extended by almost every individual I have met during my stay.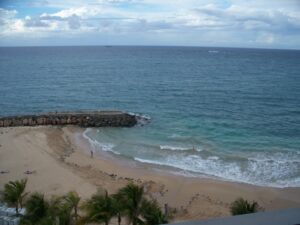 It is a lazy Sunday morning and the temperature is a refreshing 76 degrees. The sky is a ribbon of varying hues of gray, indigo and white. I head through the chic and hip lobby area of the La Concha Renaissance hotel, in order to await the shuttle to Old San Juan, Puerto Rico to Get Shopped.
Our tour started in the center area of Old San Juan, where a large statue of Christopher Columbus is erected. Many of the buildings date back to over 500 years ago, yet the facades have intricate detailing, Spanish style doors and windows, and brightly colored tiles that have lost none of their luster.  The tour guide's name is Noemi Cruz, and throughout the tour I was mesmerized by her obvious knowledge of Puerto Rico (she is a native), and her enchanting stories highlighting the history, culture and gastronomy of Old San Juan. Her beguiling tales tell of senoritas on their balconies, fans in hand, in order to send secret messages to their male suitors, to the intriguing history behind the mighty fortresses (El Morro and San Cristobal) protecting Old San Juan from intruders.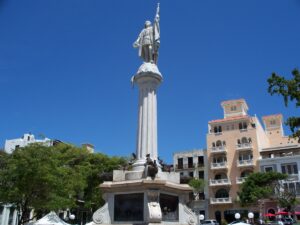 Noemi glides us effortlessly to pre-selected shops for us to browse and take in the local ambiance.  During our five hour day, we walk at a leisurely pace throughout the cobblestoned streets of Old San Juan as Noemi regales us with historical facts, interesting cultural tidbits and off the beaten path information. While the tour is packed with ample historical information, the main focal point is the shopping and the food. Get Shopped Puerto Rico offers variations on this theme and Michele Llamas, the gracious owner and president of Get Shopped Puerto Rico, is in the process of adding even more semi-custom to fully customized tours to their repertoire.
Our final coup de grâce is at the fabulous Casablanca hotel, situated on a narrow side street in Old San Juan. The restaurant located in the hotel is named Rick's, and the energetic, Ecuador native chef Gabriel Grundler who runs the restaurant specializes in Puerto Rican gastronomy. Gabriel is obviously comfortable around the kitchen and dining area, and he illuminates an understated charm, confidence and passion  as he provides us with instructions for our dish.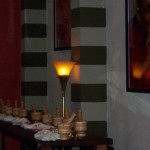 During our preparation of one of Puerto Rico's signature dishes, the Mofongo, he flits around the tables passing out the plantains (the main focal point of the dish), seasonings and chicken broth while offering advice on perfecting your personal Mofongo. The dish is completed with a light, fragrant and tasty salad of mixed greens and succulent pieces of watermelon, served alongside either marinated pork or chicken, which we plate ourselves.
We enjoy our meal and are treated to a goody bag of treats, provided by Michele.  I am intrigued by the company and the concept, because Michele has taken the niche markets of shopping and food, and combined them into an ideal excursion for those of us who yearn to have the best of both worlds; and what better way to spend an afternoon than shopping and eating?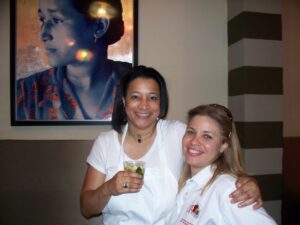 Michele's angelic smile, peaceful demeanor and overall attention to detail provided a seamless and wonderful experience. I was able to speak briefly with her as they wrapped up the tour, and I asked her how she created such a great concept? Michele simply stated, "I am an accountant that wanted to show off my beautiful Island, our culture and gastronomy and started this wonderful journey two years ago."  Get Shopped Puerto Rico provides a comfortable and warm tour experience. The group sizes are small and manageable, ensuring a more intimate interaction between the tour guide and the group. If you should ever find yourself in Puerto Rico, I would highly recommend you Get Shopped.
Mofongo Recipe
Ingredients:
3 green plantains
1 tsp salt
1/2 lbs fried pork rinds (optional)
4 cups of water
3 garlic cloves
1 Tblsp olive oil
1/2 tsp butter melted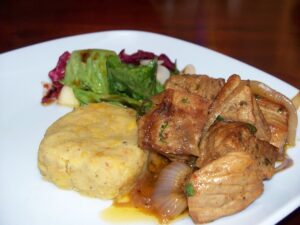 Directions:
Peel the 3 plantains and cut each into 5 to 6 pieces. Soak the plantain pieces in a bowl of salted water for about 15 minutes; drain well.
Heat 1/2 cup vegetable oil in a sauté pan or skillet over medium flame. Working in batches, sauté the plantain slices until they are cooked through, but not brown or crisp.
Mash garlic cloves with olive oil and salt in a mortar, until you form a paste. Remove from mortar and place on a side plate.
Place cooked plantains in mortar and mash a couple of pieces at a time, adding small amounts of the garlic paste to taste, about 9 pieces of plantain per person. (we also used chicken broth as we mashed our plantain pieces)
Add the fried pork rinds (optional).
Using a large serving spoon form a 3 to 4 inch ball, brush with butter, serve warm. May be served with shrimps, steak, chicken, pork, or just simple chicken broth.
BUEN PROVECHO!