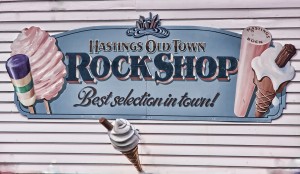 Hastings is a storied East Sussex resort town, on the southern coast of England, filled with seafront squares, grand Victorian facades, and elegant parks. Okay, it may be a little ramshackle on the fringes, which you'd kind of expect of a town dating back to the 8th century, but the antique look is half the appeal.
Then there's all the interesting stuff to discover, like the narrow black Net Shops – fifty tall wooden sheds standing in neat rows on the beach. They were built to provide weather-proof stores for fishing gear. Many still do, whilst others sell fresh cockles, muscles or lobster tails to passing trade. Also worth a look are the boats on The Stade shingle beach (Saxon for landing place) – home to the biggest beach-launched fishing fleet in Britain. Beyond the amusement park for the semi-feral (which no doubt provided loads of material to Spike Milligan and Jo Brand who once lived here) is Hastings promenade, stretching past St Leonards-on-Sea and promising a tranquil stroll with other mild-mannered eccentrics. But it was the maze of medieval cobbled streets in the Old Town that drew me. It's a smaller version of Brighton's Lanes, filled with arts and antique shops, designer boutiques, small eateries and traditional pubs.
I pulled up a chair outside a coffee shop filled with tall Dutch tourists, all with flyaway Einstein hair and large yellow teeth. I fired up my Tablet in search of a hotel in the area – something up market, classy even. The hotels Google found were mostly dark and faded establishments, some still clinging to a hint of former grandness. I placed my order then stared glumly at the screen. On hearing my South African accent a few Dutchmen shambled over to make polite conversation. When I spoke of finding suitable lodgings for the night I was immediately directed to Zanzibar in St Leonards-on-Sea, a restored centre terraced Victorian townhouse containing a boutique hotel.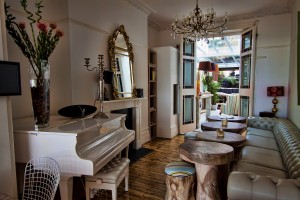 There's nothing cheesy or over-styled at Zanzibar. Apart from their fabulous beachfront location, they've got the wow factor. It's modern, chic and contemporary – with Nina Simone crooning softly in the background. The communal areas are tastefully decorated and most of the original features have been kept. Candy striped arm chairs in the bar, white-washed tables from Bali in the dining room, an ice-white Baby Grand, crystal chandeliers, endless sea views through open windows – and out back there's a stylish el fresco dining terrace.
Equally elegant are the nine regionally themed suites, spread over three floors. The prized beachfront location is again highlighted from the third floor 'Africa' room (where I planned to fold down for the night). Other than the dark and luxurious Jacuzzi bathroom, the walls of the suite are dressed in polar white and are adorned with ornate African wood carvings. Hemp and reed bedside lamps; white orchids; strips of fur stitched together to form a rug; soft white bed linens; a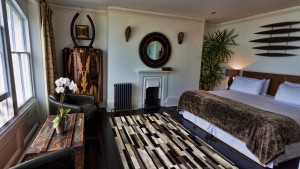 faux mink throw; an antique travel trunk serving as a coffee table between two leather arm chairs; and mocha coloured curtains framing a drop dead gorgeous gold and red sunset. It's no wonder Hastings inspired Catherine Cookson's writings.
Pier Nine Restaurant has a small, uncomplicated lunch and dinner menu of good local food. Breakfast (fill out the form on arrival, ticking off your requirements and hand in at the bar the night before) is simply terrific.
Starting with the personalised welcome from Max, in his saggy seated Bermudas, to being shown around town via a hand-drawn map, to helping with luggage and lending me a parking disc (in order that I could park right outside) – these are just some of the extras you can't put a price to but come as standard at Zanzibar's. Add to that stylish decor, luxury rooms and gourmet food arriving in degrees of excellence and you'll know you've found somewhere special.
With easy rail access from London and prices starting at £99 including a champagne breakfast, this represents excellent value.  You'll be hard pressed to find a boutique hotel to top this anywhere in the south-east.
Zanzibar Hotel
9 Eversfield Place
St Leonards-on-Sea
Hastings
East Sussex, TN37 6BY
England
Ph +44 01424 460109