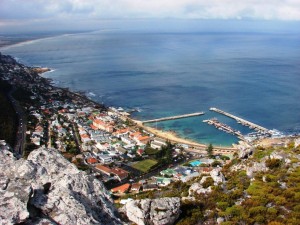 If you're traveling to Africa, chances are that the city of Cape Town is somewhere on your itinerary. The "Mother City" has long been the prime tourist spot in South Africa, but for those who've seen it more than once, the cold Atlantic seaboard of Camps Bay and Clifton beaches has started to seem a little too full of traffic jams and tourists, and a lot less appealing than it once was. Visitors from around South Africa and the rest of the world have started to look elsewhere for the genuine, laid-back heart that they once found in Cape Town itself.
The ones who know where it's at are starting to turn to Kalk (pronounced like "cork," but with a soft r) Bay. On what we used to term "the boring side of Table Mountain," Kalk Bay has successfully rebranded itself from a place only hippies used to know, to become the new enclave for authors, artists and musicians. It's like Greenwich Village circa 1962.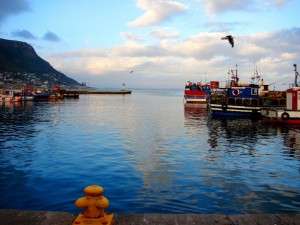 Set right on the sea front, but sheltered by the surrounding landscape from the fierce Cape winds, Kalk Bay is actually a fishing village — it still has a working fishing harbor where you can go and watch the boats coming in every afternoon with their new hauls, as a buzz of seagulls trail in their wake. This harbor also has several excellent restaurants — the upmarket "Harbour House" where you can buy a sense of splendor, to the everyman's "Kalky's" and "Lucky Fish" where some of the all-time best fresh fish I've ever had comes wrapped in newsprint for you to sit and eat on the edge of the pier, or to take home.
Moving out of the harbor, you'll enter the main thoroughfare of Kalk Bay, aptly titled Main Road. This road runs all the way from the great surfing beaches in Muizenberg, two suburbs along the beach, through Kalk Bay and on into Fishhoek down the coastline. In the Kalk Bay section of it, the road is stuffed almost to bursting point with an array of quaint and very interesting shops and restaurants. I've passed entire afternoons making it into only two or three of these shops, their wares are often so intricate and unique.
Some highlights along the Main Road (though unfortunately, right now, Main Road is suffering terrible congestion due to roadworks. No completion date is known for these, so if you want to go exploring, I definitely recommend taking a walk!) include Olympia Bakery, which has the best chocolate croissants I've ever discovered, but it's so popular that if you don't get their early, you might not get a seat at all! Cape To Cuba is a luscious and authentic Latino restaurant on the seafront. The restaurant and beach bar are so welcoming and unpretentious that the wait staff often don't even have shoes on. And you'll find most of the interior decorations of the restaurant for sale, should you like it enough to take it home. Across the road from Cape To Cuba, Kalk Bay Books has a lovely range of reading, to which you can lose many hours of your day, and it also has weekly events with authors and speakers coming to entertain the locals. Other cultural events in the area include regular live music at the Brass Bell pub, and out-of-the-ordinary events at the Kalk Bay Theatre.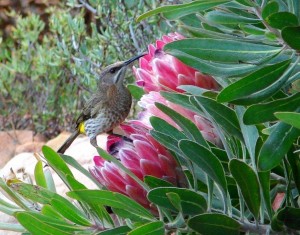 I don't think you'll find it necessary, but should you decide to venture out of Kalk Bay on your trip, it's an easy drive from there to the Cape Point nature reserve, with many an unspoilt nature trail and beach to admire. Here, you can also stand on one of the two southernmost tips of Africa. (The other being Cape Agulhas.) Along the drive from Kalk Bay to Cape Point, you'll pass through the naval town of Simonstown, which is full of historic buildings worth taking a look at, and you'll pass Boulders Beach, which is home to a terribly cute collection of penguins that'll provide more than memorable photo ops.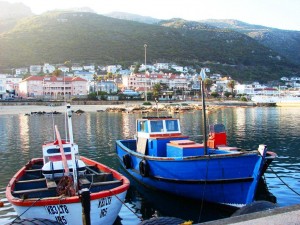 This charming, old-world side of Cape Town's tourist hotspot is like Phuket was 10 years ago, Prague was five years ago and I'm told Croatia is now — it's a sight you have to "see now, or never again in its present form." A chain store has already reared its ugly head along the Main Road, and in mid-summer, you can hardly find an open spot along the beach. So take off your shoes, let loose your hair and embrace your inner hippie in Kalk Bay while you still can.