Mouthwatering piña coladas aside, the largest island in the Eastern Caribbean has a ton to offer every kind of travel enthusiast. From its old-world charm and stunning beaches to its vast array of adventure options, making the trek to Puerto Rico will satisfy even the most severe case of wanderlust.
Get adventurous.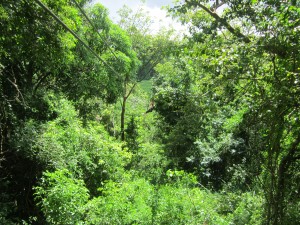 Snorkeling and zip lining? Kayaking and cave exploration? Canyoning and surfing? Yes, yes and yes. Options abound for thrill-seekers, so allot a chunk of your time to explore the island's stunning natural beauty.
For a day of kayaking, hiking, zip lining and ATVing in, over and through the rain forest, check out Campo Rico Ziplining  Adventure(camporicoziplining.com). A secluded paradise, it's located on a private estate and is surrounded by picturesque mangroves, lagoons, limestone mountains and lush valleys.
For an authentic rain forest experience, head to El Yunque Forest (elyunque.com), the only tropical rain forest in the U.S. National Forest System. Whether you trek or drive through it, you'll spy over 240 species of trees, a hundred variations of ferns and maybe even a tropical flower or two.
Want to take thrill-seeking to the next level? The Tanama River, located in the central mountains of Puerto Rico, is a hub for action. With Aventuras Tierra Adentro (aventuraspr.com) leading the way, enthusiasts hike a trail that borders a natural sinkhole in the primeval karst forest, slide for 800 feet to land in the brisk waters of the Tanama River below, then body raft down the water to Ventana Cave, where they'll get a bird's eye view of some of the most beautiful valleys on the island.
Tee off with a view.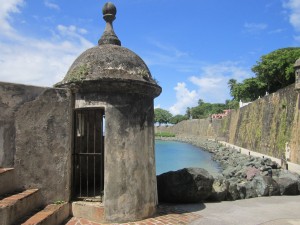 Considered one of, if not the best place to tee off on the island, the par-5, 7,000-yard track on Dorado Beach East (eldoradogolfandbeachclub.com) not only has the background sounds of waves crashing going for it, its No. 4 hole — a Z-shaped, 525-yard setup that includes two ponds — is what golf guru Jack Nicklaus deems one of the best holes in the world. If that's not enough to get you there for a day, the views of the tropical forest, Atlantic and a swanky man-made lagoon should be.
Visit a Bioluminescent Bay.
For a rare, unparalleled eco experience, make your way to the town of Farjardo to see Laguna Grande, one of three lagoons in Puerto Rico (and just five in the world) home to millions of micro-organisms called dinoflagellates that glow when agitated. Enchanted Island Eco Tours (eietecotourspr.com) takes kayakers out after nightfall through a winding mangrove-lined canal on a 45-minute journey to reach the awe-inspiring bay, where a simple paddle dip causes the organisms to light up like millions of underwater fireflies.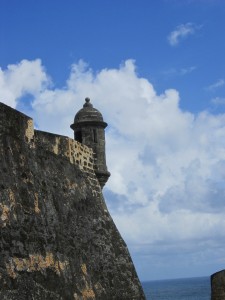 Trek through Old San Juan.
If taking in a bit of history strikes your fancy, Old San Juan is a standout.
It's here that you'll find the fortresses of San Cristobal and San Felipe del Morro (nps.gov), two incredibly old and well-preservedtestaments to Spanish architecture. Designed to protect the city from sea attacks, the six-level El Morro is a maze of tunnels, dungeons, outposts and ramps,
and is littered with small, round sentry boxes called "garitas" that have now gained acclaim as a national symbol. Considered the "other fort" in Old San Juan, the shorter scaled San Cristobal was built to protect the city from land attacks. It's located where the eastern gate of the walled city was located in the 1800s, is the larger of the two forts, and has a whack of interesting sights for visitors to see.
Take a walk along El Paseo de la Princesa to visit Puerta de San Juan, the last remaining of five enormous wooden doors built in the 1700s that for centuries closed at sundown to deny access to the city and protect it from invaders. Then head to the Institute of Puerto Rican Culture, one of the oldest buildings in the city, which once served as the headquarters for the Antilles command of the U.S. Army, and was first established in 1523 by Dominican friars as a shelter against Carib Indian raids.
For more modern offerings, journey to the heart of Old San Juan, where you'll see cobblestone streets, plazas, museums, colonial architecture and numerous shops filled with mainstream and one-of-a-kind finds aplenty.
Head to the beach.
When you're ready to channel your inner sloth, more than 270 miles of pristine beaches await.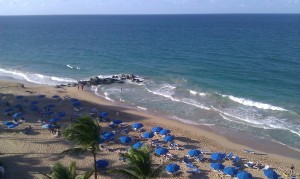 For a more secluded ocean experience, head to El Convento Beach, located between the towns of Farjado and Luquillo. Themiles-long picturesque coastline has yet to be populated by the high rises so prevalent on many of Puerto Rico's beaches, and is a hotspot for snorkelers wanting to explore its unspoiled coral reefs and marine life.
Looking for a more authentic Puerto Rican beach experience? Book a room at the chic and perfectly-situated San Juan Marriott (marriott.com) for a front-row view of the white sands of Condado Beach. It's a favorite with locals and is well-known for its abundance of chairs, umbrellas and people-watching opportunities.