Some of the most beautiful places in the world are not found on land, they are alive underwater, in the coral reefs of crystal clear waters where entire sea life habitats exists. So, how do you get to enjoy this beauty? Not by bus, plane or train — the only way to experience this delight is by strapping on a dive cylinder and putting on some flippers.
Scuba diving is a fast-growing sport that takes divers to a colorful realm where a great variety of coral reef, sea and animal life form the basis of an underwater world. And Tobago is one of the best places to dive in the Caribbean — it is part of the twin islands of Trinidad and Tobago, located in the southern Caribbean close to the tip of Venezuela.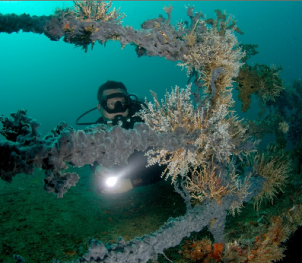 For a scuba diving vacation in Tobago, there are a host of dive shops that offer basic training in a safe environment. Once you enjoy shallow-water snorkeling — wearing a simple face mask, snorkel and swim fins — then scuba diving will definitely appeal to your sense of adventure.
There are approximately 11 dive shops in Tobago. All of the instructors belong to the Professional Association of Diving Instructors (P.A.D.I.) and are members of the Association of Tobago Dive Operators (A.T.D.O.). Many are associated with the local hotels and resorts and can accommodate people from as young as six years old, who can engage in the special Surface Air Supply Youth (S.A.S.Y.) program. For other participants up to the age of 80 years old, there are other specific dive programs.
The basic scuba diving program offered by all of the dive shops is an extremely popular one that is geared to first-timers. The program lasts for about three hours and is sometimes conducted in shallow water like that found in the kiddie's side of a resort swimming pool. The program is not a certification level but is sufficient enough for someone who would like to try scuba diving but has no experience. The cost of such a program can be anywhere from U.S. $80-150.
Participants can then decide whether they would like to go to the next level of diving, which offers an internationally recognized certificate. The course is known as the PADI Scuba Diver course, which takes just two days to complete. It is more costly, however, with the prices running from approximately U.S. $325-$375.
Once equipped with diving know-how, Tobago's underwater world awaits your exploration. There is a colorful, vibrant life located along the bottom of the Atlantic Ocean and the Caribbean Sea.
Divers enjoy ideal underwater environments found at designated dive sites located off the coast of Tobago. The "Flying Reef" is where nurse sharks and sting rays can be found. The "London Bridge Rock" is the name given to a huge, bridge-like rock that arches across the surface of the water and then submerges into its depths. It is located near the St. Giles Islands, where turtles, sharks and tarpons frequent.
A more adventurous diver can take the plunge into depths of 100 feet to see the wreck of the M/V Maverick, which was once used an inter-ferry island and sits at 100 feet/33 meters. Located close to Mt Irvine, the wreck provides an artificial reef where divers can explore the growing corals and fish that live within it.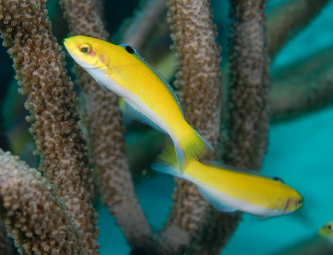 If your diving goal is to see to the world's largest coral brain, then you need to go to the waters off the north-eastern end of Speyside, close to the tiny island of Little Tobago. Here you will find the famous Kelleston Drain or the Little Tobago Drift where the colossal brain coral exists. It measures an enormous 10-by-16 feet and looks like a huge boulder from afar. Nestled amid the colorful coral reef, this species of Stony Coral is an awesome sight, with its large-grooved surface that resembles the cerebrum.
Whatever your experience of scuba diving, Tobago holds some of the most phenomenal dive sites in the region. It boasts of a variety of diving opportunities, from discovering shallow reefs to recreational drift diving in the oceans currents. Simply head to Speyside — the dive capital of the island — where arrangements can be made ahead of time to secure a great dive holiday.