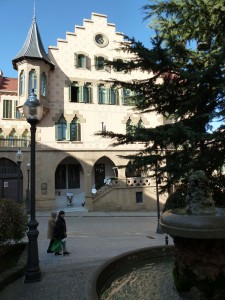 Trying to impress that special someone? Consider these steamy Spanish stays to wine and dine your sweetheart.
1. Ski and Spa at Sant Roc Hotel, Solsona:
If romance and an adrenaline rush are one in the same for you and your sweetie, then a stay near the Spanish Pyrenees Mountains is the way to go. At the foothills of the Pyrenees, Solsona is an ancient village made up of stone houses and snug cafes. Spend your days on the slopes at Port de Comte ski station and evenings at the Sant Roc Hotel and Spa, a "modernista" building from the 20th century. After a day of snowy diversion you might opt for the Hydra Qi Spa's "Sports Massage" (€45.00 for 40 minutes) or their Stone Therapy Massage (€80.00 for 80 minutes). Prior to a rub down, hit their waterworks area to try the sauna, starry sky steam room, sensory showers, ice plunge and jacuzzi.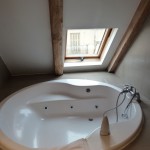 Rooms at Sant Roc Hotel are spacious and some have balconies and terraces overlooking the village. At their El Buffi restaurant they serve traditional Catalan dishes and wines. For something lighter, try El Petit Buffi, a fusion tapas restaurant also on site.
***Top Romance factors: sequestered Catalan village and winter wonderland vibe.
More: http://www.hotelsantroc.com/
2. Your Private Beach at Santa Marta Hotel and Spa, Costa Brava: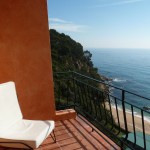 Sheltered deep in a pine forest that ends on what is basically a private beach is Santa Marta Hotel and Spa. This sliver of Mediterranean heaven makes for an ideal Valentine's Day winter escape thanks to its many stone fireplaces in the cozy hotel lounge. By the crackling blaze couples can have a bottle of bubbly Catalan cava and tapas before heading over to the hotel's new spa.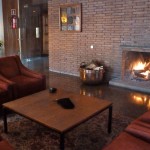 For €20.00, guests can soak it up in the "Circuito del Spa," which includes access to the sauna, hammam, color therapy showers, jacuzzi pools and chill out. Book massages in advance for ultimate relaxation. Valentine's Day is during low-season in this area of Spain which means a few things: lower rates, fewer people in the spa and the opportunity to have a Mediterranean cove to yourself. While the Sea may be too cold to swim in this time of year the weather is perfect for beach-combing, spa time and excellent seafood meals at the Santa Marta restaurant.
***Top Romance factors: cozy fireplaces and privacy.
More: http://www.hotelsantamarta.net/
3. Wine Therapy at Can Bonastre Resort and Spa, Penedés: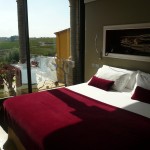 Does your idea of a romantic weekend include a stellar meal and a bottle of exquisite red wine? Then Can Bonastre is the place! This exceptional boutique hotel is just an hour away from Barcelona, Spain, by car. Can Bonastre Wine Resort's 12 rooms are set within an ancient Catalan masia, or farmhouse, in the middle of a working vineyard. Wine is made on site at Can Bonastre, and tours of the cellar can be arranged for guests. Try their award-winning reds at their Tribia Restaurant, which specializes in regional Catalan dishes with a twist.
Can Bonastre scores big time in the indulgence department because of their top-notch spa. You and your main squeeze can arrange double massages or a Wine Therapy treatment for two at Acuba Spa. Along with treatments, Acuba has a deluxe waterworks and pool area with panoramic views of the otherworldly mountain range, Montserrat.
***Top Romance factors: award-winning Catalan wines and dual massages.
More: http://www.canbonastre.com/
5-Star Spa Treatment at Mas De Torrent Hotel, Girona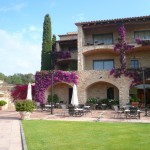 If only luxury will do for your honey, then book a weekend at one of northeastern Spain's plushiest hotels. Try their "Escapada Romántica" package, which includes two nights in a suite, a lavish breakfast overlooking the pool and gardens, dinner for two, two massages at Mas Spa (50 minutes each), a bottle of cava brought to your suite, and unlimited access to the Mas Spa waterworks area. This indulgent package starts at €845. If this is a bit steep, consider their "Especial Invierno" package for €380, which includes one night in a suite, breakfast overlooking the pool and gardens (or in your room), dinner for two and full access to the waterworks area in the spa.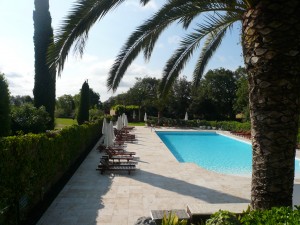 If you'd rather be on the Mediterranean, book a room at Mas De Torrent sister hotel, El Far for a sea view. Guests at El Far may use the Day Spa and Mas de Torrent.
***Top Romance factors: deluxe digs and lush grounds.
More: http://www.mastorrent.com/
Text and photos by Regina Winkle-Bryan.