As you board the plane, you get that feeling of being special upon hearing those words from the hostess, "Welcome onboard," as they guide you to your seat. It's at this point that all economy passengers no longer feel special as they begin the painstaking walk through the first-class section. Some gawk at the ergonomically designed lie-flat seats, others glare at the array of top-quality glossy magazines and others eyeball all the fingertip technology.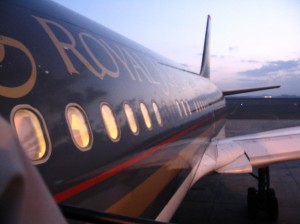 In an instant, it's all over as you sit almost in a crouching position in your economy seat.
So, now you've seen how the other half lives, how do you get it without spending any more money or frequent flier miles?
1. CHECKING OUT WITHOUT CHECKING IN
When you arrive at the airport and begin the check–in process, you can ask the counter staff to be put on the upgrade list. Yes, this does exist, but of course, there are no guarantees that you will get your desired seat. So, while checking in for your economy seat, be sure and ask for the emergency exit seats, which are definitely the seats with the most leg room. The only downside is you cannot have any bags kept by your legs, so there go all your snacks.
2. ACHY BREAKY
Let's face it: When you are rolling your suitcase through the airport terminal, all kinds of injuries can happen. You could twist your ankle trying to navigate between people or even roll over your own foot. When it's time to check-in, share your injury with the counter staff, ask specifically for a seat with more legroom to make your trip more comfortable. A back injury can always work to your advantage; simply inform the counter staff and he or she may put you in a more spacious seat.
3. JOIN THE CLUB
One of the better ways to get an upgrade is by joining the airline's frequent flier club and accumulates miles. This works to your advantage when the economy seats are overbooked and there is room in business class. The passenger with the most miles stands a better chance of being given the upgrade.
4. NEVER OVERLOOK THE OVERBOOKED
As a precautionary measure to flying with empty seats, airlines tend to overbook because not every passenger turns up for the flight. By the time the final few passengers have checked in, the airline knows whether ALL of the passengers have turned up. If you check-in at the latest possible time, should the flight be overbooked, you will be offered an upgrade on the next available flight to compensate for the inconvenience. This procedure only occurs on domestic flights, so if you are on an international flight the chance of you getting a free upgrade is very slim.
I know that when my family and I travel the air hostess usually tries to sit us together in the unfortunate instance that we are not sitting together. Normally, they will locate a single person and ask them to swap seats. So, as a single person this can be your way to wrangle a free upgrade.
5. DRESS TO IMPRESS
If you intend to ask the counter staff for an upgrade then plan ahead and swap those hung down jeans, oversized T-shirt and hoodie for something that will make them stop and listen to you. The phrase dress to impress could open the airplane door to a seat in business class, as you'll be dressed like everyone else seated there and not stick out like a sore thumb. If, however, you don't make it into first class, you'll be quite the catch in economy!
6. HOLY MATRIMONY
Not all of us can claim to be newly weds on honeymoon, but everyone has heard of second honeymoons or romantic getaways. You and your spouse can exchange some heartfelt glances and hold hands while at the check-in counter. Be sure to let the airline staff know you are on a honeymoon, anniversary or romantic getaway, in the hopes they may want to make it that extra special by accommodating you in a couple of first class seats.
One of the most important things to remember when seeking an upgrade from an economy seat to first class is NOT to openly ask for an upgrade. Normally, at the check-in desk if you ask for an upgrade the counter staff will give you two alternatives, one is how much money or miles you will need to have to secure that special seat. So, be bold, be fearless and get that free upgrade!