Somewhat dishevelled in my saggy seated Bermuda's, I passed through customs and sashayed into the arrivals hall at Windhoek's Hosea Kutako International Airport. A sign bearing my name was flashed by the chauffer sent to deliver the SUV I'd hired.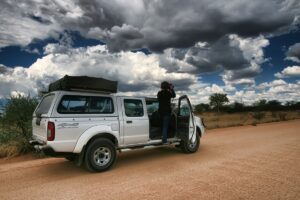 As I was low on time, a quick vehicle overview was conducted in the airport car park. It was a Nissan double-cab, kitted out for high-end self-drive safari excursions; it came complete with a roof tent and camping equipment – including an electric fridge (where I immediately deposited the two bottles of Amarula cream liqueur I acquired on the flight from Stuttgart).
I signed the paperwork, tapped Windhoek into the GPS and went in search of cash, fuel and a sim-card for my mobile phone. Although these were available at the airport I longed to revisit the country's capital. Other than its immense growth and good beer, what I found was an orderly, clean city – which is the last thing it was when I lived there some 20-years earlier. I returned to the airport to collect my camera assistant, Heather, who had flown up from Cape Town to join me.
After we'd compared wrinkles and agreed how good each other looked, we hit the road in our muscle car to our first destination. The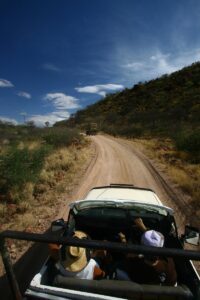 commission was from National Geographic and the brief to report on working guest programmes run by several wildlife sanctuaries in Namibia.
The common thread in all of the sanctuaries we visited was wildlife preservation. Through their working guest programmes these sanctuaries were managing to reintroduce endangered species back to their home turf. Of the five sanctuaries we visited, the one that shone brightest was P.A.W.S. – a volunteer project on the outskirts of Okonjima. They work alongside the AfriCat Foundation on the fundamental task of returning the scrub besieged terrain to savannah grassland and in due course re-establish its alienated wildlife.
The day starts at 6:30 am with a self-serve breakfast, followed by five hours crucial repair and conservation work: labour intensive tasks such as clearing scrubland and unearthing old railings, wooden posts and wires. Then back to camp at noon for a sumptuous lunch prepared by two volunteers (works on a rota basis) and a much needed siesta in bush basic yet comfortable double tented accommodations under thatch. The exciting stuff happens in the late afternoons – bushman walks; clearing out big cat enclosures at the AfriCat Foundation (currently taking care of some 80 cats); leopard tracking; or watching a cheetah feeding run. The day Heather and I visited we piled into two open top vehicles with the volunteers and went for a long game drive. We came across an elusive leopard resting in a tree.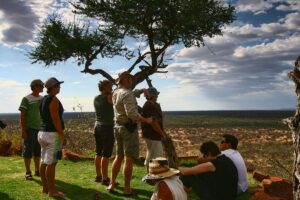 Said Pat Shuker, a hip 70-something backpacker from New Zealand: "There's nothing romantic about it. Its bloody hard work – today for example I dug out four fence posts, but it gets exciting when Clive teaches us about the environment; and it's filthy – just look at the state of me." But judging from her satisfied smile, she found it hugely rewarding.
"Would you recommend this as a once in a lifetime experience?" I enquired.
"Once in a lifetime? Hell, no. Every year, yes! And what's so great about these guys is that I, and most people I know, can afford the all inclusive N$2,500 a week they ask. I think this kind of nature experience should be worked into school curriculums around Namibia. Just last week we had a youngster here, visiting from Windhoek. He didn't know about any of the hardships the environment faced. He's gone home reformed, a young man on a mission."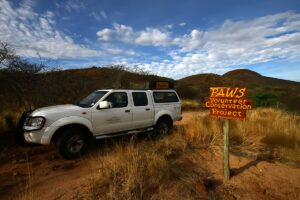 Later I spoke with Clive Muccio-Johnson, the head honcho at P.A.W.S. "The Okonjima Reserve has lost near 60 percent of its natural grasses through overgrazing and poor livestock management. This gives us some 55,000 acres to clear. This area," he said, waving vaguely towards North Africa, "used to be savannah grassland, now its bush and thorn trees. It will take at least two decades to clear."
At dinner that night, Roma Muccio-Johnson gave us a little history: "The Okonjima Reserve was looking to start an affordable volunteer programme to work on the issues you saw today, which led to P.A.W.S. opening in August 2008. As you can see we from the people sitting at this table we all vary in age, background and country of origin. David (63) is a science teacher, Michael (29) is a corporate attorney, Rachel (18) is trainee chef – they're all from England. You've met Pat from New Zealand. Liz is an architect from Ireland and Sasha is a student from Berlin. They will leave here with a better understanding of the problems facing our environment and how these may be overcome. You see, history keeps repeating itself. It always will, until someone listens."
After we folded down for the night I lay in my bed gazing up at the stars, digesting Roma's words. The radiant beauty of Africa's night sky flooded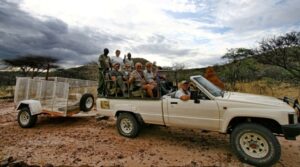 in through my tended window. How better to drift off to sleep than under a vast canopy of stars, hearing night animals calling out to one another. At dawn we said farewell to Clive and the volunteers who, strapped into the P.A.W.S. 4×4, bounded off down the corrugated gravel road for another day's toil in the heat. Strangely they were all smiling.
On our way back to Windhoek we decided to have ourselves a mid-morning braai. The roof tent took under a minute to pop up, thanks to its pull-down ladder. Shortly after finding a suitable tree Heather and I were relaxing in our respective bush chairs (Amarula in hand) whilst meat sizzled and spat on the portable BBQ.
We spent our last night in leafy Windhoek suburbia at the Olive Grove Guesthouse. Sitting on the deck outside our large glass-encased Garden Suite contemplating the spectacular city view, we wondered how we could encapsulate the exceptional beauty of Namibia in under 300 words, then agreed this could only be achieved through a photo book: no words exist that could adequately capture the images my camera had
found.
As my flight took to the sky, I looked out across a country I had grown to love and found I was already aching after it. Now not a day passes without me thinking of my short time there. I would give anything to be able to step out of my house in England and stand under a thorn tree and look up at a brilliant blue sky and hear animals calling out to one another in the night. I even missed the heat.
P.A.W.S. Namibia
Roma and Clive Muccio-Johnson
Ph +264 (067) 307933
SIDEBAR
There are only a few outfits in Namibia who hire out specially equipped 4x4s and following some investigation and a recommendation from a local tour operator I decided on Namibia Car Rental (www.namibiacarrental.com). The rugged 4×4 muscle of the double-cab 2.4 Nissan makes for a serious SUV, with all the bells and whistles required for a comfortable ride. The butch wheels hold good on off-road tracks and the hi-spec cabin, complete with dual zone climate control, looks the business.
Travelling through Namibia requires planning. Only some of the roads are tarred making a 4×4 imperative; the distances between towns are vast – off the main highways you could drive for several hours without seeing another vehicle; mobile phone coverage is weak; and fuel stations few, making it essential to continually top up – even if your 4×4 has a long range fuel tank. One leg of our journey had the next fill up point some 400km away!
Out in the bush, rural villages pay scant attention to road safety. You'll often find locals walking beside the road minding their unfenced cattle, so don't be alarmed to find a herd standing in the road, or donkey carts trotting towards you – which is why it's not recommended to travel after dark.
Outside of the city limits, drive with your headlights on at all times.
There are regular police check points. The African custom in exchanging pleasantries goes a long way to brightening someone's day.
Punctures are a common occurrence, especially when travelling on dirt roads. Fortunately most 4x4s come equipped with a second back-up tyre, so pay particular attention to where the relevant equipment is stored and make certain it's easily accessed.
Drivers in Namibia are mostly polite. When overtaking they acknowledge your courtesy of pulling over so they can pass, by raising a hand in thanks or signalling briefly with their hazards.
Gas stations don't do self-service, nor do they accept credit cards (some have ATMs), so ensure you're carrying sufficient cash. My wagon took around N$700 to fill up. Whilst feeding your tank, the petrol-pump attendant will clean your windscreen – it's the norm to tip around N$5.