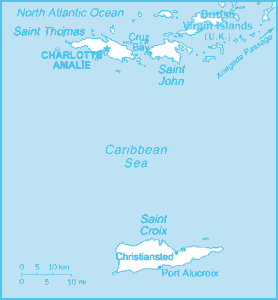 Strewn like three bright, emerald colored jewels in the Caribbean Sea, the three U.S. Virgin Islands of St. John, St. Croix and St.Thomas provide a variety of activities for the tourists who stream off the cruise ships daily. Watersports, shopping for duty-free items, or just lounging around on the beautiful beaches are all possibilities.
But we were there to snorkel.
The crystal-clear water of the many coves and inlets of St. Thomas provide the perfect opportunity for hours of snorkeling and all the girlfriends were completely ready for this experience. There are lots of places to snorkel in St. Thomas – there are even locations where you can snorkel from the beach. Here's a site with a few snorkeling suggestions.
We disembarked from our cruise ship, decked out in swimsuits covered by tee-shirts and shorts – after all, we did have a little time for duty-free shopping after snorkeling and who can pass that up?
With no problem, we located the large catamaran that was to be the site of our adventure, docked at the pier. We wasted no time clambering aboard and partaking of the provided punch and snacks as we waited for the crew to hoist anchor, raise the sails and set out on the gorgeous spring day for our interlude of snorkeling.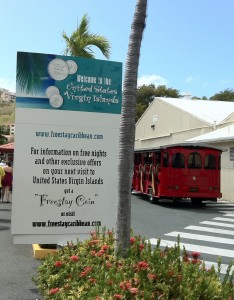 With not much of a wait at all, our anchor was up, sails were billowing in the wind and we were perched on the deck, ready for adventure. Luckily, we were fine with getting wet and had tucked away our cameras and phones because, as the catamaran sailed over the waves, the waves splashed right up on the deck and over us. No problem – we had planned on getting wet anyway!
We had booked our snorkeling adventure through the cruise line, but there are plenty of snorkeling providers in St. Thomas. Carefully check their reviews and make sure they will get you back to the cruise ship in plenty of time before they sail – the cruise lines stay on schedule and wait for nobody, unless you are on one of their own excursions and happen to run late.
If you have never snorkeled before, you have nothing to worry about. Snorkeling is very easy and beginners and even children will find it no problem to master in a short time. You will have an inflatable vest on, so you don't even have to be concerned if you can't swim. The snorkeling crew will provide you with a mask with a snorkel attached and flippers or you can bring your own if this makes you more comfortable. Our cruise ship even provided masks you could purchase at the Guest Services desk.
It's easier to get the mask on if your hair is wet, so just wet it down then slip the mask over your head and face. Make sure the mask is good and tight, but not uncomfortable. It has to be tight to keep out the sea water so you can see everything underwater. If your mask gets foggy, just take it off, spit on the glass and swish it around in the water. Yep, that's right: spit on it. Believe me, it works. Here's a site with more detailed directions about snorkeling. And a video with specific directions as well.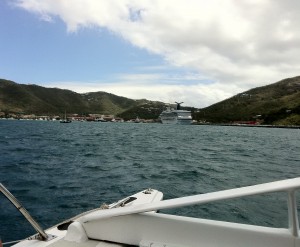 We watched our cruise ship disappear in the distance as we headed around the island to our snorkeling destination. We bounced along over the waves – it's a good idea to take Dramamine or Bonine if you are going on any kind of boat trip if you have a tendency to motion sickness – and finally turned into a quiet cove with water so clear we could easily see the sandy bottom through 20 feet of water. We felt very safe in our little cove with palm trees whispering softly in the tropical breeze along the edge of the water.
Each of us slipped quietly into the water and headed off in different directions to have our own snorkeling experience. The water was as clear as glass and I could easily see the coral on the bottom with brightly colored fish calmly swimming all around us.
The fish were used to snorkelers in this little cove. We didn't seem to be dangerous, so they schooled into groups and dipped and swayed around us in an elaborate underwater ballet. Our snorkeling guide gestured us to come closer, then surfaced with a delicate, spiny starfish in his hand to show us. We marveled at the creature; skinny, spiny legs curling and uncurling as he moved it from one wet hand to another.  After an explanation of its habits, he let it slip gently from his hand back into the water. Then he dove again and again, bringing up different and interesting sea creatures each time to show us.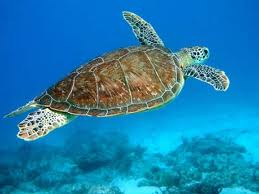 Finally, we each swam in different directions again and I hovered in the clear water with sunlight slanting down in golden rays of light, and a sea turtle swam directly below me. Large and bright green, with big flippers that propelled him through the water, he swam above the shipwreck buried in the sand, oblivious to our presence.
The sea turtle viewing was the perfect end to a perfect day of snorkeling. Bright sun, beautiful clear water and sea creatures galore made it a day to remember in St. Thomas.
If you have never snorkeled, give it a try the next time you have the opportunity. I have a feeling you will love it just as much as I do!