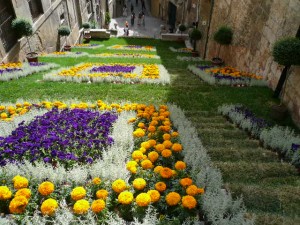 Walking down Barcelona's Passeig de Gracia the other day, I looked to the horizon and saw green. Spring had sprung while I was updating Twitter, and there it was suddenly, fresh and vibrant on Barcelona tree limbs! It's hard to say when the people of Spain celebrate the most, as there are festivals and holidays galore throughout the year. However, spring seems to be one of the busiest seasons for fiesta in the country, kicking off with Semana Santa, or Easter Holy Week, and going strong until San Juan in June, a festival that marks the summer solstice. Here are three festivals worth observing during this vernal time.
Feria de Abril – April Fair in Seville
Sherry, bullfighting, and lots of polka dots and ruffles make the Feria de Abril one of Spain's most famed festivals. What began as a livestock fair in 1846 is now the party in the south of Spain, many times invitation-only! The fiesta takes place at the Real, a fairground, and officially begins the third Monday after Easter, or April 24 – 29, 2012. The party goes all day and all night, closing in the wee hours of the morning. Go during the day to have a drink at one of the casetas (little houses), which usually have food, music, and lots of locals dressed to impress; at this party, bigger is definitely better.
Here's the thing. While there are many tents and casetas set up at the Real, many of them are private. One friend described it as "1,000 parties and you're not invited to any of them!" This clearly sounds like a drag. But fear not, though many tents are VIP-only, there are some "community tents" open to all. Even if you're not able to get into all the hot spots, the Feria is still worth experiencing. Start gathering your costume bits and practicing your dance moves now! And for a more "inclusive" festival, check out my second tip … the Feria del Caballo.
MORE:
Website : feriadesevilla.andalunet.com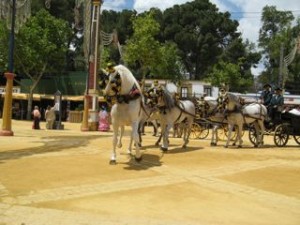 Feria del Caballo – Horse Fair in Jerez de la Frontera
Jingling horse-drawn carriages, handsome riders of all ages, golden glasses of dry sherry wine, booming Spanish guitar and fine yellow dust are the main ingredients at the Feria del Caballo, Spain's top horse festival. From May 7 – 13, 2012, every horse, man and woman dress to the nines for this extravagant spring fling. Spanish women and young girls from Andalusia wear tight flamenco dresses and and carnations on the tops of their heads while men are dressed in their best suits and ties. Color, the more vibrant the better, is a must at the Feria, and ruffles make all the dancing that much more fun.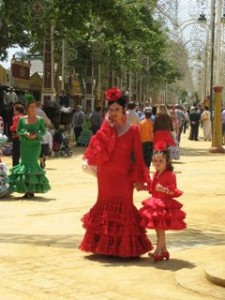 The Feria del Caballo celebrates primarily the Pura Raza Española, (Purebred Spanish Horse) which Jerez de la Frontera is famous for producing at the many ranches surrounding the city. Visitors will also spot Arabian, Anglo-Arab and Hispanic Arabic horses. These fine equines are also dressed for the occasion with Calesera bell bridles, and colorful ribbons; their manes braided back and their tails coiled into tight vaquero buns.The main events are the Country or Cowboy Dressage Competition, the Harness and Carriage Competition, and the Select Equine Morphology Competition, but those who don't know much about horses will also enjoy the dancing, drinking, music and abundant tapas. Unlike the Feria de Abril in Seville, which is almost invitation-only, the Feria del Caballo is open to all.
MORE: www.jerez.es/especiales/feria
Webpage – www.jerez.es/especiales/feria/una_fiesta_abierta
Temps de Flors – Flower Festival in Girona
Finally, this is one of my favorite seasonal celebrations and definitely the lesser-known of the three I've listed. Temps de Flors is not based in Andalusia but in the northeastern region of Catalonia in the medieval city of Girona. Girona's historic center, museums, and cultural activities make paying a visit worthwhile any time of year, but from May 12 – 20, 2012, stopping by is extra special. During these eight days in May, the old center of Girona is blanketed with petals and hung with blossoms.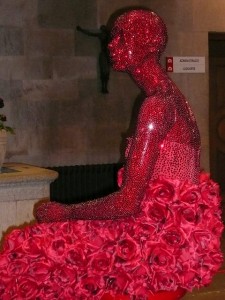 Everywhere one looks, the eye is met with carnations covering cobblestones and lilies dangling from doorways. The Temps de Flor festival, now in its 57th year, is open to all and completely free. A word to the wise: go early! In that the Temps de Flor exhibitions are made of real flowers, by day eight, many blooms have wilted and faded. The ideal time to go are the first three days, though this is also when many others go, so expect crowds. One of the aspects that most fascinated me about Temps de Flor were the open doorways and courtyards. During this celebration, many Girona homeowners unlock their ancient doors and give a rare peek in on their vestibules and inner patios, which are also usually also adorned with blooms and foliage. Nosey folks (like me) will enjoy this rare look at the normally hidden.
MORE:
It's easy to get to Girona by car from Barcelona (a little over an hour) or by Renfe train – www.renfe.com/viajeros/index.html (about an hour and 30 minutes, €7.50)
Webpage – www.gironatempsdeflors.cat