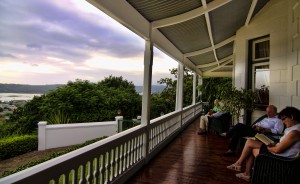 Cradled at the base of the Outeniqua mountain range – connecting west to east – is the Garden Route, Africa's southern-most coastal road, leading from Cape Town to Port Elizabeth. Here picture perfect villages with elegantly restored period homes under bright Bougainvilleas are abundant. Scattered along this stretch of prime real estate are eco-reserves, nature trails and private game parks, all living in harmony with nature, such as the Knysna Forests where you may be able to catch a glimpse of some of the sparse wildlife like one of four elephants still living here. Perhaps you'll find the King Edward's Tree, a 130 foot tall yellowwood tree that is said to be more than 600 years old!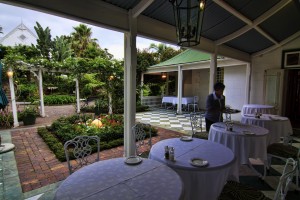 In this heart of the Garden Route is South Africa's favourite holiday town – Knysna, found in a beautiful estuary at the heart of the mystical Knysna rainforest. Knysna is a mini metropolis, a blend of nature and refined living. The latter you'll find at the landmark Falcons View Manor, an exquisite little establishment that offers the comforts of a generous Country House as opposed to a hotel. Falcons View, built in 1894, is a gracious historic property which embraces its guests with Colonial charm. A more contemporary style has been introduced to the interiors by adding just a few subtle modern features to the tastefully decorated Victorian theme. As a stately Victorian home deserves, all six (air conditioned) rooms in the Manor House have been luxuriously styled – with minute attention to detail. The Coach House, just a few paces across the garden, has three modern 'Garden Superior' suites, all handsomely dressed and each with its own private terrace with views across the two acre tropical landscape garden (complete with monkeys) and swimming pool.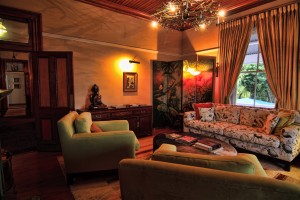 Located seven hundred metres from the town centre at the summit of a steep hill, the Victorian veranda at Falcons View offers jaw-dropping views across the lagoon and of Knysna Heads (a breathtaking draw for visitors, because of the treacherous channel at the mouth of the Knysna River). Each evening Falcon View's owners and guests gather on the veranda to celebrate the spectacular sunset with drinks and canapés.
Falcons View is spacious and tranquil and geared up to cater for the genteel yet discerning traveller. Vivacious hoteliers, Reimer Holst and Reimer Wittfeld are focused on living up to their five-star rating by providing unobtrusive service and quality food –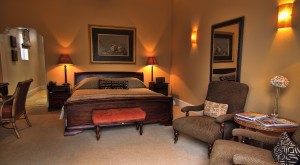 as reflected in their delicious menus and their really good wine cellar.
Falcons View Manor, 2 Thesen Hill, Knysna, Garden Route, South Africa
Phone +27 44 3826767
reservations@falconview.com and www.falconsview.com
Rates: October to March rates start at R1,380; April to September rates start at R880. Tariff is per room and includes full breakfast.
When to visit: If you're partial to oysters coincide your visit with the Knysna Oyster Festival which happens in July each year (www.oysterfestival.co.za). The Knysna Oyster Company (found at Long Street, Thesen Island, Knysna) have been cultivating oysters in the Knysna riverbed since 1949 and have people from around the world visit their tavern to sample some of the finest oysters available.
As you'll be tasting Knysna, take yourself down to the Mitchells Brewery for a tour and beer tasting.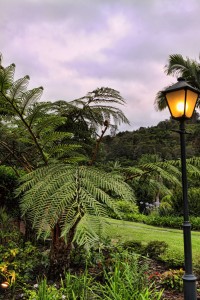 At the end of April there's the Knysna Literary Festival (www.knysnaliteraryfestival.co.za) an event for the whole family.
And whilst we're talking family events, take yours out to the Knysna Elephant Park. Feed and interact with the gentle giants by buying a basket of fruit and vegetables from their reception then hitch a ride in the park's 4×4 who will take you into the bush where the elephant are grazing in a free-range and controlled environment  ww.knysnaelephantpark.co.za
For motorsports fans May sees the Knysna Speed Festival (www.speedfestival.co.za).
February and June bring mountain biking events (www.gardenrouteevents.co.za).