Many's the time I've been traveling on a lonesome highway in the West and been mesmerized by George Strait's song about this town tucked away in the Texas Panhandle. Here – as in nearby Oklahoma – the wind really does come sweepin' down the plain. And so does a long string of surprises, among them the most legendary steakhouse in America, interesting museums, restaurants ranging from Route-66-diner to classic Mexican, sacred Native American spots, natural beauty and fascinating eco-systems…and the second-largest canyon in America.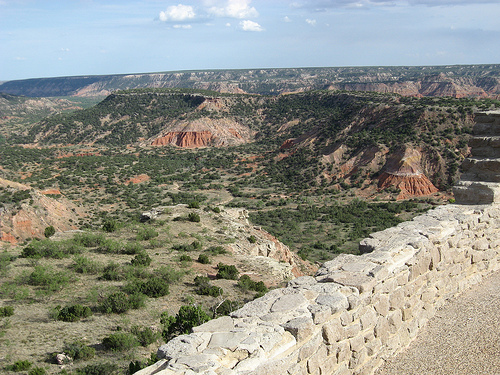 If you've seen the magazine or TV ads for Texas, you've seen the symbol of Palo Duro Canyon: an incredible, multi-colored tower of rock looming over a canyon 120 miles long, up to 20 miles wide, and over 800 feet deep! The 5.75-mile (round-trip) Lighthouse Trail is the most scenic route to the top, and you'll have the added benefit of working up quite a sweat. Along the way, you'll pass through gulches and gullies, wildlife and tumbleweeds, striking rock formations and dried riverbeds, thick stands of trees, and, likely, an occasional cowboy. You'll walk beside steep walls layered with orange, red, brown, yellow, grey, maroon, and white, formed over 240 million years. You may also see wild turkey, white-tail and mule-deer, Barbary sheep, coyotes, cottontail rabbits, roadrunners, and snakes. If you make it to the top, you'll come to the 310'-high rock tower called the "Lighthouse," which is the formation you see in many advertisements.
Palo Duro Canyon is part of a multi-layered eco-system here on the plains, and one of the best places to see it is the Wildcat Bluff Nature Center. Here, on over 600 acres just outside of Amarillo, you'll see a variety of Plains wildlife in the Visitor Center. You'll wander trails of knee-high grasses and tall cottonwoods, past horned lizards and quail nests, crossing prairie and bluff with hawks circling overhead. You'll look down at a rolling panorama of wind-carved mountains, hills, and valleys. And you may well be standing on trail ruts left by the wagons on the Santa Fe Trail!
A different side of the Amarillo region is found at the Alibates Flint Quarries National Monument. It's a place of silence and multi-colored windswept plains, where the ancient Native Americans – as far as 12,000 years ago – went to find the flint they converted into tools, weapons for hunting and self-defense, and ceremonial items. Some historians refer to the area as "Texas' first factory," and as you walk up to the mesa overlooking the ancient quarries, you'll come upon rainbow-hued pieces of flint, ranging from pebbles to boulders.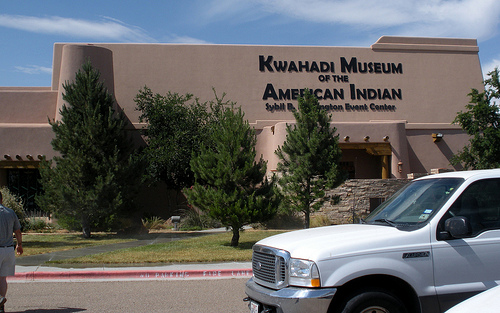 There are a number of interesting museums here, as well. At the Panhandle-Plains Historical Museum, the history of this region comes alive in the stories of the tribes that roamed here for thousands of years, and the struggles of the early Anglo settlers who came here in the 1800's. At the Kwahadi Museum of the American Indian, the Kwahadi Dancers bring to life the traditions, color, and sounds of the Plains tribes, and the galleries are lined with vibrant art works by well-known painters and potters.
Must-try Amarillo restaurants include the Stockyard Cafe, which serves incredible Texas breakfasts (which can pretty much carry you until dinner), and the Acapulco Restaurant on Polk Street, in the heart of downtown, which serves great Mexican food and ambience. The Old Route 66 ("America's Road") runs through town, and it's lined with down-home places filled with American and Texas memorabilia, many serving that wonderful Panhandle specialty called Frito Pies (red beans, sauce, and hot peppers piled on top of crunchy Fritos!).
The best-known Amarillo restaurant, though, is the Big Texan Steak Ranch, immortalized on the "Man vs. Food" show on The Travel Channel.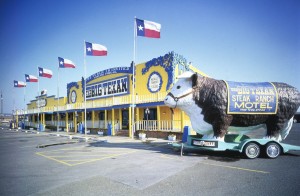 Here you'll find it all: elaborate Western chandeliers, dripping with horns, hang over long tables. The "Big Texan Singers" belt out their classics. There's a shooting gallery – indoors. A caged, live rattlesnake. Horned deer and elk heads hanging on every wall. And a colorful, non-stop parade of customers, including some who look like they've just ridden in from the Lower 40.
Some half-million people a year come here to enjoy calf-fries (they're not from a calf, they are fried, and they're delicious – nevertheless, you might want to ask the server what they are before you try one!); "Mountain Oysters" ("If you think it's seafood…go with the shrimp."); breaded, deep-fried jalapenos (called Howlers, as well as Blazin' Saddles and Ring of Fire); Texas-hot chili and homemade fudge.
But most people come to the Big Texan (appropriately located on Old Route 66) for the steak. Chicken-fried. Prime rib. Ribeye. Strip. T-bone.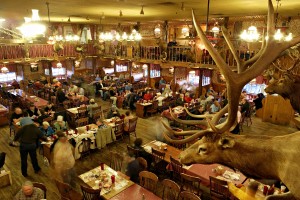 The specialty of the house is the 72-ouncer. Yes, you read that right – 72 ounces of prime Texas beef. And if you can finish it in an hour or less, it's free. However, you must abide by the rules…including the one stating "Should you become ill, the contest is over – YOU LOSE! Please use the container provided as necessary."
Over the years, some 62,000 people have tried; only 8,903 (one in seven) have succeeded. A pro wrestler named Klondike Bill actually ate two 72-ouncers in an hour back in the 60's. The current record-holder is a guy named Joey Chestnut – who's apparently a star in the world of competitive eating – who downed one in eight minutes and 52 seconds in 2008.
Out here in the Panhandle, you can find the real Texas. So, next time you're in the Lone Star State, take a side-trip for a few days and visit Amarillo. You'll soon find out why George Strait couldn't wait to pull into "Amarillo by Mornin'."