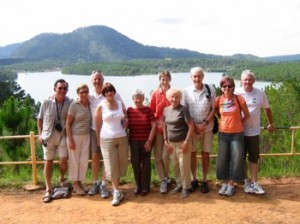 When a couple splits up, why is it that the woman decides to explore the world while the man morphs into a couch potato, festering in front of the TV?  If that sounds like an unfair generalisation, you're obviously a man! Maybe the men want to stay at home and finally enjoy the silence, but years of personal research have convinced me that single women have far more get up and go.
Yet setting off alone is daunting after years of having a built-in partner – and not only because you have to carry your own cases. It's fine during the daytime, armed with a guidebook, a phrase book, and something wickedly fattening from the local bakery. But endless dinners by yourself in a foreign country can quash the staunchest spirit. That's what Hilton Hotels are for. They're safe havens where you can sit in the bar with a glass of wine and not feel like the local hooker. You pay heavily for that comfort zone, but sometimes it's easier than summoning the courage to walk into a restaurant and ask the supercilious waiter for a table for one. So now I travel with small tour groups designed to spare single people from going solo.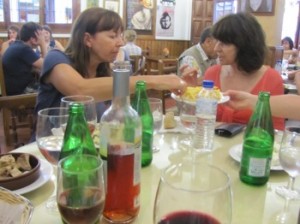 The starting point is inevitably the internet as you search for the themes of single, solo, group tours, holiday and exotic. That's exotic, not erotic, but you still have to filter out sex tours to Thailand or Bonk-a-Lot boat trips to Barbados. Or sign up immediately, if that's your thing. My first group adventure saw me tour delicate, slim Vietnam with some loud and large Australians. At the appointed meeting hour I'm loitering in a Hanoi hotel eyeing up the other guests. A couple start to bicker and I hope they're not with me. A gorgeous man walks past, all denim shorts and suntan. Please be on my trip, I think. As a rag-taggle cluster forms you scan the faces wondering who will become your new best friends, and whether any will alienate themselves by their oddball quirks. There's always a niggling fear you'll be the one nobody likes, and you'll spend the next two weeks sitting alone in purgatory. In Vietnam my main companions were two Scottish widows in their 70s. We were an unlikely trio, but I had far more in common with them than with the couples who constantly belittled their partners –  reminding me that being single has its benefits. The three of us caught rickshaws to Saigon opera house for a ballet evening and when we tired of noodles I took the ladies for chips and cheesecake. In the Vietcong battlefields I walked with an Australian war vet, who had joined the tour to see what became of the land he risked his life in. He shared poignant memories I could never extract from a guidebook.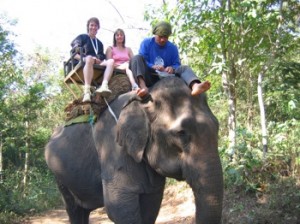 There's often a time on these trips where I'm overcome by a touch of single-status melancholy, usually when the couple next to me are holding hands. So the following year I joined a singles-only tour. There's usually a heavy female bias on these trips, but not when the destination is Bangkok, the well-named sex tourism capital of the world. All the men were there for sex, except for one man who wanted to see the Bridge on the River Kwai. All the women had fun too, although our only sex on the beach came in a cocktail glass with a little pink umbrella. We went dancing, rode elephants, hiked and tried a cooking class, all made more fun by having somebody to share it with. My next holiday started in Havana, and after a couple of days I wished I'd assessed the itinerary more carefully. We changed hotels almost every night, and sat on a coach for eight hours at a time spending as much time travelling as we did actually enjoying the destinations. I've just returned from a trip through Andalucia in Spain, where I had wonderful travelling companions. Our group – seven women and one husband – was big enough to have plenty of people to talk to, and small enough to get to know them well. We could all fit into one bar or restaurant without booking, but had the flexibility to let some drop out and pick a different place if they felt less sociable. As we ordered another vino tinto and a plate of paella, I couldn't help thinking this was so much better than resorting to room service and retiring to bed early with a guide book.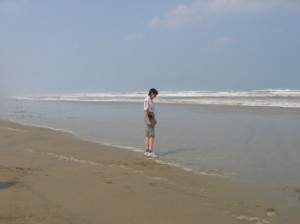 Tips for finding the ideal group trip:
Some people look down on organised tours and claim they're for sissies, but that's not true. There are several great reasons to join a group. Let's be honest, travelling alone can get, well, lonely, but with a group there's always somebody to hook up with for sightseeing and dinner. If the group activities don't involve travelling to the next destination, they're usually optional. If you want to lie by the pool instead of touring a cathedral, that's fine. If you wander off alone at night instead of heading for a lively restaurant, nobody minds. Pick a trip with the right amount of free time to suit your personality. Another big plus is that all the travelling and accommodation is arranged. While it can be great fun piecing together an agenda, it's a lot easier to let someone else book the train tickets, organise the coach, and find the perfect hotel right in the city centre. Your tour leader will have an intimate knowledge of the places you're visiting and know which museums, galleries or restaurants are worth seeing, and which to avoid. The guide is your safety net too – if anything goes wrong, like an airline strike or a stolen passport, they will do their best to sort it out.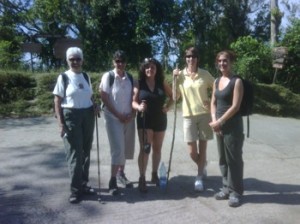 Where to start?
Trawl the internet and compare the various operators. Some specialise in adventure travel, others focus on city explorations or beach holidays. Don't even consider a cycling or hiking trip unless you're dedicated and fit. If you have a specific country in mind, the search is pretty easy. If you're willing to go anywhere then the choice is far greater, but more time consuming. I like trips where the words comfort, swimming pool and single room feature heavily, and value-for-money are good words too. So decide on your standard of comfort as well as the level of activity, since many holidays for individuals specialise in cheap accommodation in hostels or tents. Do you want to tour around, or unpack your bag and stay put for the duration? You'll experience more by changing location every few days, but it can get annoying, especially if there are long journeys between each centre.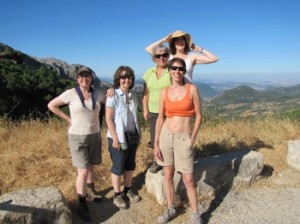 To share or not to share?
I'm sociable enough to team up with a bunch of strangers, but I won't sleep with one of them. You may be lucky and share a room with the perfect companion, but you may get a smoker who lures the salsa teacher back for some horizontal dancing. Some groups offer single rooms automatically, others charge a supplement, and with some, there is no single room option. When you're comparing the cost of similar trips, check the meal plan as well as the standard of accommodation. A cheaper trip could work out far dearer if it only includes breakfast while a rival trip includes several lunches and dinners too.  Organised trips attract everyone from teenagers to pensioners, so look for a compatible age range. Most will specify an age range, or say "all ages." From my experience, the average traveller is female and in her 30s, 40s or 50s. In Spain, a 26-year-old American backpacker was the youngest, and happily hooked up with the group for some brief companionship.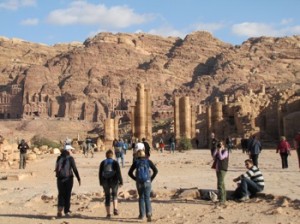 How flexible are you?
Many trips offer land-only fees if you want to arrive earlier or leave later than the others, or if your starting point is different. If you're booking your own air tickets, you need to be sure the group trip won't be cancelled. So choose a guaranteed departure – meaning enough people have already booked a place to ensure it will run. Tour companies will reserve a space for a couple of days while you put your travelling plans together. Most companies insist you take out insurance, and offer to sell you a policy, but it's usually cheaper to find your own. Likewise they can book any extra hotel nights you need, but a service like booking.com can probably get you the very same room for half the price.  If you fancy a holiday romance, try a 'singles only' trip. Although most tour companies that cater for individual travellers mainly attract singles, there may be some couples, as well as people travelling with a friend. 'Singles only' tours still tend to be booked mostly by women, so if you're a man, you could be heavily outnumbered.