After travelling the length and breadth of the country, Heather (my camera assistant) and I headed out of Windhoek going south. It was long and dusty six-hour drive that took us through one of the most spectacular places in the world: mile high paprika-coloured dunes, lilac mountains, endless golden savannah grassland – all dramatically offset by a big sapphire blue sky.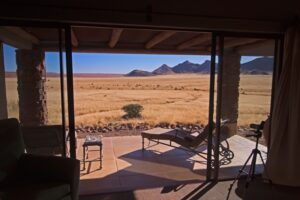 Our tranquil granite and glass boutique-style lodgings – the Sossusvlei Desert Lodge – was a sight to behold as it's all but merged into the foothills of the Nubib Mountains. A cool eucalyptus-smelling face cloth and ice drink was handed to me at the entrance beyond which minimalist interiors and massive glass doors slid back to reveal a patio, plunge pool and panoramic views across blond desert plains. Each of their ten split-level desert villas offered equally stupendous vistas of an apricot coloured lunar landscape and antelope beyond.
We arrived at a sluggish time of day when sun and thought slowed to a crawl, and just in time to partake in the activity planned for that afternoon – a guided quad bike dune excursion. We were given perfunctory instructions on how it all works then zoomed off across the dunes at a breakneck speed. Thankfully we stopped long enough to take in a glass of something bubbly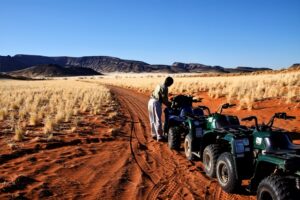 and a sunset seldom seen outside a holiday commercial – complete with a view of several sabre-horned Oryx antelope negotiating an immense sugar-coarse sand bank nearby. Later we had a desert candle-lit dinner in a mysterious fairy circle (a scientific phenomenon only found in the Namibian desert); then, as it was a particularly starry night, we headed to the lodge's observatory where a professional astronomer showed us the Milky Way along with several other shimmering constellations. When it was time to pack in for the night I lay in my king sized bed and star gazed some more.
Over the next few days Heather explored the dunes some more, leaving me to concentrate on writing the article I was sent to Namibia for. Other than a daily in-room massage, the writing was accomplished mostly on my private terrace which looked out across a setting of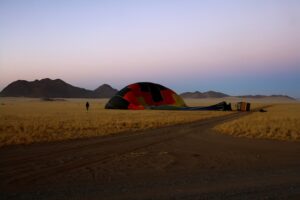 unrivalled majesty – nearby and for the duration of my stay, an Oryx bull and cow stood under a Quiver tree, keeping me company. The heat haze made the ground beneath them dance and shimmer. My butler was convinced they were there to inspire my writing of Namibia.
Halfway between the blackness of night and the first-light of day, when creatures fall into profound silence, Heather and I sat on the terrace, quietly taking in several sinful sticky pastries and coffee. We were waiting for the chauffeur from Namib Sky to transport us to the departure point for our next adventure.
Half an hour later we climbed into the basket of a hot-air balloon which soon had us drifting across the world's tallest saffron coloured sand dune whilst simultaneously watching a full moon set and a golden sun rise over a copper-kissed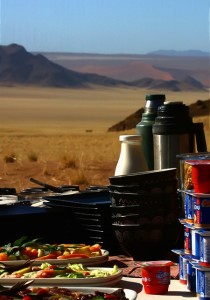 mountain. An hour up in the sky looking across a land of incomparable splendour can only be described as the ultimate African experience.
Astrid, our pilot, silently brought us back down to earth for a Champagne breakfast (set up by a support vehicle) in one of the most solitary dreamlike places on earth. I recall saying that I would not be surprised if pre-historic creatures materialised from the mountains which surrounded us, such was the bizarreness of it all. Later we took a nature drive back to our departure point then back to Sossusvlei Desert Lodge.
You'll not regret chartering a light aircraft, as we did, for the return leg. Flying towards an endless horizon of copper-pink dunes, interspersed with golden savannah grasslands, it dawned on me just how empty Namibia is. This is a land of solitude and silence where you'll rediscover yourself.  Out here, nothing else matters more. This, I concluded, is where my husband and I would renew our weddings vows.
Sidebar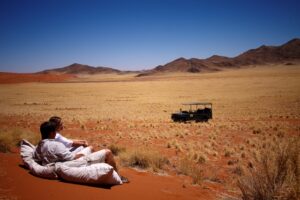 &Beyond Sossusvlei Desert Lodge – Rates start at N$2,915/pppn and includes a morning nature drive, breakfast, lunch, afternoon tea, quad biking or desert walking and dinner. www.andBeyond.com
Balloon Safaris – N$3,950 buys you transportation from your lodgings, a memorable one- hour flight, a champagne breakfast when landed and a drive back to the take-off point. www.balloon-safaris.com
Namibia Car Rental – N$705 a day gives you an air-conditioned Nissan D/Cab 4×4. www.namibiacarrental.com
Sefofane Air Charter – a one-way flight from Sossusvlei to Eros airport (on the fringe of Windhoek) costs N$2,247 www.sefofane.com