Does your winter warm-weather search include a stop in San Diego? If it doesn't, it should. Mild winters make this destination a favorite for anyone seeking an escape from snow and cold. It's not uncommon to go walking on the beach on Christmas Day in flip-flops and shorts or jogging on New Year's in a tank top.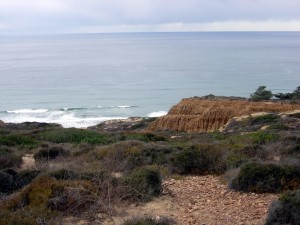 What's good for you is good for Fido, too. San Diego is emerging as an extremely dog-friendly destination with a number of hotel properties allowing dogs in guest rooms. As a result, many December, January and February visitors to the land of Shamu and the World-Famous San Diego Zoo are bringing their four-legged companions to enjoy a little of that winter warmth in California's furthest southern city.
The San Diego Convention & Visitors Bureau even keeps a running list of various dog-friendly activities and special offers from participating hotels. At this time, several popular properties are offering special pet-friendly packages:
Loews Coronado Bay Resort
"Loews Loves Pets" program, pets are welcomed with a note listing dog-walking routes, veterinarians, groomers and other resources. Special pet placemats with food and water bowls, bedding, toys and treats are also provided. Room service menus offer cat and dog specialties and pet walking and pet sitting services are also available. All pets welcome – no size limit! $25 per stay, non-refundable fee. Pets are allowed in the resort but not in the restaurant.
W Hotel
Pets receive a "Welcome Packet" that includes a pet toy, pet treat, a W Hotels pet tag and a welcome letter with information about special services and items available for pets. A custom W pet bed, food and water bowl with a floor mat, "Pet-in-Room" door sign, and a special treat at turndown will be provided. Dog walking and other services available on request. Dogs and cats welcome up to 40 lbs. (larger pets require preapproval at the hotel's discretion); $25 extra room charge per night; $100 non-refundable cleaning fee.
Sheraton Mission Valley San Diego Hotel
Sheraton Sweet Sleeper Dog Bed and food and water bowls provided on request. "Pet Welcome Pack" includes welcome letter and lists of pet-related services available through the Concierge. Dogs only. No size limit; no additional fees or deposit.
La Jolla Cove Suites
La Jolla Cove and Ellen Browning Scripps Park are conveniently located nearby. Pets allowed up to 35 lbs (there are some breed restrictions); non-refundable fee of $25 a day per pet (additional charge may apply for large dogs).
If you do bring your dog to San Diego, there are a number of great activities to keep you both busy when you are out of the hotel: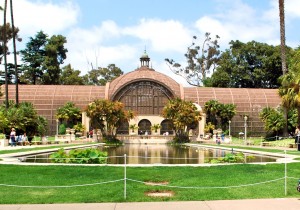 Dog Beach(es): With miles of beautiful coastline, San Diego offers many off-leash spots where Spot can frolic in the waves and run across the sand. The sparkling sands of Coronado Beach offer 24-hour off-leash options at the north end of the beach. Further north, Dog Beach in Del Mar has off-leash dog areas just south of Via de la Valle from Memorial Day to Labor Day (check posted signs for current rules).
Park It: There's more to San Diego than just beaches. Landmark Balboa Park draws thousands of visitors daily to its museums and gardens, but its also home to one of San Diego's largest 24-hour off leash areas at Nate's Point – located at Balboa Dr. off El Prado, south side of Cabrillo Bridge. Nate's Point is a great place to mingle with other out-of-town visitors and let your dog have a play date.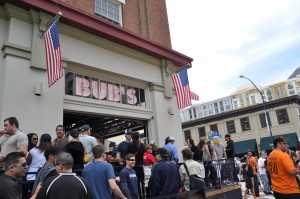 Downtown Dining: The bustling Gaslamp District is a popular spot for lunch or dinner with dozens of restaurants up and down Fifth Avenue and surrounding streets. Many of the restaurants will allow you to dine with your dog on the outdoor patio and it's not uncommon to see servers bringing water bowls or even snacks to furry friends.
Spa It! You are not the only one who can get pampered while on vacation. Throughout San Diego County you will find dog salons catering to all breeds and sizes. Check out City Dog! at 550 Park Blvd. in downtown with its state-of-the-art tubs and grooming stations.
Wrap it up, baby! San Diego's temperate climate means many of the region's most popular shopping areas are outdoors. Otay Ranch Town Center in the southern part of the county in the city of Chula Vista provides water bowls up and down the mall's main street and even offers its own dog park where owners can take a little break from their shopping spree.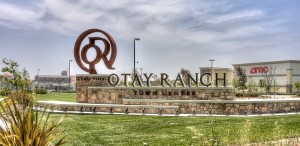 Whatever your interest when visiting San Diego, there are countless ways to let your dog join in the fun! You can learn more about San Diego activities and attractions at www.sandiego.org.