As if getting old wasn't enough! The seventy seven million people born between 1946 and 1964 – already hobbled by such lifestyle inhibiting afflictions as restless leg syndrome, over-active bladders and waning libido – now have another debilitating condition to cope with – Boomer Nostalgia, or 'Boomer-stalia'. (Cue the violin music here.)
The symptoms as this reporter observes them are manifest as a deep longing to reconnect with free spirits of the past…those with whom they shared the adventurous, freewheeling days of youth…nothing less than an angst driven urge to get in touch with old flames, friends, school mates and personalities of decades past.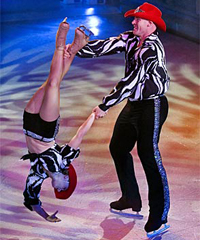 Shockingly, social media marketers appear to be shamelessly exploiting this insidious disease. The growing search & connect capabilities of sites such as Facebook, Friendster and PeopleFinder only aggravate the situation. They are user friendly to the point that any semi-computer literate, semi-retired Boomer with too much time on his/her hands can locate anyone in seconds…no matter how long ago – or brief the encounter.
The travel industry needs to act! Obviously, there isn't time or money to sign up a spokesperson like Sally Fields and develop a wonder drug like Boniva; however, the very same technology that helped create this situation can help manage it. Therefore, I propose a new, ground breaking service.
Here's how it would work –
After reconnecting online or by phone, one Boomer or the other inevitably suggests a face to face (F2F) meeting. Airfare, hotel and car rental will be involved. (Travel agencies, are you listening?).
Next, the agency would make certain that the Traveling Boomer is thoroughly familiar with the three basic rules for a Reconnection of Older Boomers (ROB).
#1 – Even if one has all the time in the world and oodles of money, under no circumstances does one want to appear to be making a major trek across the continent just to see how well an old flame has aged. (Cover would be provided by including a nearby attraction in the itinerary. You just happened to be in the area and…)
#2 – To most Boomers image is everything. On a ROB trip, always splurge for a Town Car from Hertz rather than the usual Escort from Alamo- one with a Large Text option on the navigation system.
#3 – Planning must be with military-like precision. Like Special Forces inserted behind enemy lines, always have a quick extraction plan should things get uncomfortable.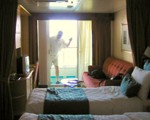 The agency would 'have your back' by setting up a real-time system to alert them of a developing situation. This could be done by tapping pre-arranged codes on the keyboard of a smartphone. (Discreetly…out of sight…in one's pocket or purse…or, during one of those all too frequent Boomer bathroom breaks.)
Potentially awkward scenarios & suggested remedies –
Situation 1 – The Traveling Boomer is shocked to find that his/her old college roommate, sweetheart or drinking buddy has become quite successful, having accumulated significant wealth.Consequently, the Traveling Boomer is overcome with feelings of inadequacy.
Remedy – A pre-arranged signal generates a cell phone call – a video call if the Traveling Boomer's smart phone supports it – from his/her Investment Advisor. The Visited Boomer overhears…"Ok, Warren, we'll buy a couple million shares of 'Berkshire Class A' now…with an option on five more."
Situation 2 – Sadly, the Visited Boomer has not done so well. The meeting becomes a Pity Party, morphing into a subtle game of one-upmanship over who has had the toughest luck in life.
Remedy – A pre-arranged signal generates a call from aCollection Agency.
Situation 3 – The Traveling Boomer's old friend asks to borrow money…a particularly sticky situation.
Remedy – Traveling Boomer responds, "No problem. I'll just swipe my smart phone's credit card app over your bar code reader. You do have one, don't you?" (Transmitting the code for a Situation 2 helps with this one as well.)
Situation 4 – The Traveling Boomer discovers that their old friend has done time in the slammer, developed a tough-as-nails attitude and wants to play 'who's the Biggest Badass?'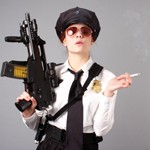 Remedy – A pre-arranged signal generates a call from the Traveling Boomer's Parole Officer.
By now you are beginning to see that this one-of-a-kind service goes far beyond just booking travel; the service providers would also be Contingency Experts and Masters of Extraction.  The Traveling Boomer is thus empowered to get out there, to march boldly forth, confidently pursuing all Reconnection Fantasies (RFs), no matter how wild or irrational.
Intense post travel gratitude on part of the Traveling Boomer is to be expected and understandable. Follow up sales opportunities for the providing agency would be huge…perhaps even a deluxe travel package to Stockholm to see the agency owner accept a Nobel Prize. (And, if the Traveling Boomer has any Vietnam era draft dodging friends still living there, the agency could set up a meet & greet for them as well – all part of the service.)
Coming Soon: Future articles chock-a-block with tawdry yet thought provoking details of personal RFs and ROB experiences…possibly even a video or two. And you thought the WikiLeaks files were embarrassing!
(Disclosure: My credentials as spokesperson for those born between 1946 and 1964 are limited to two simple facts. I am a leading edge Boomer myself. My life experiences are annoyingly typical of the group as a whole.) – LEC