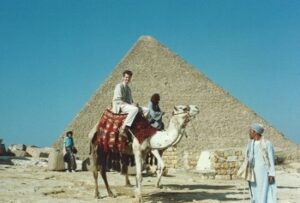 If you've never experienced an assault on all your senses simultaneously, take a trip to Cairo. Now the political turmoil is easing, yet Egypt's always hectic capital is suffering from a severe drop in tourism triggered by the uprisings. Which makes it a great time to visit, since there are bargains to be had from the hotels and you'll have the luxury of seeing its great attractions in almost splendid isolation.
But steel yourself, because Cairo is never going to be relaxing. Your ears will be jangled by the constant blaring of car horns and music blasting of out of every shop. Your olfactory senses will be confused by the sweet aroma of a juice bar mingling with rotting fruit discarded behind it, and the Nile itself sometimes gets a little stinky. Your nerves will be frayed by the traffic, your patience tested by the inevitable hassling and hustling. Your lungs will be tainted by pollution. It may be a myth, but policemen reputedly have a lower life expectancy after years of traffic duty.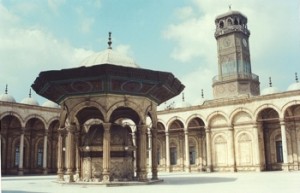 Your sense of balance will be tested by higgledy-piggledy pavements. Which makes it tricky if you suddenly need to trot because your gut has been battered by liberal amounts of oil stirred into almost all the food. I should mention the dirt too, since Cairo is a huge melting pot  of too many people to ever keep it clean. Look down from a taller building and you'll see that people don't throw large items of rubbish out, they just shove it on the roof.
In recent months there's been political turmoil too, and although things have calmed considerably, the British Foreign office recommends travellers to avoid all crowds and demonstrations, to stay away from polling stations and to carry ID at all times. The U.S. Department of State warns that elections until March 2012 will be accompanied by  demonstrations that could turn violent, although most tourist centers remain calm.
Which all means there are many prettier, less challenging places to visit. So why do I think you should go? Because Cairo is the only way to see the pyramids and the Sphinx. Everything else, to be absolutely brutal, is miss-able. Yet it's also highly inviting, and if you're one of the rare breed who relishes chaos, you'll be delighted by the vastness of it treasures, the exuberance of its markets and the glory of its antiquities. Maybe glory isn't the right word. Abundance, that's the word. Very little in Cairo is glorious – it's all utterly grimy in a way that emphasizes the hopelessness of trying to preserve the literally hundreds of ancient buildings strewn throughout the city. And with other tourists staying away because of the political upheaval, you'll pretty much have the place to yourself.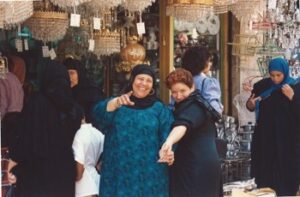 Most visitors bypass Cairo completely, catching connecting flights to somewhere more picturesque and far less frantic. You can skip straight to a Nile cruise to be beguiled by Aswan's beauty and awed by Luxor's temples. But you'd be missing out big time. Cairo is an experience, and like anything that people euphemistically describe as an "experience," it may not be one you enjoy. It will provoke you to love it or hate it, because it's not a city that allows ambivalence. You have to be a more than just a city person, you have to be a relentless "give me more of that noise, pollution, traffic, hassle and hubbub" city person. Don't even think about catching a bus. I've seen people faint on a bus and not have room to fall over.
If you want to cross the frantic roads, just stride out. But make a circle of your thumb and middle finger and wave it gently at the cars as you do so. It's meant to work as a magic amulet, telling the drivers God is with you as an invisible protection. It works sometimes, but I've still got a dented leg to prove when it didn't.
If I'm doing a poor sales pitch it's because I lived there for four years and loved it till it drove me mad! I admire anyone who goes to Cairo and relishes it. Because it says as much about their spunky attitude as it says about the manic city itself.
If you've got the guts for Cairo, don't miss these:
The Pyramids:
The only way to get a gorgeous photo of pyramids against a backdrop of pristine desert is by Photoshopping out the dismal blocks of flats surrounding them. They don't stand in magnificent isolation. It's as if somebody plonked them down in a slummy suburb. But once you begin to wander around the site you will – hopefully – be absorbed in the sheer mystery of who, what, why and how. You should be able to enter at least one of the main trio, stooping along low passageways into their central chambers. There's a reconstructed funeral boat for the pharaoh Cheops too, which is well worth your attention.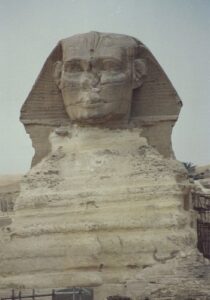 The Sphinx
"Is that it?" is the usual reaction. It's not as big or magnificent as you expect, and it isn't aging gracefully. But who would after 4,000 years under the blazing Egyptian sun? Yet it's the Sphinx, and for the sake of sheer travelling kudos you have to see it.
Camels
Be warned – unless you find a really honest camel owner you'll have to pay extra if you want to get down, as well as up. Same as the Sphinx though, you really ought to do it once at least.
The Step Pyramid at Saqqara
Now this is more like it. A splendid pyramid in relative isolation, and somehow much more attractive than the smooth finished versions at Giza. The atmospheric site is so rich in ancient tombs you should make a day of it.
The Egyptian Museum
The highlight is undoubtedly Tutankhamen's glorious gold mask. The low point is that heaps of incredible artefacts are displayed without a single label saying what they are. Hopefully the guards have now been chided for sitting on the obelisks and statues, although on a hot, tedious day the smooth stone of a priceless relic does make a comfy seat.
Khan al Khalili
This lively market extends across several main streets and dozens of tiny ancient alleyways. Prepare to get thoroughly lost. It's an absolute must, if only to admire the shoe shops where fancy footwear is tarted up with tinsel, baubles, beads and ribbons in every inconceivable colour. I always fancied those with little fish embedded in clear stiletto heels. Best during Ramadan when many shops are illuminated with paper lanterns.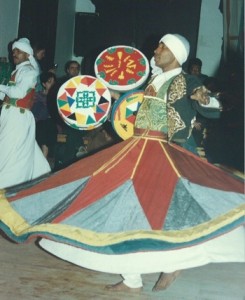 Whirling Dervishes
If you can find them, you'll enjoy a memorable evening of flute and lute type music and the bizarre spectacle of men in skirts spinning around for so fast and so long in a kind of trance that you'll want to call an ambulance. How do they do it? In fact, why do they do it? Religion, initially, that has now turned into a tourist attraction. The theatre is notoriously tricky to find, however, and you can never guarantee the times are accurate.

Juice Bars
Not a typical tourist attraction, but they ought to be. Cairo's cheap juice bars are a delight and absolutely fresh because they're perpetually busy. A glass of thick refreshing mango juice is deliciously addictive. And who know hibiscus could taste so good?
Fitir
This pastry dish is sickly sweet, but the floorshow that comes with it is fabulous. The fitir-maker takes a chunk of dough and slaps it, rolls it and spins it around. As it gets thinner and wider he whirls the dough above his head a few times and slaps it onto the counter. Then he adds whatever decadent combination of nuts, sugar, jam, coconut and raisins you've chosen, drenches it in syrup and gives it a quick blast in the oven.

The Marriott
Feeling frazzled? Stroll through the lush gardens of this hotel built in an 1869 palace on Zamalek island to recuperate.
Citadel
A massive fortress dating from 1176 when Salah ad-Din fortified the area to keep wicked Crusaders at bay. The citadel houses museums, mosques and is an awesome, imposing sight.
Cairo Tower
The city's tallest building offers brilliant views from the café and revolving restaurant at the top.
City of the Dead
Just how curious are you? This vast cemetery has some extraordinarily ornate tombs that homeless people have turned into permanent living quarters. Astonishingly, anything from two to five million people are estimated to live in Cairo's five main cemeteries.
Those are just a few of the sights and activities you can experience in this crazy city, and if you stick around long enough you'll find many, many more. You'll either come away elated or exhausted. Or probably both.