The fact that I missed my early morning Eurostar from London to Paris may be down to the fact that, through use of the plagued Eastern European, African and South American railways, I've conditioned myself to expect train travel to be functionally disorganized. But it also may be down to the fact that I have poor time management, a lacking sense of urgency and a faulty alarm clock. Whatever the case, this is exactly what happened – something it's hard not to take as a bit of a bad omen on any trip.
Stepping off the train into the pouring rain more than cements this feeling. However, if there's anything to shake a feeling of discontent, it's realizing that the carriage to take me from the train station to my next destination is a Citreon CV – a sort of Parisian VW Beetle, rustic and rickety like a soap box car driven by a Parisian in a stripey jersey and a beret. I felt like I should have been wearing a bowler hat and monocle – just to ensure we covered our respective stereotypes.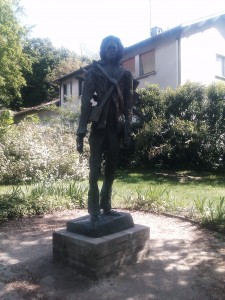 Paris, like its European neighbors Rome, Barcelona and London, has the air of a classy hooker. You know what's on offer, you know it will cost you, you know it's very well trodden ground, but it's generally an enjoyable experience despite the fact that you generally come away underwhelmed, out of pocket and with the other party being disinterested before you even knocked on the door.
I'd already been to Paris and ticked the obvious boxes (the sights, not the prostitution), and there's enough info out there about that city to suffocate and bore you before you even arrive. Instead my aim this time was to venture a little outside of the usual haunts. On my second day I was taken out to Auvers-sur-Oise, a quaint commune with a surprisingly serene atmosphere considering it is just 30kms from the center of the city. Standing on a hill looking out across it, it disappears into a nave beneath conservative-height trees. But its main draw is not its serenity, no; it is of interest for a far more morbid reason. It's where Vincent van Gogh shot himself and subsequently died.
By the time I eventually arrive the rain has cleared and the sun has made an appearance, luckily, as the bulk of the village's charms are to be had outdoors. I'm to be taken around the village by a guide who, despite being very knowledgeable, has a tendency to walk unnecessarily far ahead. My knowledge of the plagued painter being thin on the ground, I harass her for information. Before she runs off into the distance she tells me that the town played host to other prominent Impressionist painters (such as Daubigny) as well as Van Gogh, and that he first came to receive treatment from a doctor recommended by his brother Theo.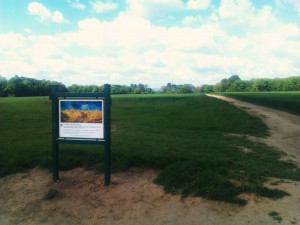 While there, Vincent went through a sort of mercurial period of painting many of the picturesque landscapes around the village, finishing 70 paintings in 70 days. In a nice touch, reproductions of his paintings have been set up at the locations where they were painted. In front of the village's aging church I find Van Gogh's somber interpretation which sets the bright church against a dark and foreboding sky. The guide tells me this signifies his depression, the fact that he's not entirely happy with life. I wonder if the fact that he shot himself might have played a big part in this interpretation.
We move further up the village, through wonky streets that turn in on each other to ultimately lead to nowhere, until we're in a vast expanse of corn fields. We reach a crossroads at which another of his paintings is planted. There's little about, there's a sweet silence in the air and I get the very content feeling of being in the countryside. "Just down that road," our guide tells us, "is where Van Gogh shot himself." It's not easy trying to remain relaxed and calm on the spot where a man was so tormented and depressed he decided to commit suicide.
Our group is guided back down the path out of the fields to where the town's graveyard is located. Small and sombre (as they always are), inside are the bodies of Vincent van Gogh and his brother, who died just six months after him, his life eroded from him by a mix of heartbreak and syphilis. Their graves rest side by side, both with simple gravestones, covered in a green ivy and seemingly indicative of the man's meager impressions of self-worth.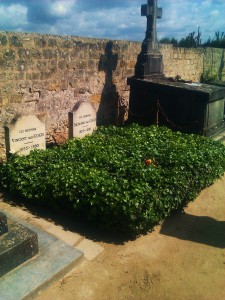 We do the obligatory photo moment, all doing our best to remain respectful, before moving on to Auberge Ravoux, Vincent's last home – and, to add a morose touch, home to the room in which he died. At the time of his living there the building was a residential hotel with a restaurant/cafe on the ground floor. Still a restaurant today (while the rest of the building has been transformed into a museum), we visit for lunch, ready to clog our arteries with classic, heart-attack-inducing French fare. A few minutes into our lunch someone looks to me in a startled double take. I look back. She stares. "Vincent! Vincent van Gogh!"
I'd expected this – my ginger hair and beard coupled with my general gloomy demeanor all giving me a striking resemblance to the troubled painter. I do my best to be polite, smile back and grab my ear. "At least I've still got both ears, though!" I say. She smiles. I assume she was also being polite; realistically she could have pointed out the fact that as well as having both ears, I was still alive, have no intentions to kill myself and am an absolutely terrible artist.
We finished and headed upstairs to Vincent's room (though not before our entire group had begun to call me "Vincent"). It's a small space devoid of furniture with a small, barely opening window set into a pitched roof. There's little natural light, and it gives a sense of the kind of gloomy existence he must have lived leading up to his death. There's little of interest to actually look at, so rather we stand and do our best to imagine the man sitting on his bed, writing in his journal or tying his shoelaces.
The peace and charm of Auvers-sur-Oise make it ideal for an escape from the constant buzz of Paris – it's presumably why it tempted Van Gogh and his peers. But the overall feeling is more melancholic than serene. Like a Van Gogh painting it is beautiful and elegant, but dark to the core.