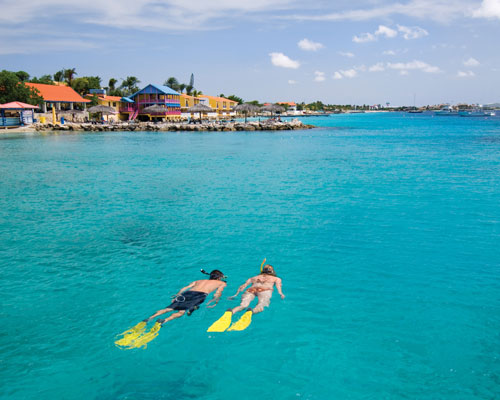 Located about 50 miles off the coast of Venezuela Bonaire is the "B" of the Dutch Caribbean "ABC Islands" (Aruba, Bonaire and Curacao) and has long been known among scuba enthusiasts as a diver's paradise. (In fact, that slogan is emblazoned on their licence plates!) Due to the island's forward thinking preservationists, all of its surrounding waters have been strictly environmentally protected which makes for resplendently healthy reefs and thriving marine life. Bonaire's diving is seriously world class. But for non-divers, there's also plenty to see and do.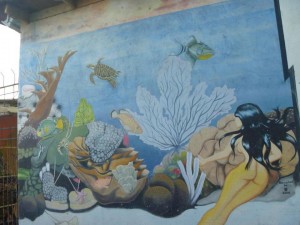 Superb Snorkeling & Sealife Viewing
One of the best things about Bonaire is that you need not be PADI certified to enjoy the kind of thrilling marine life encounters that divers do. (Though once you have snorkeled there, you'll want to learn to dive; this fish finding stuff is very addictive!) But even first-time snorkelers can enjoy the incredible Jacques Cousteau-ish world waiting just beneath the waves. In fact, you can even see giant neon blue parrotfish right from the seaside boardwalk lining the main town! There are also lots of guided snorkel tours by boat; especially popular are trips out to Klein Bonaire, a tiny uninhabited satellite island just offshore. And if you want to get up close to the underwater world without even getting wet, you can take glass bottom boat or kayak tours or sail with Aquaspace, a unique glass-bottomed ship that once served as a marine life research vessel.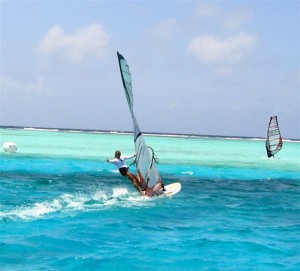 A Windsurfing Wonderland
Though the abundant treasures of Bonaire's underwater world have always been the main draw, this island also boasts one of the best spots on the planet to learn to windsurf! The shallow, calm conditions of Lac Bay combined with a constant trade wind provides the perfect setting for this sport, and expert instruction and state of the art equipment make it easy to learn. (I got up on my second try!) This bay has also become a very popular place for kite boarding as well. Visit: www.bonairewindsurfing.com .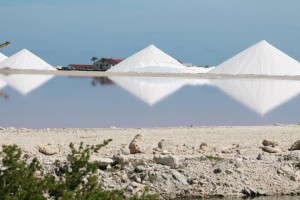 First time visitors are often surprised to discover how arid Bonaire's interior is, but it does have a hauntingly stark beauty of its own. The rocky, scrubby terrain punctuated by abundant cacti does make for some surreal scenery. The best place to explore it is via a tour through Washington-Slagbaii National Park. Further in the interior is Rincon, the island's oldest settlement is enjoying a renaissance lately thanks to the efforts of its new Heritage Foundation and a new distillery called Cadushy which is the only place in the world to make liqueurs from cactus! They also make their own rums and vodkas now using local ingredients and samples and tours are available in their gardens. Another way to explore the countryside is on horseback with Rancho Washikemba, they have tours that also take you and your horse right into the sea.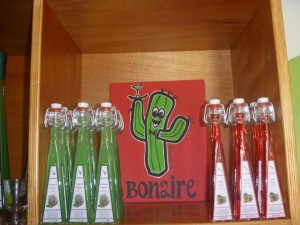 Also offering a cool way to tour the island in an eco-friendly manner is via Bon-Tuk's electric powered vehicles. One of their most popular treks, it takes you out to the stunning mounds of Cargill salt reaped from the pink tinged saline ponds there, from the distance they look like mountains of snow! But one of my favorite ways to view the island is from the air. BonAeroClub has small plane tours that are absolutely incredible.
Where to stay: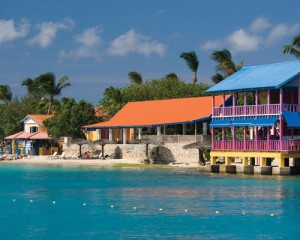 Bonaire does not have a big overdeveloped strip of touristy high-rises, the majority of its resorts are low rise and laid-back and mostly diver-driven. Some serve additional niches as well like Sorobon Beach Resort that caters to windsurfing and kiteboardng crowd and Harbour Village which is an upscale yachtie favorite with its own marina. But I stayed at Divi Flamingo Resort, a perfect choice for a variety of reasons.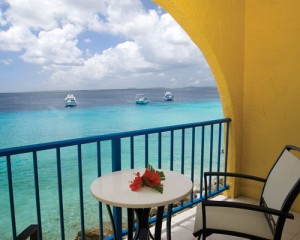 Though they do have their own full service dive shop, tour boats and operators, non- divers will find a lot to do there beyond snorkeling their cool beach bar pier. They are one of the few resorts on island that also have a casino and a spa, and it is also perfectly located a short, easy stroll into the main town for shopping, dining, and nightlife.
As for accommodations, they offer a wide selection of room styles in their sprawling colorful complex from spacious suites with full kitchens, to charming studios looking right down onto the reef- I could easily fish-spot right from my balcony! And the dining on site is also first rate.
But beyond all the topside and underwater treasures, one of the best things about Bonaire is the people. The locals are friendly, multilingual, and charming, and they are always eager to introduce visitors to their little piece of paradise.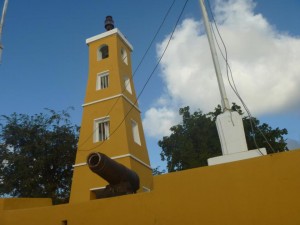 Visit: www.tourismbonaire.com