Varanasi, also called Benares and Kashi, is a pilgrimage destination in India. According to ancient texts, the city was founded by the Hindu deity Shiva, making it one of the most important pilgrimage sites in the country.   Varanasi is also considered one of the oldest inhabited cities in the world and is the home of many prominent Indian writers, musicians, artists and poets.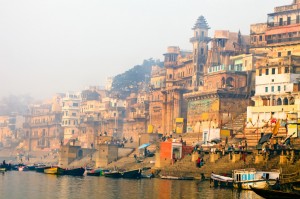 As a cultural and religious center of North India, Varanasi welcomes over three-million tourists each year. The ghats, or stairs leading to the holy water, are perhaps Varanasi's best known attraction. There are over 80 East-facing ghats, best viewed at dawn when worshipers observe morning prayers and bathe in the Ganges. Every evening, travelers flock to the riverbanks for the Aarti, a Hindu religious ceremony performed with candles, lamps, flowers and bells. Varanasi also houses many sacred and historical sites, including:
Temples – Ancient temples are located throughout the city; Most visited are the Mother India Temple, Durga Temple and Lord of the Universe Temple
Bharat Kala Bhavan Museum – Located at the Benares Hindu University (BHU) campus, this art and architecture museum houses miniature paintings and Hindu and Buddhist sculptures
Ramnagar Fort (14 km from Varanasi) – The former Maharaja of Varanasi still resides in this golden-walled fortress from the 18th century
Sarnath (10 km from Varanasi) – The site where Buddha preached his first sermon after attaining enlightenment
Additionally, Varanasi offers travelers the opportunity to explore the rituals of death and rebirth. Meander through the narrow roads and lanes, visiting sacred ponds said to house healing waters and visit the home of Kali, the powerful Mother Goddess who destroys the ego and liberates humans from the cycle of death and rebirth. Step into the abode of Aghors, renunciants who practice ancient Tantric rituals at the burning ghat, Manikarnika. The experience culminates with a visit to the temple of Sankata Devi, the Hindu Goddess who destroys sorrow.

Some tourists prefer to discover the colonial history of Varanasi. Beginning in the Civil Cantonment area, visit the original bungalows of the British residents, the beautiful Bank Building, churches and Civil Courthouse. From there, drive to the overgrown Colonial Cemetery. The cemetery is filled with the graves of Europeans who died in a 1799 battle with a deposed Lucknow prince who was under house arrest in Varanasi. Visit Sanskrit University, founded by Jonathan Duncan in 1790 and rebuilt  in the early 1800's. The Kashi railway station showcases the British plaques on the first Varanasi bridge over the Ganges River. Conclude the colonial tour by moving south to the British Post Office, Police Post and Town Hall – and in true British fashion, enjoy a cup of tea in the late afternoon.
Varanasi is an enchanting destination brimming with a sacred past. Often, travelers visit the city en-route to Khajuraho, once the capital of the Chandela Rajputs, and also Kathmandu, Nepal.  The city is well-connected by roads, the rail system and Lal Bahadur Shastri airport.