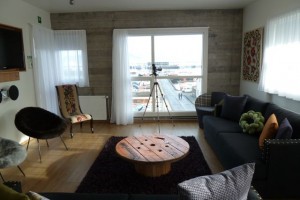 Iceland has neither McDonald's, Starbucks nor, as of this writing, one single 5-star hotel in all of the country, population 320,000. Does Iceland need a 5-star hotel? Perhaps. What is certain is that Iceland, and its largest metropolis, Reykjavik, need more hotels to meet rising tourism levels. Here's a look at the newest accommodation offerings on the tiny island nation, ideal lodging choices for your next trip: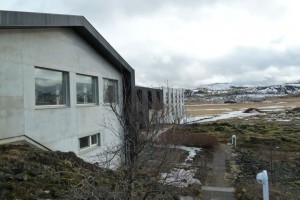 Opened in 2013 – Ion
Double room $170 – http://www.ioniceland.is/
Just opened in February of this year, Ion is a 'luxury adventure' hotel in Thingvellir National Park about 40 minutes from Reykjavik. Owner Sigurlaug Sverridóttir recruited her childhood friend to Erla Dögg Ingjaldsdóttir of Minarc Architecture to conceptualize Ion, converting a preexisting 22-room hotel into a 46-room design property. Set in a lava field, the hotel blends with the landscape inside and out. Lava rock, nude concrete and photography depicting the Icelandic horse and native fish give the modern hotel a local connection.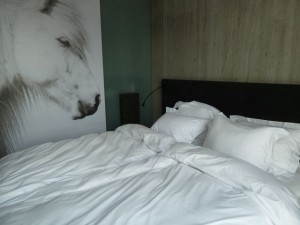 If you visit during winter and the skies are clear, look out for midnight-rainbows, or the Aurora Borealis, from the open-air hot pool or Northern Lights Bar, which is walled in windows.  In the summertime when light is endless, bask in the midnight sun on the hotel's outdoor patio. Ion is on Iceland's 'Golden Circle' route, nearby Geysir and the thermal hot springs Laugavatn Fontana.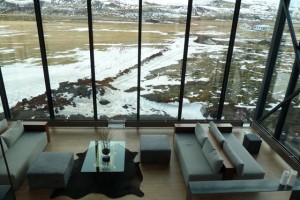 Opened in 2012 – Icelandair Hotel Reykjavik Marina
Doubles $150 – http://icelandairhotels.com/hotels/reykjavikmarina
Most use Reykjavik as nothing more than a base to catch the tour bus to the next glacier hike or Northern Lights hunting escapade. This is a mistake, because the bitty metropolis deserves more attention. Reykjavik is utterly cool, with intriguing design, eateries serving delectable Nordic dishes, bustling bars and festivals of all sorts year-round. Take a few days, minimum two, to experience Reykjavik and stay downtown.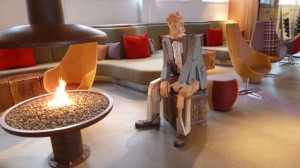 Newly-opened Icelandair Hotel Reykjavik Marina's 108 rooms are located on a working dock in an up-and-coming area of Reykjavik, and is the ideal spot from which to reconnoiter the city. Apart from imaginative rooms which are bedecked in a marine-meets-local-culture theme, the hotel offers a private movie theater showing nightly films, a gym, a restaurant and Slipp Bar, which puts on a dynamite Happy Hour from 4pm-6pm daily.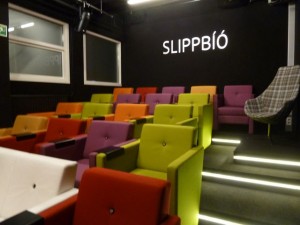 Opened in 2011 – KEX
Beds $20 Doubles $80 –http://www.kexhostel.is/
It's unclear, at first, if you're at the door of one of Reykjavik's hippest venues or at the entrance to a clandestine meeting for some radical revolutionary movement. Never fear. Up the stairs you'll arrive at Kex, an eclectic bar/restaurant/hostel and concert venue set along the city's waterfront. Situated in what was once a biscuit factory, 'Kex' means biscuit in Icelandic. That said, there are few biscuits around; instead, there are numerous craft brews on tap at the circular bar in the common space and tasty pub food like 'giant hot wings with blue cheese dip' and 'crispy parmesan crackers with garlic herb dip' on the menu.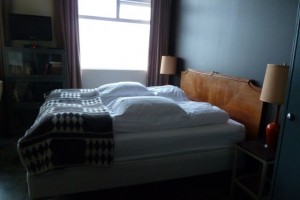 Kex's bar and restaurant are popular with locals and tourists alike; these are separated from the hostel area, where up to 142 guests can bunk. Most rooms are of the youth hostel variety, but Kex also has a few private double rooms available. The decor at Kex may not be for everyone, but it is inspired all the same, created by a set designer turned hotel interior mastermind. Almost every inch of Kex is fashioned with repurposed materials and vintage furnishings (don't worry, the mattresses and bedding are not vintage!).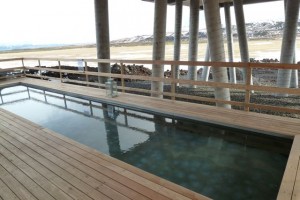 More hotels are planned to open in 2013 and 2014, including a Kea Reykjavik Lights Hotel, a Westfjords Foss Group hotel and another budget hostel. A 5-star may be in the works, but is still unconfirmed. Those in North America planning upcoming jaunts to Europe should consider flying on Icelandair. The airline operates from many US and Canadian cities and offers clients a stopover in Reykjavik for free. That's right, no charge. From the eastern US, flight-time to Iceland is about 5 to 6 hours. Hop off the plane for a week, see some Northern Lights, pet an Icelandic horse, steam thoroughly in a hot springs, and then jump back on the plane for a 3-hour flight to northern Europe. With free stopovers and many new design hotels to choose from, visiting one of the happiest countries in the world has never been easier.