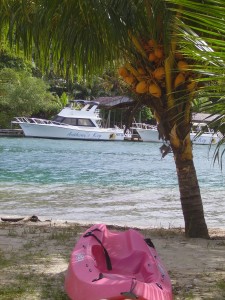 You might feel like you have escaped to the edge of the planet, but in fact you have just reached the edge of the south Caribbean when you arrive on the island of Roatán. Best of all, that impression of distance continues as you make your way around this best known of Honduras's Islas Bahias (Bay Islands), thanks to the pristine beaches and interior, the low-impact tourism, and the size and scale of everyday life on this island off the Central American coast where the pace is however you decide to set it.
A Distinct Past and Present in the Western Caribbean
The past of this small collection of islets of which Roatán is one key destination has left an intriguing present-day legacy. The human story stretches back to its first inhabitants, the Paya indians, the colonizing attempts by Spanish and English forces, and the thousands of pirate adventurers who spent time here, along with the arrival of the Garifuna indians. The result today as you encounter the human side of Roatán is a local population distinct from the mainland, and still largely English-speaking.
Nowadays a wide smattering of languages from Europe to Russia to Asia can be heard being spoken by passers-by along the sands of West End or at the airport as you arrive onto Roatán. The global traveler has certainly begun to arrive at this island's doorstep. At the same time, and as a polyglot community that passed from British to Honduran hands, along with indigenous and migrant populations, Roatán appears to take in stride this increasing presence of the traveler and connection to the wider world that the new century has brought along.
Marine Adventure – Above and Beneath
The primary draw for many travelers to Roatán is the presence of its extraordinary coral reefs and cays. The island's barrier reef, second in size only to Australia's, is a designated UNESCO World Heritage Site. Marine biologists have estimated that the Bay Islands are so dense with marine life that 96 percent of all known species of Caribbean underwater species can be found here.  Scuba diving travelers taking advantage of this submarine abundance are either already fully certified in dive procedure or can also complete their classes locally.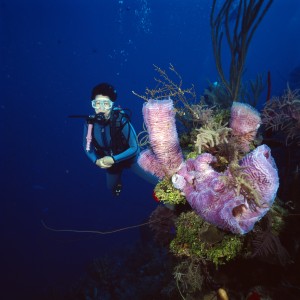 The array of marine life along the reef is reflected in the names of some of the dive sites themselves — such as Eel's Garden, Dolphin Cave, Jagged Edge and even Valley of the Kings.  Here, amidst the brilliance of the coral formation, scuba adventurists can glimpse such resident and visiting creatures as the Atlantic spinner Stenella longirostis and bottlenose dolphins, hammerhead and nurse sharks, along with brilliant variegated swarms of reef fish.  Roatán's spectacular wall and drift dives can be explored on both the north and south sides of the island, with a group of sites also near West End and on the south coast between French Harbour and Oak Ridge.  Other dive locations exist off the central-southern coast, such as the legendary Mary's Place, where vertical fault lines have sliced through the reef to create walls lined with gorgonian fans and brilliant fish populations.
While scuba is a major aquatic draw, the main beach sites such as West Bay and West End also have the conditions for other offshore action, with kayaking, snorkeling, and windsurfing all having their niche and audience here.  For novices, learning any of these is that much more convenient along West Bay, for instance, thanks to the fact that its pale green shallows extend a considerable distance out toward the reefs.  On any clear day, you may observe the occasional group snorkeling or scuba lesson under way just a few yards off near one of the piers, or a new kayaker learning how to launch and paddle.
Although many hotels provide inclusive water sport facilities or on-site specialist operators, it is also possible to access an independent activity operator for scuba, snorkeling, kayaking or more extreme water sport.  Among the best known of long-time dive shops on the island's west side are operators such as Mayan Divers in West Bay or Native Sons Dive Shop in West End – but check online or on arrival into Roatán for your best options.   Small business catering to the active traveler tends to come and go at amazing speed here.
Shoreline to Interior – Easy to Adrenaline Adventure
A glance from a distance of a map of Roatán might give the impression that there is not much to explore on shore or within the interior of this slender island. In fact, there are more than a few ways to enjoy and adventure the landscape – both by way of year-round points of interest and annual events to participate in or observe.
Aside from activities that hotels offer to guests, consider some of the parks and institutes that provide another window on the island's landscape. For instance, you might try your skills in zipline adventure at Gumbalimba Park located on the road out of West Bay. Gumbalimba's 40 acres are home to a high-energy to traditional range of activity that includes a zip line jungle canopy tour and horseback riding through surrounding hills and stretches of beach. Here, visitors can traverse gorges and dense foliage from hanging wood planked bridges, come across inquisitive spider monkeys and parrots, baby water buffalo, or tour the island's history from within a cave. The botanical gardens feature over 200 plant and tree species, numerous waterfalls and fountains, and a hanging bridge over the fishing pond.
Also worthwhile for some lively animal encounters is the Roatán Nature Park, which opened in 2009. Located at Six Huts, the park now serves as a refuge to some 20 animal species including jaguars, margays, macaws, sloths and kinkajous plus a petting area. A visit here contributes to the park's ability to rescue and provide a home to indigenous and regional wildlife that might otherwise be endangered.
Where to Stay – with a Natural Dimension
Roatán has a dizzying assortment of small to mid-sized inns and hotels to choose from – notably concentrated between West Bay and Sandy Bay on its long southwestern coastline of fine beaches. Whether you plan on a very active visit spent offshore or exploring around Roatán or prefer a hotel with some luxury comforts, why not also take advantage of a stay that offers onsite access to some of the island's natural assets? A few such that provide some of that natural dimension:
Infinity Bay Spa & Beach Resort –  This recent addition to upscale accommodation is a collection of suite style units at West Bay that offers as much as you might want with beach- and pool-side activities while also including its own dive shop and kayaking.  Sleek and stylish, Infinity Bay is also admirable for its eco-conscious operation, with design features to protect the vast coral reef system. The resort's state-of-the-art septic facilities emit zero pollutants no odors. It has also installed a reverse osmosis system making all the tap water throughout the resort 00 per cent potable. The resort's water is also heated by solar panels.
Anthony's Key Resort  – Known for its excellent diving and instruction facilities, Anthony's Key excels well beyond that with its own spectacular small island and shoreline accommodation and natural luxuriance.  This mid-sized resort in Sandy Bay is its own haven of aquatic and land-based activities – guests can launch by kayak from the small sands of the cay for outings around the islet, or take a horse back ride along the longer strand of the beach adjacent to the resort. There is even an educational dimension to AKR thanks to the small Roatán Institute for Marine Sciences and Museum. With its primary objective being the preservation of Roatán's natural resources, this fine little center also offers several dolphin-encounter experiences that are a memorable highpoint for any visit to Roatán.
More Media Resources
Honduras Tourism Institute – Tel: (305) 461-0600; www.letsgohonduras.com
Roatán Island Tourist Guide (online) – www.roatanisland.net
___________________________________________________
Acknowledgements:  Guest accommodation and amenities were provided by Anthony's Key Resort and Infinity Bay Spa & Beach Resort.