Every once in a while, even the most jaded travelers come across a delightful surprise. And if you take the time to peruse some of the "Tourism Hot-Spot" lists for 2014, you'll come across such a surprise – Ecuador.
This country sits astride the sky-piercing spine of the Andes, and everywhere you look reveals scenes of breathtaking natural beauty, of bursting-with-color valleys, meadows and wildflowers punctuated by snow-capped peaks. But Ecuador offers even more. It's filled with ancient Colonial cities and towns, classic architecture, and history at every turn.
Surprises? It's filled with those, too.
For example, take the capital city of Quito…
* At an altitude of 9,350 feet, it's the highest capital in the world.
* With 2.5 million inhabitants, it's a fairly-sizable city. But it's only the second-largest city in Ecuador – Guayaquil is larger.
* Of all the old Spanish-Colonial historic areas in the Americas, Quito's may be the best-preserved – and the largest.
* The city limits stop only a mile from the Equator? (Ecuador, in fact, is Spanish for "equator.")
* The movement for independence from Spain actually started in Quito. And the city was finally liberated by the army of Simon Bolivar on May 24, 1822.
In recent years, Ecuador has gained a reputation as a place where the ancient handicrafts are not only respected, but widely-practiced…and where the quality of those handicrafts is excellent. It's filled with artisans who create one-of-a-kind treasures, and who still create them in the time-honored methods used by their ancestors. And to those who collect authentic pieces of native culture, it's a high-altitude Handicraft Heaven. For example, Quito's historic center is today a UNESCO World Heritage Site, a bustling swirl of winding streets and alleys, beautifully-preserved Colonial architecture…and people who still make things by hand, from candy to quilts.
Quito, of course, is high in the Andes, and filled with a sort of ancient mountain mysticism. Not surprisingly, it's a place that lends itself practitioners of the ancient arts of "natural medicine." In the city's Santa Clara Plaza, Emma Lagla is the fourth generation of her family to practice traditional natural-healing techniques. She claims to have cures for stress, and for common illnesses and body pains. And four generations of clients would gladly testify that her methods work!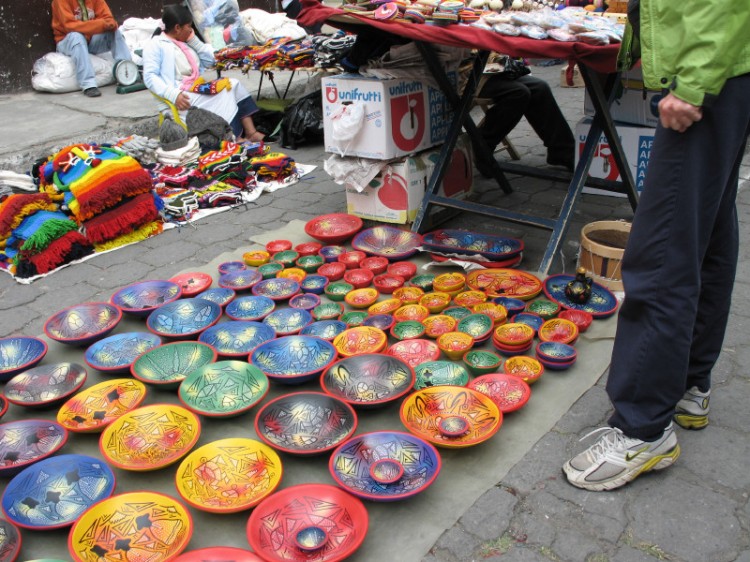 If you'd like to return from Quito with a hat that's a work of art, head for a shop called Humacatama. Luis Lopez' family has been crafting one-of-a-kind hats here for more than 70 years…so one-of-a-kind, in fact, that many of Quito's most prominent citizens and celebrities sport them. They make more than 70 different types of hats here – every one of them by hand.
Woodworking is an ancient art form in Ecuador. The Rivadeneira family has been hand crafting wood artifacts in their shop, From Quito to the World, for more than a century. And their work is endowed with a tone of whimsy, as well as history. Owner Jorge Rivadeneira, for example, has won the Spin-Top World Championships – and has the ability to spin tops 38 different ways. And – without too much cajoling – he'll happily demonstrate his talents.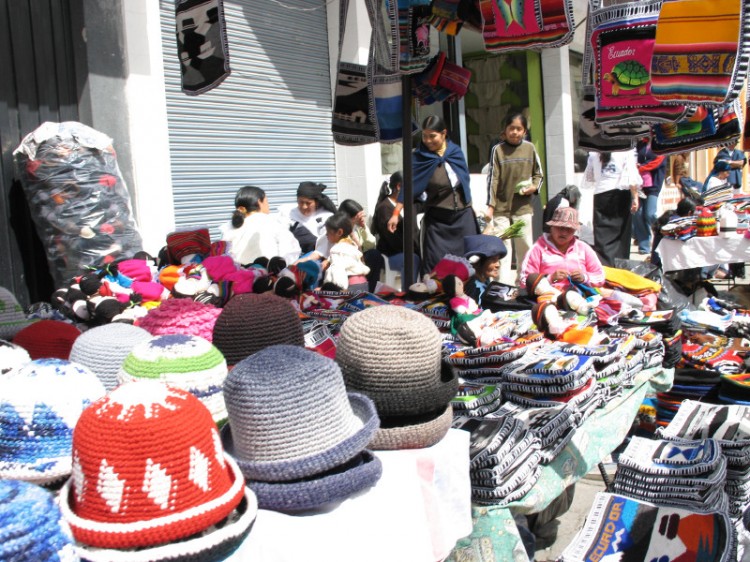 Quito is hardly the only "Handicraft Heaven" in Ecuador, though. And those who visit only the capital are definitely missing out on some wonderful experiences…particularly if they're collectors.
The city of Otavalo has a famous Saturday Morning Market, a colorful swirl of craftspeople, farmers who've hauled in their huge fruits and vegetables, hagglers, bargain-hunters, artists, donkeys, dogs, mountain-dwellers in traditional bowler hats and serapes, city-slickers, aromas, intricately-woven textiles, blankets, clothing, religious icons…and just about anything else you can think of. And the place is filled with hidden artistic treasures…and half the fun is searching for them.
The city of San Antonio de Ibarra is known for its hand carved wooden figures…a few of which have become part of local folklore. Probably the most-loved figure is one of an old barefoot beggar in a shabby hat and coat, a bundle with all his worldly goods on his back, walking with his staff. Other wooden favorites are bowls, chess figures, manger scenes, and whimsically-shaped trays.
The city of Cuenca is endowed with its own artistic specialties, among them ceramics, jewelry, and its famous long capes, embroidered by hand. Hand-made ceramic dinnerware, brightened by colorful patterns, is also a Cuenca specialty, along with a wide variety of other ceramics.
Then there's the town of Montecristi, which has contributed a very special gift to the world – the Panama Hat! It was first created here in Montecristi, in the 19th Century. For years, these distinctive hats were created in relative obscurity, worn mostly by local men. But they received a boost of worldwide fame in 1906, when President Teddy Roosevelt was pictured wearing one while sitting on a huge excavating machine during a tour of the Panama Canal Zone. And that was probably the first time the "Panama Hat" was ever seen in Panama!
The town of Cotacachi is known for excellent leather work, especially coats and jackets. Like the Panama Hat, these high-quality goods were created in obscurity for some years. The Internet has changed all that, however…and, as a result, the leather industry in Cotacachi is booming. Because of technology, you can now procure a wonderfully-soft leather Ecuadorean coat without leaving your living room!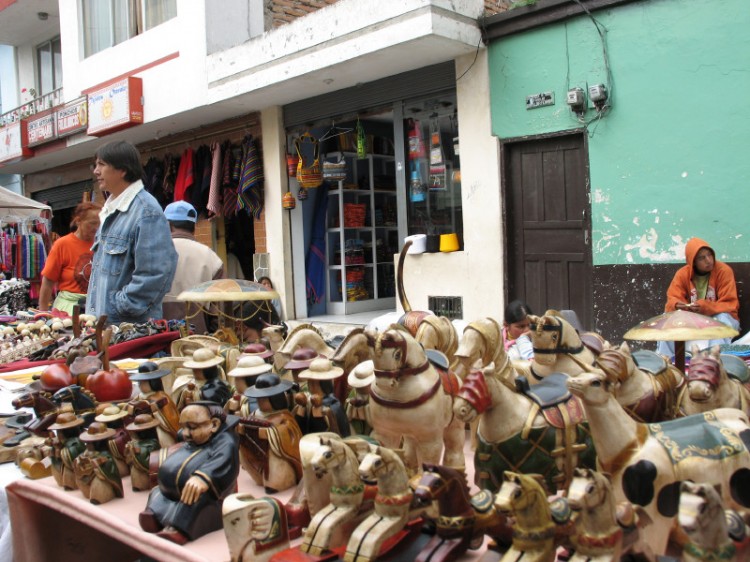 We should also include the town of Calderon, where they produce a distinctive craft called Masapan. Masapan is actually bread dough, which they shape and bake and harden and then paint to create beautiful clowns, religious figures, peasants in their bowlers, animals, houses, churches, and a wide variety of other things.
The most-loved creations, though, are probably the brightly-painted bread-dough Christmas Tree ornaments. These are true works of art.
Who ever thought that a country high in the Andes, and steeped in ancient tradition and Colonial architecture, would make the "hot spots" lists for 2014? But if you love native crafts, spectacular scenery, and a centuries-old culture, there are fewer spots hotter.