Yeah, traffic may be backed up because of those drivers who are freaked out by ice and snow, the temperatures are so low you simply can't put on enough clothing, and school has been called off yet again. Why not forget about all that and actually enjoy this fabulous winter? This is pretty easy to do if you head to Michigan to check out three equally marvelous resorts, all of which provide enough winter sports fun to make you think that winter might turn out to be your favorite season after all.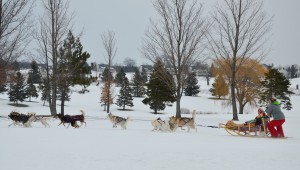 The Grand Traverse Resort in Acme, Michigan, located near Traverse City, boasts an incredible, soaring, 17-story glass tower of luxury hotel rooms with an amazing view of the surrounding, snow-covered fields, in addition to the Shores Condominiums overlooking East Grand Traverse Bay. There's plenty to do at the resort and the surrounding area includes lots of microbreweries and wineries but our favorite activity was dog sledding. Second Chance Mushers is a Siberian husky and Alaskan malamute rescue group which tries to rescue and foster as many dogs as possible. The dogs are also used as sled dogs and they seem to absolutely love it. Every single one was frantic with excitement and couldn't wait to pull our dog sled around in the snow covering the expansive golf course at the resort. After a day in the snow, we were ready for dinner at the gourmet restaurant, Aerie, which is located on the 16th floor of the tower. Surrounded by large windows, the restaurant has the best view in the entire resort. You may forget all about the view when you try the incredible food. Locally sourced as much as possible and garnished with an international flair, it was one of the best meals we had on our winter getaway.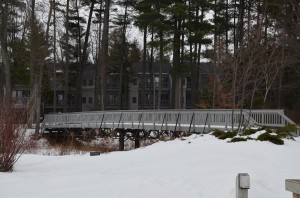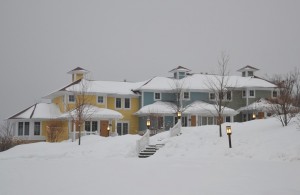 Crystal Mountain, located deep in the forests and mountains of Thompsonville, Michigan near Sleeping Bear Dunes National Lakeshore, offers a dizzying array of accommodations from hotel rooms to sprawling rental homes. However, the two and three bedroom Cottages at Waters Edge with full kitchens, huge Jacuzzi tubs, and fireplaces are wonderful and were perfect for us. Conveniently located near the spa, restaurants, chair lifts for skiing, and plenty of other activities, they are ideally located to experience everything at the resort. The most unusual winter sport offered at Crystal Mountain is a fairly new innovation called Fat Tire Biking, which is pretty much exactly what it sounds like. Specially designed bikes with extra wide, flat tires are designed to go through the snow and provide a fun winter experience. They are a lot of fun but are prepared for some work as well – these bikes are much harder to ride than conventional bikes as you have to work to get through the snow, especially if it is freshly fallen snow like we experienced. After an afternoon on the bikes, we were definitely ready for the Crystal Spa where they offer massages, facials, manicures, pedicures and pretty much any sort of pampering service you can possibly imagine, all provided in a gorgeous facility. Snowshoeing is a fabulous outdoor activity and Crystal Mountain is the perfect place with piles of deep, fluffy snow. We were guided through the amazing Art Legacy Park where outdoor sculptures, albeit many covered with snow, depict the history of Michigan.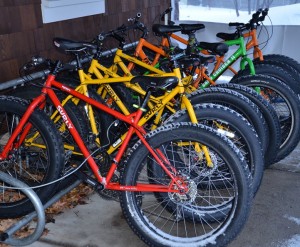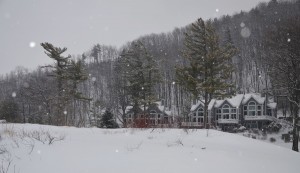 The Homestead, located in Glen Arbor, Michigan near Sleeping Bear Dunes National Lakeshore is a lovely resort with accommodations that range from hotel rooms to beautiful five bedroom beach houses right on the shore of Lake Michigan overlooking the Manitou Islands. This location had the most snow of any of the three resorts we visited – in fact, someone told us it had snowed every day since Thanksgiving! We even had to get the path shoveled before we could make it to our wonderful suite at Little Belle. We were charmed by the village at Little Belle that included a brick paved plaza lined with shops, a salon, restaurants, and a country store. The ski chair lift is just a few steps away and the suites are truly amazing with a gas fireplace, two flat screen televisions, a separate sleeping area with a king bed and huge Jacuzzi tub.
After all our travels through the winter wonderland of Michigan, it was very pleasant to relax with a massage at Spa Amira which has an amazing view of the lake and a pool which would be wonderful to enjoy in the summer. After the spa, I spent the rest of the afternoon at the Lilly jade Salon which was just a few steps from our suite. We enjoyed watching the skiers heading out on the chair lift as we relaxed in front of our fireplace, then enjoyed an incredibly delicious meal at Nona's, also just a few steps away. Our last day was spent exploring the shores of Sleeping Bear Dunes National Lakeshore, trekking through the snow covered sand and enjoying the sight of tumbled ice along the lakeshore caused by the endless waves.
Each of the three resorts we visited was unique in its own way and offered a diverse assortment of activities for winter fun. So stop complaining about winter – take a drive to Michigan and enjoy it!