Istanbul, the guidebook said, is a melting pot of cultures, of hidden eateries and native food, melt-in-the-mouth pastries dripping with honey and hearty aubergine kebabs found in the city's ancient backstreets.
As a child, foreign cuisine began and ended with spaghetti out of tins; back then 'eating out' entailed selecting from a slightly sticky laminated menu with pictures of food on it. Which is why, sitting in Mercan Café, a small, crowded eatery found along the walkway of Balik Pazari, I eyed my veneered menu with suspicion.
'English?' I enquired from the waiter, hoping he could explain the menu to me. My question was met with a no-one-at-home look. A couple of locals at a neighbouring table came to the rescue.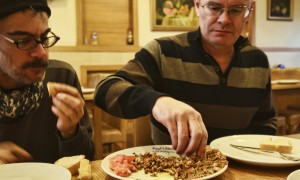 "For ridiculously good street food try kokorec," Pertev Cingi introduced himself. His dining companion, Jon, nodded vigorously.
"This is what we're eating," he said, inviting me to share his amazement. I gazed critically at his plate of what looked to be luscious quantities of minced meat.
"Is that good?" I asked politely.
"This", Pertev declared, "is the best sandwich in Istanbul. It's prepared from lamb intestines wrapped around sweetbreads, slowly roasted over hot coals. The meat is chopped, seasoned with spicy red pepper and oregano then loaded onto a soft warm roll."
The waiter thrust a plate of the same in front of me. Nodding with grim satisfaction Pertev and Jon saluted me with small glasses of Raki (a 45% proof aniseed liqueur) and bade I join them.
The next morning Pertev and Jon introduced me to breakfast, which in Istanbul is a big thing. In the Beyoglu district, for example, most of the action takes place at Namli Gurme, a Turkish deli loved by the locals (always a good sign), near the Karakoy Ferry Pier. Show up at around 11am on a Sunday and be prepared to wait. Select what takes your fancy from their gourmet display like clotted cream with Turkish honey, a cheese platter, olives, menemen /scrambled eggs prepared with tomato, onions, green pepper, cheese and spices and pastırma/ thinly sliced, air-dried, cured beef with eggs (Rihtim Cad 5, Katotopark, Karakoy, Tel 0212 293 6860).
A few doors down is Cerkezkoy Delicatessen – a sit-down deli, great for a substantial brunch of artisan cheeses, eggs, olives, cured meats and Turkish tea. Create your own omelette from the selection of foods on display and be sure to unbuckle your belt in preparation of your feast (Rihtim Cad. 29 Katotoparki Alti, Karakoy, Tel 0212 2525250).
Confessing to a sweet tooth I was escorted to Karakoy Gulluoglu – Istanbul's first and most popular baklava bakery Karaca, an authentic Ottoman courtyard eatery,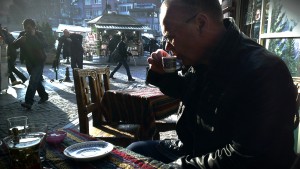 located in the Bazaar Quarter. It's an economical restaurant that serves typically hot, hearty and flavoursome kebabs. The aubergine kebab and the pistachios kebab is big hit. They're also known for their kabak tatlisi/pumpkin pudding. (Gazi Sinan Pasa Sokak 1A, Vezir Han, Nuruosmaniye, Tel 0212 5129094).(directly beside Cerkezkoy Delicatessen). For a few delicious moments be sure to sample their handmade Baklava Fistikli (pistachio and walnuts wrapped in sweet, buttery filo pastry then saturated in honey), also Sobiyet, the sweetest, most juicy Baklava you'll ever taste. For those watching their waistline, try the 'light' baklava. Scouting around the bazaars worked up my appetite and at the mere mention of 'kebab' I was chaperoned to Otantik.
Meshur Sultanahmet Koftecisi is a genuine article in the middle of the touristy area, right across the street from the blue mosque, near the tram line. It's inexpensive and the waiters don't speak English but the international language of pointing at food pictures gets some great grub on a plate. The menu is limited with only traditional lamb shish kebabs and delicious grilled kofte/meatballs as mains which are grilled on the BBQ in the open kitchen. They do a terrific Lentil soup too (Devaryorel Cad 4, Sultanahmet Tel 212 511 3960).
Tucked into a side-street near Taksim Square, is Dai Pera – a cosy restaurant with a casual coffee-house atmosphere. There are great window booths with cushions and big tables with lots of natural light and regular tables in the back which is dimmer lit. You'll struggle to find finer food at such good value – Turkish pastrami rolled in filo, lamb stew on roasted eggplant, very drinkable Turkish wines and cheesecake to die for (Yeni Carsi 54, Beyoglu Tel 212 252 8099).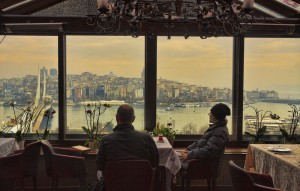 But if its gorgeous views at rock-bottom prices you're looking for take the back road from the Suleyman Mosque, then head downhill to the Spice bazaar. On route you'll find Café Halic presenting magnificent views across the Golden Horn, the Galata Bridge and the city beyond. The menu is inexpensive and the food superb. A local newspaper noted them as one of the top ten brunch spots in Istanbul. They've recently opened an eight roomed guest house above the café which is definitely worth a look! Demirtas Mahallesi Ayranci Sokak 9, Suleymaniye Tel 0212 528 1025.
My final Istanbul treat was a Turkish coffee experience at Corlulu Ali Pasa Medresi, a favorite hang-out for university students in the heart of the old city. Walk through the stone archway beside the Ali Pasa Madressi mosque, to a courtyard housing two coffee shops (and a dozen cats who like to welcome visitors). It oozes centuries of history, ambience and free wifi! Puffing at my waterpipe, I contemplated my two amiable foodie companions and knew at once that Istanbul had stolen my heart. As if reading my mind, Pertev suggested we make a quick dash to the Spice market before I left for the airport.worth a look! Demirtas Mahallesi Ayranci Sokak 9, Suleymaniye Tel 0212 528 1025.
BAZAARS
1. The enormous Fatih Carsamba (Wednesday) market is a disorganised affair with punters flogging everything from fruit to cured meats, hunting knives, gadgets and branded clothing.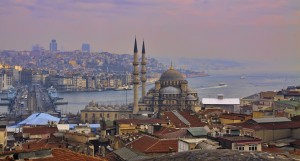 2. Egyptian bazaar aka Spice market: It's lively, aromatic and heady experience. Whilst browsing shopkeepers will be happy to let you taste their delicious Turkish Delights and sip Turkish apple tea. For saffron, this is the right spot if you want the real thing.
3. The Grand bazaar is the largest covered bazaar in the world with over 4000 shops selling anything from carpets and jewellery to scarves and antiques. Bargaining is customary so get ready to be haggle and don't hesitate to get lost in the labyrinth of glittering delights.
4. The Inebolu market is a culinary Sunday carnival of the finest organic produce, stout wedges of corn bread, aromatic herbs, gooey pastes, crates of eggs, dazzling flowers, sacks of grain, hazelnuts and barrels of shiny olives – all found in the downtown grunge of the Beyoglu's Kasimpasa district.
5. Located in a leafy oasis between the Grand Bazaar and Beyazit Mosque, under a canopy of chestnut and acacia trees, are the 23 bookstores of Sahaflar – Beyazit's old booksellers market – a haven of old volumes, which operate daily and selling stationery, calligraphy materials, textbooks, novels as well as foreign and holy literature.
6. Karakoy de Balik is a fish market along the Bosphorus River frontage. It's near the shore at the foot of the Galata Bridge. There's a narrow walkway through fish stalls with open-air eating to be had further down the path.
7. Ortakoy, right on the Bosphorus, houses a weekend flea market where you'll find colourful small gifts, handmade by locals.
8. For open air, high street shopping head to Abdi Ipecki Street in Nisantasi (European side) and Bagdat Street (Asian side).
9. Yesilkoy offers the least chaotic Wednesday market experience – 2000 stalls of quality fake products and dozens of tea cafes.
10. Every Saturday a two-storey car park in Besiktas turns into a treasure trove of fruit and vegetables, factory seconds, unusual jewellery and tasselled headgear.
Be sure to check out 'gototurkey' when planning your trip to Istanbul!