Just a few years ago, Myanmar (formerly Burma) was a closed land, with heavy travel restrictions and limited tourist facilities. Since the broad easing of travel restrictions in 2012, tourism in Myanmar has boomed.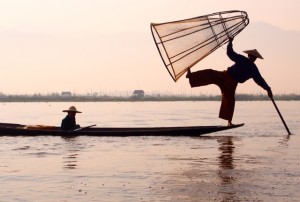 Inle Lake in southern Shan State is a popular stop on many itineraries, famous for its leg-spinning fishermen, floating markets and local communities that dot the ring of the nearly 45-square mile lake. Many travelers choose to stay in Nyuang Shwe just north of the lake's shore and home to many hotels/guesthouses, restaurants and travel services, with more offices and facilities opening each month.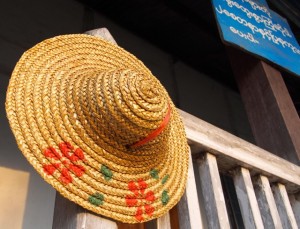 A little over a year ago, local resident Ma Pu Sue was working as a tour guide in Inle Lake. Self-taught in English and experienced in guest service with several different hotel properties over the years, she is warm, approachable and extremely funny. Sue (as she goes by) happened to have a tour client who loved her cooking and suggested she open a cooking school. Why not? she thought.
Her family has a long tradition of welcoming foreigners and sharing Burmese culture. As a young girl, Sue remembers vividly her father bringing home visitors and treating them to a meal or overnight stay in their house, always encouraging the children to learn English and share with these tourists. Her eyes light up as she speaks of her father's passion for welcoming tourists and her desire to do the same.
She and her husband Lesly opened Bamboo Delight Cooking School in the heart of Nyang Shwe in early 2013 and business has steadily grown, sharing with small groups her passion for the simple flavors and cooking technique of Burmese cuisine.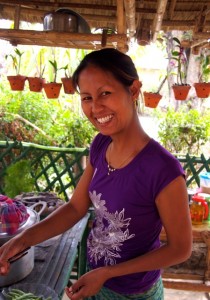 Her home doubles as her class studio; all the classes are taught in an open-air outdoor kitchen and meals are shared around a communal table under a shady patio. The menu varies based on the season, but each half-day class includes a guided trip to the local market to select ingredients for the day's meals and step-by-step instruction on how to make many different dishes, including peanut curry traditional with local hill tribes, tea leaf salad, ginger salad, chicken with potato curry, chickpea and vermicelli soup and boiled eggs with tamarind sauce.
The class is a team effort — everyone has an assignment and chips in with various tasks, including cleaning and chopping vegetables, sauteing sauce ingredients and softening banana leaves for wrapping. Everything is cooked over traditional wood-fired open pots and Sue explains the logic behind each step of the cooking process.
Unlike Thai cooking which is a lot of preparation and then often very fast action in the wok, Burmese cooking involves more time over heat, with longer sautes and sauces. Although many of the dishes are seasoned with the country's main staples of onion, tomatoes, garlic and ginger, no two dishes taste the same.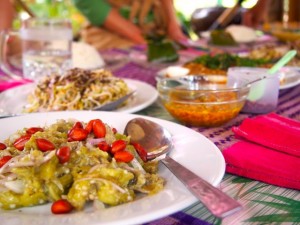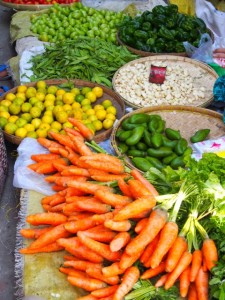 At 15,000 kyat (about $15 USD), the class is a steal and you will not leave hungry. After lunch is over, you have a unique opportunity to learn so much more about Myanmar culture and get a rare glimpse into the life of a local family.
As mentioned earlier, the cooking studio is at Sue and Lesly's home. After class, we were entertained by her children, nieces and nephews, as well as other local children, demonstrating their dance practice for the upcoming water festival. We were also treated to a lesson in the application and use of Thenaka, a traditional Myanmar bark applied to the face to protect and soften the skin. The kids were all too thrilled to help with our application and demonstrate their own favorite patterns and styles.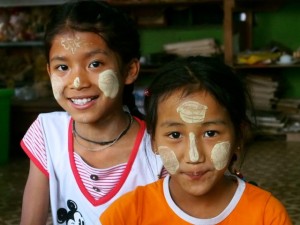 Sue and her family have worked hard to help others in Nyang Shwe and has begun tutoring and assisting local children, with 15 percent of all proceeds going to benefit local orphanages and children's groups. She also building an English-language library for local children in her home; she believes learning English and welcoming visitors is vital for their success.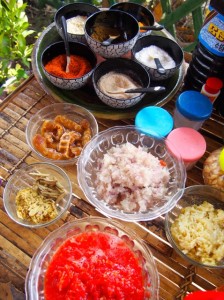 "My father's example was my first experience with foreigners — and now I copy like my father. If he could see me, I think he would be so happy." Indeed he would.
If you visit Bamboo Delight Cooking School, consider bringing a few English-language children's books to donate to the expanding collection. You'll share in Sue's father's legacy.
If you want to cook it up Burmese Style:
Connect with the school on Facebook:
https://www.facebook.com/pages/Bamboo-Delight/587927041266140
Or send an email:
bambooprincess.sue@gmail.com