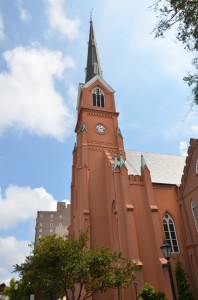 We didn't expect to love Charleston as much as we did. We had already fallen deeply in love with Savannah, Georgia and casually thought that Charleston would be very similar in many ways. It is a little similar in that it's another quiet, friendly, lovely Southern city with a water view and gorgeous, historic homes but Charleston has its own distinctive character.
 For example, Charleston has piazzas. We noticed these ubiquitous, long shaded porches along the side of many of the historic homes in Charleston but it was not until we went on a tour that we found out that they were called piazzas – and that the front doors of many homes in Charleston open on to the piazza, not into the house! Piazzas are the perfect place to relax in a rocking chair with a sweet iced tea and the ceiling fan lazily spinning above you – add a good book and I could spend a day there! Charleston also had literally hundreds of churches – hence the nickname of the "Holy City."
Charleston also has earthquake bolts. After suffering through several earthquakes, many of the historic homes had sturdy steel rods inserted through the house to stabilize them in case of another earthquake. The earthquake bolts can be in many different shapes, including a cross, and you can see them on many of the homes.
There are plenty of lovely hotels in Charleston but we were very happy with our stay at the King Charles Inn. Located very close to the Charleston City Market, shops, restaurants and the beautiful historic homes of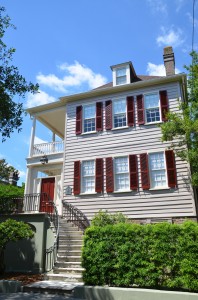 Charleston, it's the perfect place to stay if you want to walk all around town. You can also arrange to have a bus tour or rickshaw pick you up right at the front door, if you prefer to ride around. The Inn is truly a charming place. The lobby has a winding staircase which leads up to a comfortable lounge and cocktail area with plenty of tables, chairs and upholstered furniture where you can relax or work on your computer. There is also a bar where they offer a reception each evening with plenty of fruit, cheese, crackers and special prices on drinks. French doors lead out to a fabulous terrace area where you can have your daily buffet breakfast if you want, overlooking the pool. The rooms are very comfortable and they also have several Deluxe Junior Suites with a fold-out couch and refrigerator that would be great for families.
When you are ready for a tour of the city, just walk over to Palmetto Carriage Tours in the big red barn near the City Market. Palmetto Carriage Tours offers a variety of carriage tours, both private and group tours and it's
really a lot of fun to see the town in a carriage pulled by mules! The guides know all about Charleston and you will learn all about The Holy City and its history as you view the many magnificent churches (source of the city's nickname) and truly gorgeous homes. It's a perfect introduction to the city.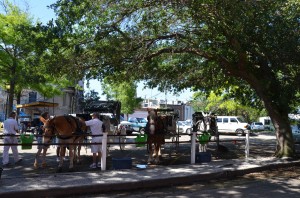 For some time on the water, plan a trip out to historic Fort Sumter with SpiritLine Cruises. They provide the only cruises to Fort Sumter and the boats are clean and comfortable with restrooms and a snack bar. You can leave from Liberty Square in downtown Charleston, or in Mt. Pleasant at the Patriots Point Maritime Museum, the world's largest naval and maritime museum. I recommend leaving from Mt. Pleasant, which is an easy walk from the City Market. Just don't try to walk along the riverfront as you can in Savannah; Charleston's riverfront is much more commercial. Walk back up to one of the streets that run parallel to the water and enjoy a shady stroll through the neighborhoods of Charleston over to Liberty Square, which is very well marked.
 Take some time after the cruise to visit the museum and the South Carolina Aquarium which are in the same area. The boats leave every couple of hours – you can get a schedule on their website – and you can stay out at Fort Sumter as long as you want. Just catch one of the ferries heading back to Mt. Pleasant. Fort Sumter is a really interesting place – take a few minutes when you first arrive to listen to the Park Ranger who will tell you all about the fort before you wander off on your own and you will understand more about what to look for as you walk around. Be sure to check out the small but very interesting museum at the fort as well.
When it's time for dinner, you will find a vast choice of restaurants in Charleston and many will be an easy walk from the King Charles Inn. I recommend you make time in your schedule to have dinner at Circa 1888.Located in the original carriage house of the beautiful Wentworth Mansion, the restaurant has a charming and elegant ambience which is accentuated by the wonderful service you will receive.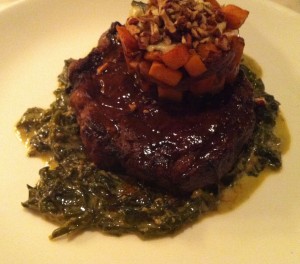 Many architectural details of the carriage house still exist and the cozy, romantic, arched booths along one wall where we sat mimic the original carriage openings. They have the Forbes Four Star and AAA Four Diamond ratings and, after tasting their wonderful food, I can safely say that they are well deserved. The offerings focus on local products, high quality ingredients and traditional Lowcountry flavors and dishes.
Try the cheese plate appetizer with local artisan cheeses and then the Cowboy Cut Rib eye with blue cheese sweet potato and pecan hash, garlic molasses glaze and creamed turnip greens. Then finish with the beautiful and completely delicious strawberry soufflé. You will need to order it in advance so they have time to prepare it but take my advice and do it. You will be so happy you did!
Beautiful homes, wonderful tours, a charming hotel and some of the best food you will ever eat – Charleston has it all!