Recently, my spouse and I found ourselves at the epicenter of a masterfully orchestrated convergence of three great loves – music, cruises, and of course, each other. The venue was a premium class cruise ship full of dedicated music lovers and a dozen well-known jazz virtuosos. Living in this magical sweet spot of almost continuous concerts, seminars and socializing for seven days proved to be a life changing experience.
First the backstory –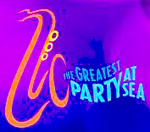 Music-themed cruises are a fast growing niche in the cruise industry – even full ship charters. They have been around for some time. For example – this year is the 10th anniversary for the consistently sold out Smooth Jazz Cruise.
A chance encounter with an enthusiastic devotee – a veteran of two jazz cruises – drew my attention to this particular theme charter – a creation of Michael Lazaroff of St Louis based Entertainment Cruise Productions (ECP).
However, due to a preconception of these soirees as alcohol soaked party-until-you-drop binges targeted to the young and hardy, I was in no hurry to subject myself to one. (Those preconceptions have since been blown out of the water – pun intended).
So, to see for ourselves just what kind of loyalty generating secret sauce was being served on these floating concert venues, we sailed on the second of the two Smooth Jazz Cruises in January of this year – a full ship charter on Holland America's Westerdam.  The 7-day itinerary from Ft Lauderdale included Cozumel, Belize, and Key West.
Our experience on board –

Using great restraint not to over-hype the issue, I must confess this was one of my best cruise experiences ever – without a doubt the best for entertainment. (Note that you are hearing this from someone seriously jaded by decades of cruising – first, 12 years as a cruise ship entertainer myself – then 25 years as a travel agent – interspersed with occasional trips as a full fare paying civilian passenger).
The standouts and distinctions from an ordinary cruise –
First and foremost, the quality of the performances (expected)
Secondly, the congeniality and accessibility of the artists, including the headliners – never once seeing evidence of standoffishness or reluctance to mingle with guests. (unexpected)
The state-of-the-art quality of the sound for all shows, even poolside (all unexpectedly top shelf – a couple of notches above typical cruise line offerings, even in the premium category – ECP brings on board their own sound equipment with accompanying engineers)
The length and frequency of the shows – often two hours or more for the nightly main shows. Headliners not featured in any one night's main show would frequently appear concurrently in smaller venues throughout the ship. (unexpected)
ECP also brings aboard their own cruise staff, including cruise director.  How Lazaroff convinces 'name' performers to host what are traditionally cruise staff duties – such as ping pong tournaments, water polo contests and the ubiquitous bingo – I will never know. But when ship's comedian, Alonzo Bodden, calls bingo, it becomes a not-to-be-missed show in itself. As you can imagine, this results in a huge turnout for these events, generating a sense of family and camaraderie between artist and fans.
And Bodden is one funny dude! He is the comedian of choice for most ECP cruises due to his close friendship with many of the performers – as well as his brilliance in working in an

improvisational style. (Example – In a chance encounter with Bodden one afternoon on the sports deck, he immediately agreed to a one-on-one interview. Once settled into a corner table in the Lido with my camcorder capturing the action, Bodden quickly turned the occasion into hilarious freewheeling group discussion by inviting all other headliners within shouting distance to put down their food trays and join in.)
Lazaroff has succeeded in creating a perfect storm of loyalty that is almost fanatical. ECP charters are events where the highest quality of all aspects of the experience, including accommodations, meals, between shows, etc. is assured. We met many couples who were on their 4th, 5th or even 6th ECP cruise – some having never taken any other type of cruise. Amazingly, 60% of the 1900 passengers on our cruise were repeaters.
Expansion plans – there are many new theme variations already scheduled or in the works – including the (traditional) Jazz Cruise, Soul Train Cruise, Malt Shop Memories, Celtic Thunder and the Country Music Cruise.
(The lineup on our cruise – jazz all-stars George Benson, David Sanborn, Bob James, Marcus Miller, Richard Elliot, Jonathan Butler, Andre Berry, Jeff Golub and Rick Braun, to name a few.)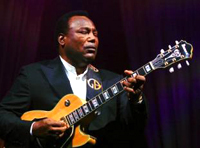 So, is referring to this cruise as a life changing experience over doing it a bit? No. For me, musical biases were flattened and new distinctions acquired – jazz isn't 'just jazz' anymore. In on board concerts artists performed personal 'roots' music as well – which included pop, gospel, and blues. Plus, I now have a heightened appreciation for the work and artistry of a dozen new musical heroes.
What could be improved –
While Holland America delivers an upscale, class product overall, I have one big, giant gripe. Internet service was abysmal…and expensive. I paid $150 for 350 minutes of what proved to be glacially slow service…a frustrating experience for a daily blogger like yours truly. Suits at HAL, are you listening? In today's world, there is no excuse for such sporadic, slow service at such a high price. To add insult to injury, Wi-Fi did not extend to cabins. It was necessary to go to a public room to get a signal.
Now that I've got that little rant out of the way, time to get back to editing all of the great interview material. That's gonna be a hoot!
– Lyn