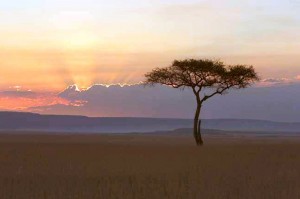 Nairobi has become one of Africa's largest and most interesting cities with a mixture of races, tribes and cultures. Just outside the city limits is Nairobi's National Park – 113 square kilometers of plains, cliffs and forests, while being home to large herds of game, including big cats, living wild within twenty minutes of the city centre.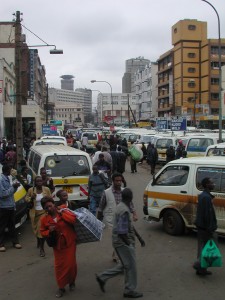 My short journey from the airport came to a grinding halt when I reached the city limits. Nairobi's traffic was insane. Very loose traffic rules combined with the disorienting feeling of driving a stick-shift on the left (Kenya is a former British colony) can be a little stressful. Add to that thousands of people milling around, goats herded across roads, yapping dogs, chickens darting here and there, and the world's most aggressive, egotistical drivers. It became apparent that being overtaken by another vehicle was considered a personal humiliation and letting one through undoubtedly constituted lack of resolve. Nairobi's motorists are oblivious to the world around them and no doubt consider their vehicles as their own 'private' territory – a kind of mobile plot of land. Some motorists had farm animals as passengers, whilst the human passengers sit astride open windows, holding onto roof racks. I soon learnt that if an oncoming driver sees you indicating to turn into a side road and flashes his lights at you, it does not necessarily mean he was giving you way to make the turn.
Arriving at my accommodations, somewhat shaken, I relayed some of my driving experiences to the kindly reception clerk and soon realized he was not joking when he boasted that his son was a matatu (taxi) driver. He told me that his son measured a successful day's work not merely by the amount of money made but also by the number of laws he broke, without getting caught.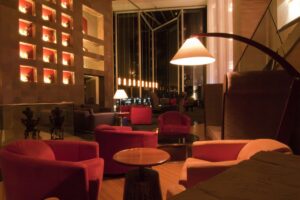 When I stopped laughing I took a walk around my luxurious five-star accommodations, noting its aesthetically pleasing architecture. The restaurant menu indicated African fusion food. The 137-room Tribe, the Village Market Hotel, in the leafy suburbs of Nairobi's diplomatic quarter, has a new home grown concept, offering visitors a no-frills cultural experience offered via an in-house certified city tour guide.
'Put your feet under his family dinner table of a local and enjoy a traditional home-cooked meal. Later, join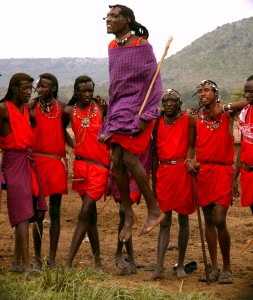 your host at his favourite shebeen – a place where locals swap yarns over a pint of local brew,' said Mark Somen, the hotel's philanthropic GM.
'This initiative was jointly devised by myself and Benjamin Kamau, Tribe's head chauffeur/multi-lingual city tour guide.' Somen said.
Both felt their guests, when Chrysler'ed around the city's hot-spots, had no grasp of what life in one of Africa's most prosperous cities was truly like and felt many visitors yearn to get under the skin of the unrehearsed Nairobi. Rates start at $225 B&B www.africanpridehotels.com/tribe.
I had a further need for true Kenyan cuisine and sought guidance from Somen. "Perhaps a nice piece of zebra barbecued in spicy sauce, or maybe antelope and salad, crocodile and chips, or grilled giraffe?," he enquired.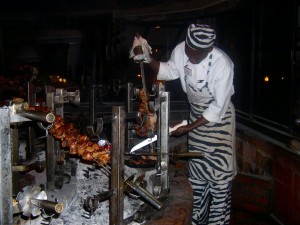 They're all on the menu at Nairobi's Carnivore Restaurant (Langata Rd) – selected as one of the fifty best places to eat in the world. It's an open-air meat specialty restaurant which offers all-you-can-eat grilled game. The meat is cooked, quite dramatically, on large Maasai spears around a huge open charcoal pit at the entrance to the restaurant. When done, the servers bring the speared game to your table and carve slices off onto your sizzling cast iron plate, together with a separate dipping sauce for each meat. You are cautioned on arrival that only when you knock over the small flag at the centre of your table,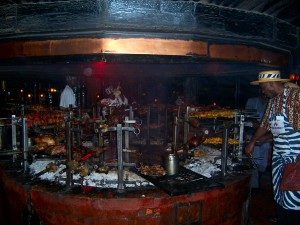 will the servers pass you by – the downed flag signifies your surrender.
The food at the Carnivore is rivaled only by the atmosphere. It's an exotic dining experience not to be missed, especially at around $50 a head! After your meal you may choose to move to the Simba Salon (Carnivore's night club). The bar is like Casablanca – the movie, with every character and nationality represented.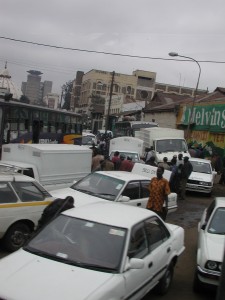 Within keeping and adjacent to the hotel is the award-winning Village Market Shopping Complex – East Africa's largest concept mall with more than 150 shops, an entertainment and health centre, and an international food
court. Every Friday the mall hosts the work of more than 350 Maasai craftsmen and artisans. www.villagemarket-kenya.com
The following day I took great pride in summoning up the steely nerve necessary to ensure that a hovering matatu did not squeeze into the space in front of me, which in Nairobi's terms, would be tantamount to failure. I drove away childishly triumphant.
Carnivore Restaurant
Langata Road, Near Wilson Airport, Nairobi
Ph: +254 (0)20 6005933-7 6002764
Mobile: +254 (0)733611608 / (0)722204648