Heading northwest, towards the Mozambique border, we left Wonderboom Airport (near Pretoria) via a chartered Cessna. Ninety minutes later we arrived at Cheetah Plains, a privately owned game reserve located within the 65,000 hectare Sabi Sands reserve, which itself shares a 50km border the Kruger National Park. Sabi Sands is world renowned for Super Seven* viewing, with Cheetah Plains the hot spot for Big Cats. There are no dividing fences, which sees game moving freely and results in some of the most exceptional wildlife viewing in southern Africa. A specially adapted V6 Toyota Landcruiser, which acts as one of the safari vehicles, delivered us to the main lodge where moist eucalyptus-smelling face cloths were handed to each of us, along with a refreshing cocktail.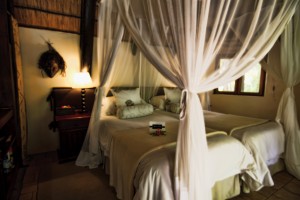 Inside the luxurious main lodge, a thatch structure with a tall ceiling, plump chairs and deep leather sofas elegantly placed around the free-flowing lounge and bar area. It's open to the elements on two sides and has an atrium level private lounge and a basement dining room, which is also open on two sides, offering spectacular views across a dam. There's an engaging "club'ish" feel to the main lodge; it oozes Colonial charm, allowing one to feel right at home. Guest accommodations, concealed deep in the indigenous gardens of the camp, consist of eight newly refurbished chalets each draped in great riots of bougainvillea. The thatched chalets are both contemporary and ethnic in a tribal Out of Africa way; as such they blend seamlessly into the African bush. The chalets are all air-conditioned and come complete with overhead fans, mosquito nets, immense bathrooms and outdoor 'bush' showers (an experience I highly recommend).
At 05.00 a light tap at the door and a tray of fresh coffee gets you up and ready for a dawn game drive. Only two safari vehicles are allowed in the shared areas of the reserve at any given time, which pretty much guarantees exclusivity and undisturbed time with the wildlife. That, coupled with the fact that our tracker and ranger were truly world class, makes all the difference when all you want to do is wildlife photography.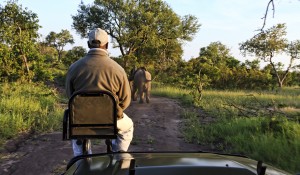 We returned to camp for a mid-morning feast. Then, at the hottest time of day, we retired to our chalet for a little siesta and later took to the swimming pool. At 16.30 we went out for another game drive, returning to camp for a starlit dinner under a Tamboti tree and were served aromatic sweet potato soup, roast lamb with rosemary or kingklip with lemon butter, and creamy love-at-first-bite cherry cheesecake. The background sounds of the African night completed the setting.
The following morning we hitched a ride with the Cessna that returned us to Wonderboom Airport. From there we did a comfortable two-and-a-half hour road trip to the malaria-free South Africa/Botswana border region which delivered us to the entrance gate of the 75,000 hectare Madikwe Game Reserve and our five-star accommodations beyond.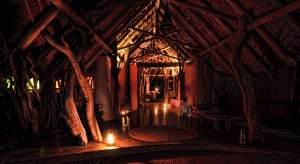 The foyer at Jaci's Tree Lodge dramatically leads to a cavernous room seemingly divided into a luxurious lounge, a spacious dining room and an authentic African bar. Open at three sides and built around an immense four-sided fireplace, the thatched structure is saturated with vibrant traditional colours and unique African crafts. From the main lodge, raised wooden walkways, suspended in the Riverine forest canopy, lead to eight 'tree houses' – each one built around a giant Tamboti tree. My suite 2 was an immense open-plan affair with an en-suite, a large stone bath and a jungle shower on the private deck.
Following a sunset game drive, we returned to camp and a superb dinner (bacon and camembert filo with cranberry sauce, venison bobotie or sweet/sour pork chops and sago pudding), armed with Super Seven* viewing tales with which to regale newly arrived guests. The most talked-about viewing was that of the pack of wild dogs we found lazing in the shade of a broad leafed tree. The leopard got a mention too, but the sighting I would long remember was that of a cheetah nervously drinking from a waterhole.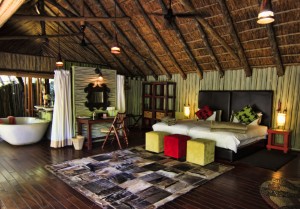 As the evening drew to a close the staff gathered around the campfire where we dined and sang a series of tribal songs.
Cheetah Plains Lodge: www.cheetahplains.co.za – all inclusive price R3,595 pppn
Getting there: It's a six-hour self-drive from Johannesburg or a 70-minute flight which can be arranged through the lodge. Custom flying safaris are also available.
Jaci's Lodge: www.madikwe.com – all inclusive price R2,995 pppn
Getting there: From Johannesburg International Airports, it's an easy three-and-a-half our journey along mostly tarred roads.
Special offers available, consult www.welcomebeyond.com for bookings.
* the usual Big Five plus wild dog and cheetah