It seems appropriate that the legendary French beauty Empress Josephine, known for her sense of style, spent her early years on the island of Martinique, where travelers today can still encounter an abundance of fine design, craftsmanship and style.  In fact, Martinique nowadays is home to a range of merchandise, local handicrafts and personal apparel that reflects an enduring appreciation of style.  Around city streets, suburban enclaves or at points out into the countryside, a shopping journey on Martinique can be one of the most engaging ways of exploring "the Isle of Flowers".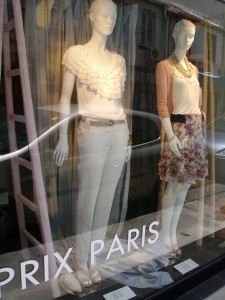 Around Fort-de-France – Bazaar to Boutique Shopping
Like many, you may start your shopping journey right in the capital of Fort-de-France, since its downtown areas include more than one location to browse for anything from Parisian fashion to local authentic design and handicrafts, personal items to home fixtures and decorative items. Making your expedition mostly on foot here is usually easier and far more enjoyable than driving and parking several times, and along the way you also get to take in the genuine color of Martinican street life and urban culture. Probably the best-known area anyone will direct you to around town is the Rue Victor Hugo. This major downtown avenue is home to a lively mix of vendors and boutiques offering everything from the latest in European and international haute couture names to the classic and authentic styles of Martinique. Expect to see such names as the parfumerie Roger Albert, trendy Harlem Studio, and La Chamade, whose styles show an influence from Paris and Nice. Roger Albert is a long-established emporium of such luxury goods as Baccarat and Lalique crystal, Cartier perfumes and Lancôme cosmetics, all of course bearing the "Made in France" mark.
The place not to miss for traditional Martinican shopping and goods is the "Marché Couvert" or covered market. First built in 1901 and later restored in 1989, this bustling bazaar is where the locals do their shopping amid rows of fragrant spices, including the local curry powder known as "colombo" as well as medicinal herbs, exotic fruits like chayotes (locally known as "christophines"), and indigenous vegetables such as yams (or "ignames" locally). The colorful displays of edible offerings often give way on the shelves to hand-crafted wooden bowls, traditional "bakoua" or straw hats and Creole dolls. For those inclined to take home something sweet, there is plenty to choose from by way of the many traditional homemade confectionaries, notably "filibos" or "pilibos" which are colorful candies made from cane sugar, or the pistachio nougat, or the crystallized fruits, all of which are on display here. Along the way, you can take a break and also enjoy some fresh cuisine at the onsite cafes here such as Chez Carole that serve breakfasts and lunches.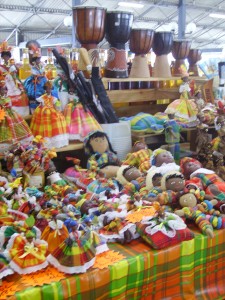 Beyond Rue Victor Hugo, downtown Fort-de-France is home to even more shops selling haute couture and stylish resort wear; seek these out on side streets such as Rue Moreau de Jones, Rue Antoine Siger and Rue Lamartine. French department store Galeries Lafayette on rue Schoelcher lends Fort-de-France the ultimate Parisian shopping establishment presence. On Rue Perrinon is fashion boutique Mounia, whose owner also happens to be a former Yves St. Laurent model now retailing the designs of Christian Lacroix and, of course, Yves St. Laurent among other leading French labels. Two of the leading establishments to browse for unique jewelry to accompany the finest fashions are Thomas de Rogatis and Albert Venutolo. Here, visitors will find authentic "bijoux creole" jewelry – 18-karat gold creations, like the beaded "collier chou" or "darling's necklace, popularized after the abolition of slavery and seen in many museums.
The "Made in Martinique" label is as sought after locally as the "Made in France" label. Thus, a trip to the Centre des Métiers d'Art, or Center of Trade Arts (on Rue Ernest Deproge) can be as rewarding as any shopping adventure on the island. This artisanal market, like the craft market at La Savane, is full of local artwork, coral jewelry, wooden sculptures and handmade wicker and pottery. Another locally-produced material that is well worth taking home as a souvenir is the Madras fabric long used for customary folk costumes and still used here today in contemporary attire.
Village to Countryside – Fine Craftsmanship and Indigenous Design
An enduring connection to historic and cultural legacies nowadays inspires Martinique's artisans to keep alive creative traditions for a twenty-first century audience. In the southwestern region of the island, you encounter such entrepreneurial brilliance in the neighborhood of Trois-Îlets at the Domaine de Château Gaillard, a recreated plantation-style complex where local artisans display their pottery, jewelry, and preserves for sale. Here you can pick up something exquisite for personal attire, elegant for the living room or gourmet for the kitchen — along with watching the pottery artisans actually at work. Also in the same region, be sure to stop by the charming Village de la Poterie, a converted row of former factory cottages that nowadays is home to a wide selection of  potters, craftsmen and other artists. Take time to stop in at wonderful cottage shops such as ZB Création, Terr' Et Patrimoine, Atelier Caraîbes, or Memoires d'Argile for some authentic Martinican purchases.
Another enterprising association with places to visit across the island is the Tak-Tak Martinique Network, which brings together a variety of locations and small shops in a community based on sustainable tourism. Visitors can use the Tak-Tak portal to explore and purchase a fascinating diversity of Martinican preserves, liqueurs, dressings, canned foods or fabrics that are all produced by small businesses. The pleasures of the palate to take away also extend to Martinique's distinctive rums, with some 15 different labels including the elite rhums agricoles – which often leads to this island being referred to as "the rum capital of the world".  Among those names considered to be among its finest distilled rums and which make for a fantastic visit to their original premises is Rhums Clément. Here you can first tour the 18th-century Habitation Clément (great house), distillery museum and then sample some of their distinguished line of rums before choosing your own favorites. Indeed, the scents, tastes and creations of Martinique all contribute to an astounding "moveable feast" you can select the best from and continue enjoying long after you return home.
MORE SHOPPING TIPS AND LOCATIONS
Best buys on Martinique –  French luxury imports, such as perfumes, fashions, Vuitton luggage, Lalique crystal, and Limoges dinnerware. Occasionally, prices are as much as 30% to 40% below those in the United States. It is usually best to shop in the smaller stores, where prices are 8% to 12% lower on comparable items, and paying in euros. Luxury perfume emporiums give an immediate 20% off on merchandise paid for in travelers' checks or by certain credit cards.
Best times to shop – Most stores are open 8:30 a.m. to 6 p.m. Monday to Friday, and on Saturday mornings. Some close for the traditional 2-3 hour lunch break beginning at noon or 1 p.m.
Shopping Addresses:
Cour Perrinon -18, rue Moreau De Jonnes, Fort-de-France – 50 shops and restaurants in a multi-level complex .
Tak-Tak Network – www.taktak-martinique.net
Le Village de la Poterie –  Les Trois Ilets; www.poterie3ilets.com; Tel: 0596 68 03 44
Habitation Clément – www.rhum-clement.com; Tel: 0596 54 62 07
Domaine Château Gaillard – Les Trois-Ilets; Tel: 0596 68 10 57
For more information on Martinique: http://www.martinique.org%20 – Tel: 212 838 6887 (U.S.)