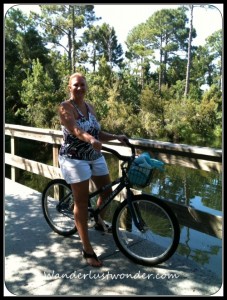 I absolutely loathe spinning class. I really, really wanted to like it. Because how difficult could it be to ride a stationary bike in place?
 You know what? It is extremely difficult. For one thing, the bike seats are incredibly, indescribably, immeasurably hard. So hard that no matter what you do, no matter how thick a bike seat cover you buy, no matter how many times you stand up on the pedals to relieve your aching butt, you are still in pain.
I couldn't understand why this was not more fun. It's bike riding, right? Well, it's just not exactly like regular bike riding. It's a lot less fun.
 So when the lovely and generous folks at the Sandestin Golf and Beach Resort in Miramar Beach in Florida offered me and my sister-in-law bikes to ride during our girlfriends getaway last year, I hesitated. Wasn't this going to be spinning class all over again? Painful and no fun. Turns out this was the furthest thing from the truth.
 The grounds at Sandestin are so gorgeous and shady and the bikes looked nice and sturdy, not at all like the bikes in the spinning class and…OK, I admit it. I was all about the photo op. How cute would it be to have a photo of me posing on a bike in front of our lovely condo at Baytown Village?
 It did make a nice photo op. But then I decided it might not be all that hard to ride around a little bit. Just a teeny little ride. We both mounted up and then shrieked in unison because, apparently in the approximately 30+ years since we had ridden a bike, we had forgotten how to balance. But it came back. It came back quickly. And then we were flying along the lovely paths through the resort with our hair in the wind and our legs pumping away. It was marvelous. I had forgotten how much fun this was!
 So much fun that when my husband and I were in Hilton Head in the spring at the Beach House, a Holiday Inn Resort, and they offered us bikes to ride around the island, I unhesitatingly accepted for both of us. I was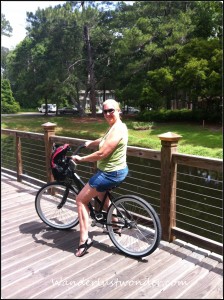 a tiny bit smug when he mounted up, wobbled around and declared that he could no longer ride a bike. Give it time, I suggested. It will come back. And it did.
 We tooled all over the island on our bikes, enjoying the little bridges over ponds with small alligators floating on the surface and glimpses of the beautiful green Atlantic ocean through the trees.
 Fast forward to Roanoke, Virginia this summer and several choices of activities during our visit – one of which was a bike ride. Sign us up! River Greenway Bike Rentals actually brought bikes to the park for our group and sized us, something I had not experienced before but which was just great. We both got bikes that were the right size – something my husband had complained about in Hilton Head.
We rode all over the park and into historic Grandin Village and used all the calories we had just burned by inhaling cupcakes from Viva La Cupcakes. We were amazed to find we had actually ridden over 7 miles. Great exercise (if you don't eat cupcakes!) and we had so much fun!
 On our drive home over theBlue Ridge Mountains, we had a serious discussion about buying bikes of our own. We finally concluded we might want to make sure we actually enjoy it enough to buy our own bikes. So we will see. But whenever bike riding is a choice on our future itineraries? You better believe we will be taking advantage of that choice!