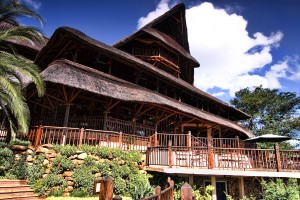 The Victoria Falls Safari Club is the ultimate in lodge accommodations. Each of their sixteen club rooms and four spectacular suites have private patios and uninterrupted views across the bushveld. It's all a potent mix of African wilderness and history seamlessly blended with exotic luxury, complete with a private check-in and butler service.
From the lodge's lobby you walk into a quarry-tiled hallway showcasing an African-styled chandelier made from fine honey-coloured strips of hide. It's embellished with beads in shades of canary-yellow, ruby-red and paprika-bronze which emits a soft yellow flecked light. Beyond the hallway, facing the deck, is a marble topped bar spot lit by four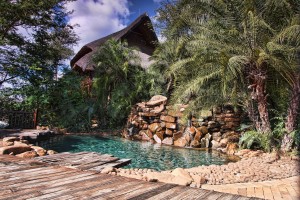 bronze lampshades delicately enhanced with onyx-black and blood-red beads. Behind the bar is an elongated mirror framed with Acacia-tree branches. There's a small teak-wood dining area to one side, and on the opposite is a lounge with a deep leather sofa, a couple of comfy chairs, a hide-framed mirror and side tables who's legs are crafted from antelope horns. Bold African art adorns large areas of the walls and overhead are three fans circulating the under-thatch coolness. A few steps down and you're on the viewing-deck dressed with seven tables and large khaki-coloured parasols – the views across the lavender smudged game corridor to the Zambezi River are jaw-dropping.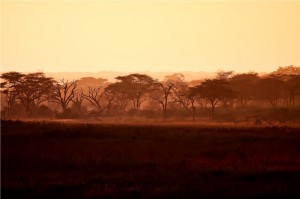 In the afternoons, on this same private viewing-deck, sumptuous afternoon teas and delicate pastries are complimentary, as are the sun downers and snacks. Be sure to ask for an Amarula – a cream liqueur made with sugar, cream and fruit of the African Marula tree. The bartender mixes an especially good Amarula over crushed ice, garnished with a sprig of mint and served with lightly fried and salted game biltong – which is akin to jerky.
Although a lavish breakfast is served at the Safari Club, other meals are to be taken at the neighbouring Safari Lodge (a three minute walk – on route, keep a look-out for warthogs 'mowing' the lawn). Safari Club residents have access to all the facilities offered by the Safari Lodge yet retain exclusivity of the Safari Club.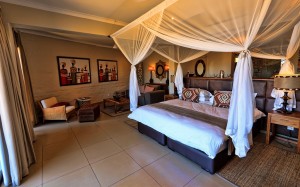 Be at the Safari Lodge at lunchtime and accompany Zulu, the Vulture Man, when he feeds a sack of bones and cuts of meat to the vultures. Vultures and their habitats are facing major threats to their existence and in order to protect their population supplementary feeding sites have been established in strategic areas around Zimbabwe – Victoria Falls Safari Lodge is one such site. The Buffalo Bar at the Safari Lodge serves substantial lunch time sandwiches in the form of rare-roast Zimbabwean beef with brown mustard and lemon chicken with aioli cream – of course, it needs to be washed down with a Black Label beer. There are excellent wildlife photo opportunities from the Buffalo Bar which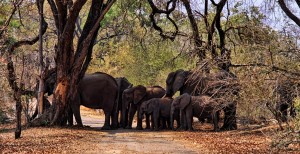 overlooks a waterhole. At sunset, tired and dusty antelope slope towards the waterhole and take tentative sips, on constant lookout for predators.
Whilst at the Victoria Falls Safari Club reserve a dinner table at the
'Boma – Place of Eating'. On arrival, a tribal shawl is draped around your shoulders followed by a ceremonial hand washing. A shot of moon-shine beer is administered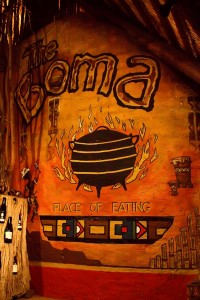 swiftly followed by traditional barbequed meats served under the African night sky. The Boma experience is infused with warthog steaks, crocodile fillets, Mopani worms, vibrant African drumming and dancing; with a traditional fortune-teller adding a touch of drama and mystery to the evening. Indulge in a Boma Cocktail, a more-ish mix of vodka, cinnamon, lemon, honey and ice which, I can attest, is a cocktail for happiness.
With uninterrupted views of spectacular African sunsets and year-round game at its waterholes, the exclusive Victoria Falls Safari Club offers personal service and a taste of the African bush-veld to high-end travellers. Each of its twenty elegant rooms, tastefully decorated in soft ethnic fabrics, has a private balcony overlooking the Zambezi National Park. B&B rates start at US$275 www.africaalbidatourism.com.
Getting there:
• Be sure to apply for a Zimbabwean visa from your local consulate before you leave as acquiring a visa at the point of entry could be a painfully tedious and timely process.
• Board an American Airlines flight (operated by British Airways) from Toronto to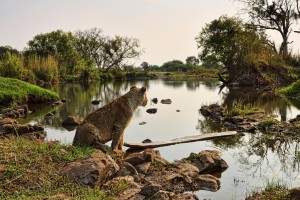 London where you'll do a plane change and head to Johannesburg and on to Victoria Falls in Zimbabwe. Other flight options are available but are timely and very stressful.
Malaria:
This is a malaria zone so be sure to take the relevant anti-malaria drugs. If you soak yourself in a good insect repellent (Life Systems Expedition 50+) insects won't bother you. All rooms at The Victoria Falls Safari Club are air conditioned, sprayed with mosquito repellent and the beds are netted, so you're safe indoors.
About Zimbabwe: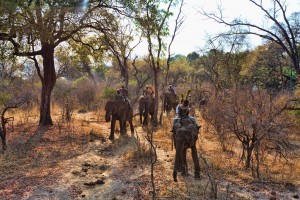 • Zimbabwe is landlocked and shares borders with South Africa, Botswana, Zambia and Mozambique. It's slightly larger than Norway with a population of around 13-million.
• The Victoria Falls is twice the height of Niagara Falls and well over twice the width of its Horseshoe Falls.
• The country is home to some of the largest diamond and platinum reserves in the world.
• Lake Kariba of Zimbabwe, constructed on River Zambezi, is one of the world's largest manmade lakes
• Zimbabwe's adult literacy rate is approximately 90%, which is amongst the highest in Africa
• The people from Zimbabwe seem to be from a bygone era – an era that one sometimes yearns for. A simpler life, yet a bigger life and a life not engrossed with modern day complications.
• The movie, King Solomon's Mines, was filmed in Zimbabwe; as was Cry Freedom (starring Denzel Washington); White Hunter, Black Heart (directed by Clint Eastwood); and The Power of One (staring Morgan Freeman).
• Alexander McCall Smith (creator of The No. 1 Ladies' Detective Agency book series) was born in Zimbabwe as was world famous cricketer, Andy Flower and American actor Miles Anderson.