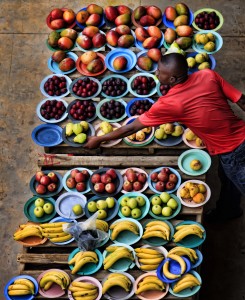 If the name Soweto is familiar, it is probably for all the wrong reasons, as it's where the struggle against Apartheid played out, turning the township into a virtual war-zone in the 1970's and 80's. Now the city of 4.5 million people, the most populous black urban residential area in South Africa, are keen for tourists to stay and experience the real Soweto rather than a mere tour bus stop-over. Locals are opening their homes to visitors, providing cozy home-stays and cooking classes and offering personal tours that offer a more in-depth look at Soweto's past and present.
Still full of hesitancy about visiting Soweto, I unpacked my bags at the contemporary 48-roomed Soweto Hotel, built on the acacia tree-lined Walter Sisulu Square of Dedication (Freedom Square), which houses ten symbols of the Freedom Charter. I'd expected to see little more than ramshackle homes and destitution. What I found instead was an urban city, mostly middle-class, setting trends in politics, music, fashion, language and dance.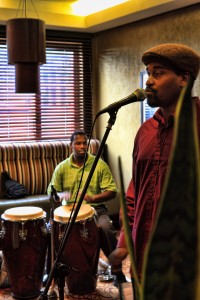 Fitting to its location, the 4-star Soweto Hotel, owned by a vivacious Ms. Lindiwe Sangweni-Siddo, has artist depictions of both Walter Sisulu and Nelson Mandelaon its outside walls. It's also directly beside the Freedom Museum and Freedom Monument as well as open air food markets, where the hotel chef procures most of the hotel's foodstuffs.
The Soweto Hotel's interiors are earthy African-chic, with breathtaking murals of Walter and Albertina Sisulu as well as Nelson Mandela in the reception and poignant black-and-white photographs of political greats studding the walls, leading to the Jazz Maniacs bar. The bar had a moody feel about it. Thin fingers of late afternoon sunlight  found their way through the shutters, spot-lighting the serious jazz junkies in the room, all nodding their heads in slow rhythmic agreement to the unhurried infectious jazz thump. The barman, serving me a Black Label beer, noted my appreciation of it all. "The music we play, we call it jazz, but it's not American, nor is it British. This is township jazz. It's our music, our way of life."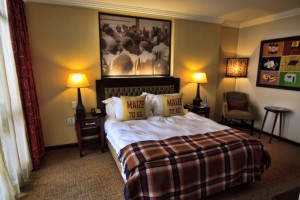 The Mandela themed Suite 113, with a wall of windows and outward opening doors to a private balcony, is comfortable and airy. It's predominantly shaded in rich buttermilk-creams, with a wooden ebony picture frame above the bed, encasing a back-lit photograph of an ANC rally focused on a young Nelson Mandela. Nutmeg-coloured reed bedside lamps softened the room and hessian "70kg maize" cushions roughened it up again. A chequered redcurrant woollen throw and a deep green studded leather headboard added contrast.
The Soweto Hotel recently launched a tourism project which is an amalgamation of local entrepreneurs offering a unique take on their hometown and including arts-and-culture tours. Add-on packages include bird-watching, Soweto night-life and shebeen-cuisine.
My local guide, TK Dube, began my 24-hour cultural tour of Soweto at Sakhumzi, a restaurant flanked by two Nobel Peace Prize winners, on the famed Vilakazi Street. Here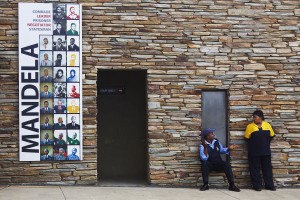 head chef, Ayanda Zulu, demonstrated how I should prepare and cook a traditional Sowetan dish for Mr Mandela – tripe and samp. Samp is broken dried maize kernels mixed with beans. After boiling for three hours butter, onions, potatoes, chillies, lemon salt and some olive oil is added, then it's left to simmer on low heat until all ingredients are tender. Tripe is a traditional treat favoured by most black South Africans and consists of those parts of an animal that are left over from cutting up a carcass. Some come from inside the animal, such as liver, kidneys, brains, stomach and lungs, while others are external like tong, tail, feet and head.
Sakhumzi Restaurant is directly beside the home of Archbishop Desmond Tutu (which he still occupies) and diagonally across from former President Nelson Mandela's home, turned museum. Though the interior of Mandela's home contains little more than a few possessions and some sticks of furniture belonging to the great man, my enthusiastic guide truly brought the modest four-roomed home alive with a short but riveting tour.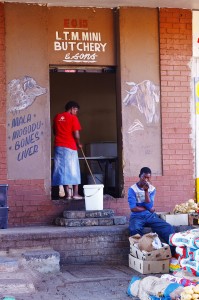 From there TK led me to Khatshisanyana, a township restaurant on Beacon Road, whose signage invites one to "…come enjoy the township on the stoep." Their menu, painted on the outside wall, offers township cuisine such as boerewors (spicy farmer sausage) rolls with sauce with pap (stiff maize meal) and Russian Bunny Chows (hollowed out loaf of bread filled with a "Russian" curry mix) for under $2 each. Before sampling their cuisine I knocked at the open door in the proper African manner, and politely waited for an invitation to enter. The proprietor is the photographer responsible for the historic images displayed within the Soweto Hotel – David Boloma.
We shook hands in the traditional African manner, followed by a walk-around the historic restaurant and an introduction to the genuine art deco household goods strewn around. From battered tin pots, cups and plates to ancient leather travel trunks, Bakerlite biscuit tins, kitchen scales like those my grandma used to use, an antique Singer sewing machine and a Continental typewriter – all still regularly used. "I encourage our youngsters to come into the restaurant," said David, "and learn of the history I've preserved here. It's our heritage and we should never forget where we came from – no matter how successful we may become." David is holding an ANC photographic exhibition in June 2012, detailing Kliptown's contribution to the struggle.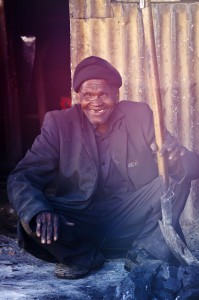 I settled down to consider the menu more seriously, then spotted something of interest. "What's the difference between a 'Township Sandwich' and a sandwich made somewhere else in Johannesburg?" I asked.
"A Township Sandwich consists of two thick slices of bread with a thick wedge of meat stuck between the two, maybe some potato but always gravy. You can walk down the street with a Township Sandwich and eat it as you head to the taxi rank." David smiled broadly, satisfied with his macho sandwich menu, then continued. "A sandwich bought elsewhere in Johannesburg needs a plate, a knife and fork and usually a table to sit at whilst eating it."
My guide at the Regina Mundi Catholic Church slowly walked me around, talking me through its recent history, explaining the pivotal role the church played in the struggle against apartheid, recalling first-hand how students sought shelter in the church during brutal police attacks. Most of the damage sustained by the church during the 1976 Soweto uprisings had been repaired, but some have deliberately been left as a reminder of those dark times. The smashed marble altar for example, where a policeman's rifle butt was brought down on its corner; bullet holes in the ceiling and walls, and the statue of Christ. Fittingly the Regina Mundi hosted several Truth and Reconciliation Commission meetings which enabled locals to speak of their losses when nobody wanted to listen.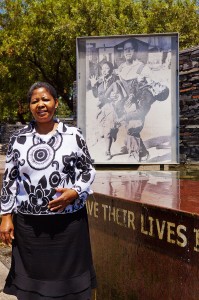 TK and I fell silent whilst meandering through the photographic exhibit in the church's attic. An iconic image of that time – headlined on broadsheets around the world – was that of a tall teenage boy, Sam Nzimo, carrying the lifeless body of a 12-year old schoolboy, Hector Pieterson. Whilst Nzimo howled in protest at onlookers, Hector's elder sister, Antoinette, ran alongside him, her hands splayed to the heavens, her face screaming for it not to be true.
Minutes later I stood beside Antoinette at the Hector Pieterson Memorial. "Despite our unbelievable history, we've never resorted to revenge," she said. "We are now on a new page and need to move on still further and the only way we can do this is to forgive ourselves. Only then could we forgive others." I could not begin to fathom her strength of character to speak of such forgiveness.
TK and I dined on the wrap around veranda at Roots Restaurant that evening, savoring a golden African sunset with Oxtail and pap, tycoon lamb chops and a Soweto salad (with hidden slices of biltong, a savory jerky) plus a glass each of Nederburg Stein. Found in the Creative Corner of Soweto, Roots showcases local arts and crafts and at the end of every month hosts local jazz musicians.
Whilst we ate I marveled at Soweto's street markets below – filled with noisy entrepreneurs who set up spontaneous place of purchase beside the road, armed only with ready smiles and "Welcome to Soweto" wishes. It's a sensory experience: a vibrant fusion of African music, colorful explosions of skirts and tribal beads, pungent aromas of ginger, garlic and wood smoke. It's disorganized, exciting, unrefined and utterly intoxicating.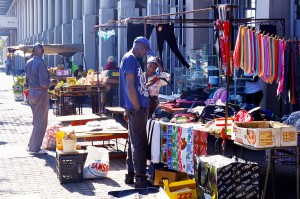 "This is what Soweto is all about," TK observed, "and by viewing it through the window of an air-conditioned tourist bus guarantees visitors will remain spectators rather than participants. They'll miss out on hugs from strangers, enthusiastic handshakes from shebeen patrons and above all, the opportunity to feel a part of a place that helped change history."
It's not an easy visit on the conscience but it's a must-see for those wanting to understand the South African freedom struggle. It inspired and moved me, and I left understanding what Soweto really means to South Africans; how it helped shape the country that so cheerfully welcomes visitors.
Soweto Hotel, Cn Union & Main, Walter Sisulu Square of Dedication, Kliptown, Soweto www.sowetohotel.co.za, sales@sowetohotel.co.za Ph +27 115277300,