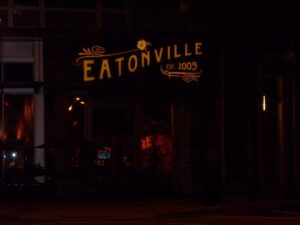 It is a crisp October evening in Washington, D.C. There is no snow falling, but the temperature has dropped considerably from the afternoon to this late evening. People are moving rapidly down the street bundled in their winter garb, looking like heavily clothed energizer bunnies, but it is not unusual as D.C. always has a distinct undercurrent of electricity that is almost palpable.
The streets are dotted like blue M&M's with miniature zap cars (www.zapcar.com) parked along several of the streets as we search for parking.  Zap cars are ride-sharing alternatives, and these little cars are seen everywhere throughout D.C.
We finally find parking amidst the heavy traffic on 14th street and make our way towards our final destination, Eatonville, a southern-soul food restaurant.  Along the way to the restaurant we pass several small, nondescript clubs and lounges with large, domineering bouncers checking ID's and flashing lights into ladies' handbags. With abrupt and quick movements, the ladies retrieve their ID's and scurry up the stairs to sit back, relax and enjoy a cocktail while listening either to music or the soothing tones of impromptu poetry readings.
Approaching Eatonville, they have a large, illuminated sign looming high above the entrance, indicating it was established in 2009. We enter the glass and wooden front door, and I am awestruck by the bright paintings on almost every single wall throughout the restaurant. We are led by a gregarious, handsome young gentleman server who seats us at a booth that is semi-tucked away in the back of the restaurant; however, there are no bad seats here at all. I slide into the booth, turn, and lean back to take in the painting behind us of lopsided, dilapidated houses. There are a smattering of reds, greens, pinks, and browns representing grass and flowers. Subtly depicted in the piece is a willowy woman who is standing between the dilapidated houses in a grayish-blue dress and hat, a gentleman  perched on the steps of one of the houses, and another gentleman who is seated on one of the porches.
The server leaves a menu and returns instantaneously with glasses of water. He asks if we have ever been in before, to which we both reply, "No, but we have heard great things." The server begins to rattle off a litany of specials, featured items, and a bevy of spirits that we may chose to enjoy with our meal.
I peruse the menu and settle on a bowl of Extra-Sharp Mac & Cheese (ostensibly to share), and we both select the same entrée of Pecan- Crusted Trout served with rice pilaf and roasted carrots. Our server nods his head rapidly and comments positively on our selection. He says they have been busy and the evening is just winding down for them. He scoops up our menus and dashes away from our table as if he is on fire.
Our food arrives and it is simply divine. This is comfort food at its finest. There is no pomp and circumstance, just good food.  I manage to (begrudgingly) share some of the Mac & Cheese, which I liken to little curls of perfected, cheesy bliss, as each forkful melts in my mouth. The sharpness of the cheese is perfectly executed, and does not detract from the dish, but serves to enhance the intensity of the smooth, cheesy cream sauce that is wrapped around the macaroni noodles.  The Pecan-Crusted Trout is served pan-fried to a golden, delicate brown, and is crispy, flaky, succulent, and well seasoned. The carrots are slightly caramelized, but still al dente to the bite. The rice pilaf is the least impressive of the dish, and I would not have been upset had it not graced my plate.
Eatonville, while a relatively newer restaurant, is one that should be considered should you travel to the Washington, D.C. area. This is not a fancy restaurant, nor is it a hole in a wall; it is a place where you can go and enjoy a comfortable evening out without breaking the bank. You will be guaranteed a memorable meal that will linger not only on your taste buds, but also a place in your mental rolodex of restaurants to revisit again and again.