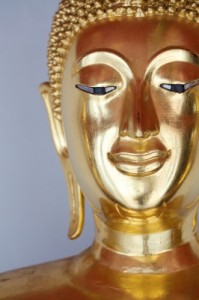 Bangkok is one of the world's most visited destinations. It is deemed one of the largest capital cities on the globe with a population of over 9 million people. As the capital city of Thailand, the appeal is easy to see with its spectacular temples, exotic sites and a variety of specialty markets. It is in these markets that visitors can get a taste of the culture of the land through interaction with vendors and other shoppers. Most are open seven days a week to wholesalers and traders and are a must-see for tourists.
Pak Klong Talat Flower Market
Pak Klong Talat is Thailand's largest flower market. It is open 7-days a week on a 24-hour basis and is well known for its reasonable, if not bargain prices for an array of flowers. They come from every part of the world, from the western roses and marigolds to the more exotic ones such as the blooming Gerbera flower which resembles a large version of a Daisy. There are also the vibrant colors of the Snap Dragon flowers and the paddle-like, fresh cut Anthurium flowers. In a country where Buddhism is the most prevalent religion, there are multitudes of garland strung fresh flowers for every occasion. The sweet fragrances of the flowers waft in the air as you walk around the merchants who display their vast blooming flowers of every color. Do go in the wee hours of the morning to experience the busy trading time as this is when truck deliveries are made of fresh pretty flowers.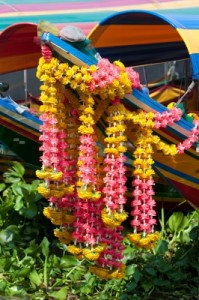 Chatuchak Market
The Chatuchak Market is oftentimes simply referred to as 'JJ', which is short for the Jatujak Market. It is not only one of the largest weekend markets in Thailand, but in the world! At any given time during the 12-hour opening hours, the Jatujak Market will easily have a crowd of about 200,000 people navigating the walkways full of bargains. The best time to visit is during the early morning before 10am after which it becomes crowded and the climate starts to heat up. Look for the arts and craft section, which has a host of Thai toys, local handicraft, and instruments such as flutes and whistles. Goods are brought from factories directly to the customer so the prices are not inflated or exuberantly priced for tourists. And remember that everything is negotiable, so be sure to exercise your haggling skills.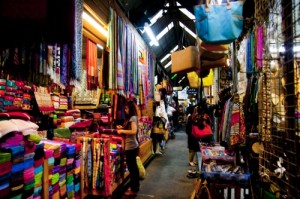 Klong Toey Fresh Market
The Klong Toey Fresh Market is Bangkok's biggest fresh market. Its close proximity to the sea port, the docking of goods, and the freshness of seafood make this a must-see location. Like every other market, this one is also teeming with not only shoppers, but natives who live in the nearby slum area as well. Open seven days a week, you can find anything with an emphasis on fresh food.
Some areas of the market need a warning sign to prepare visitors for what they are about to see. For example, there are freshly cut pig heads on display, raw blood oozing meat, animal carcasses, and if that's not enough there's the thick smell of animal skin being charred by some vendors!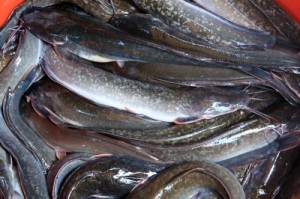 Saphan Khao Fruit Market
At this market, fruit lovers will thoroughly enjoy the spectacular smells, sights and sounds of this bustling fruit market. The Saphan Khao Fruit Market has every shape and color of exotic fruit, each beckoning you to sample them. You can buy Dragon Fruit, world-renowned Mangosteen, Rambutan, and a slice of Jackfruit to name but a few. It is open daily from 6am to 6pm, with delivery trucks bringing fruits and vegetables directly from farms to stack into piles of fruity goodness. The organized market displays fruits in baskets, creatively stacked on table-tops, and scattered in heaps on the ground.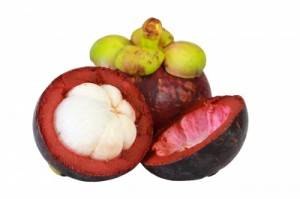 There are many more markets in and around Bangkok that help to earn the city the title of being a shopper's paradise. Visiting the markets are a great way to interact and see the culture of one of the world's most popular destinations. Plan an eye-opening trip today to experience the sights and sounds of the Pak Klong Talat, Chatuchack, Klong Toey and Saphan Khao Markets; it's truly a shopping escapade like no other. Be prepared to utilize your haggling abilities as you stroll through the endless aisles of Bangkok's most colorful markets.